PR 03-05-21 wow YUGH read my friend 'New Jersey Mining Co. (NJMC)' & possible spinoff !!!!!


New Jersey Mining Company Evaluates Potential for 20,000 Oz/Year Gold Production at Golden Chest Mine & Possible Spin-out of Rare Earths Subsidiary to its Shareholders

COEUR D'ALENE, Idaho, March 5, 2021 (ACCESSWIRE) --
New Jersey Mining Company (OTCQB: NJMC) ("NJMC" or the "Company")
is pleased to provide a "big picture" update,

including a preliminary discussion in regard to up-listing to a
senior exchange in concert with our plans to increase production at
the Golden Chest Mine and the potential for the spin-out of its rare earth subsidiary to shareholders.


NJMC President and CEO John Swallow stated,
"As business owners, fellow investors and community stakeholders
(and substantial NJMC shareholders),
we believe it is important to understand how or what a person
(or company) thinks, especially with regard to anticipating and adjusting to the multitude of macro and micro inputs.

As discussions continue to evolve (and subject to change),
and as the initial results of our drill program are received,
we felt that communication from management in regard to the
various paths being contemplated would be appreciated
– such as a recap and possible positioning of our Rare Earths subsidiary,
potential for increased gold production and eventually working toward
a senior exchange listing."

CONCEPTUAL PLAN FOR UP TO 20,000 OZ/YR GOLD PRODUCTION AT GOLDEN CHEST
Conceptual Plan – Preliminary Economics

Preliminary internal estimates and the conceptual plans are based
on firsthand corporate experience with development,
mining,
exploration,
milling and
other knowledge gained from NJMC operations.

Budgeting for personnel,
equipment, and
underground development have been considered in this evaluation.

Subject to adjustments, the company is working with preliminary
AISC estimates in the $1,100/ounce - $1,200/ounce range for gold,
at a 20,000 ounce/year run rate.

Conceptual Plan – Preliminary Capex

The Company is developing a plan to build a 360 tonne per day (tpd) flotation mill at the Golden Chest Mine in Murray, Idaho

in order to increase gold production up to 20,000 ounces per year.

Budgetary cost estimates are made for the major items in this plan including mine development,
construction of the mill,
land acquisition,
resource in-fill drilling at the mine,
and exploration drilling at the Alder Gulch property ¸
two miles west of the mine.

Current trucking of ore to the existing New Jersey mill is roughly $12/tonne.

At just 50,000 tonnes per year, the potential annual savings from
just this one component is estimated at $600,000.

Expansion of the existing underground mine would be undertaken with production coming from the Skookum Shoot of 50,000 tonnes per year
and the Paymaster Shoot of 36,000 tonnes per year.

An additional 30,000 tonnes per year will be sourced from an existing surface stockpile.

Currently, the Skookum is the only area in production.

Gold grades in the Skookum are expected to be about same as they
are now at 6.5 gram per tonne (gpt) gold ¸
while the Paymaster gold grade will require more drilling to determine accurately,
the existing drilling indicates two narrower,
but higher-grade veins with a diluted grade
(2-meter mining width) of 8.5 gpt gold.

The Paymaster veins are separated by an intrusion of quartz monzonite (15 to 30 meters thick)
which is where the access ramp would be placed.

Finally, the surface stockpile grade is well established from blasthole sampling at 1.09 gpt gold.

NJMC's 2021 drill plan is based on its "Deep Rooted" ore shoot model.

Recent deeper drilling at the Golden Chest is showing deeper and
better grade continuity of the Joe Dandy and Paymaster shoots ¸
while Skookum core logging is still underway ¸
core holes in this area also intercepted the mineralized Idaho Fault.

Initial positive results and preliminary analysis have accelerated
the potential for a significant increase of gold production per
year at the Golden Chest and the evaluation for a new mill at the Golden Chest.

New Jersey Mining Company ? 201 N. 3rd Street ? Coeur d'Alene, Idaho 83814

Using these tonnages,
gold grades, and
metallurgical recoveries from current milling data,
an annual production of approximately 20,000 ounces is indicated.

Table 1 below lists the preliminary budgetary capital cost estimates
for the conceptual plan to increase annual production at the Golden Chest up to 20,000 ounces per year.

The costs are preliminary in nature and detailed engineering is still required to determine the final costs, with some costs listed coming from the mine cost handbook.

This information is for discussion purposes only to allow for better understanding of management and other corporate goals.

The timing of capital expenditure for a new mill and mine expansion
will likely occur in phases while remaining flexible with the disposition of some non-core assets and an eye on shareholder dilution.

Table 1
Capital Item Mine Development
Main Access Ramp Ventilation Raise Mining Equipment
Flotation Mill
Paste Backfill Plant
Land Acquisition (in-process) Electrical Service Upgrade Golden Chest Infill Drilling Murray Gold Belt Drilling Total
Drilling Highlights at the Golden Chest
$ USD
$ 3,600,000 $ 800,000 $ 1,500,000 $ 6,000,000 $ 2,000,000 $ 1,500,000 $1,000,000 $ 2,500,000 $ 1,500,000 $20,400,000

• Six identified ore shoots - Katie Dora, Klondike, Skookum, Golden Chest, Paymaster and Joe Dandy.

• 2020/2021 drill program is testing down-dip extensions of the six recognized ore shoots. Focused on
preliminary production/mine-life potential of each individual ore shoot.

• Drill program began with high-grade intercept of 0.2 meters of 74.6 grams per tonne gold (gpt), true
thickness, in the Katie Dora.

• In the Paymaster, a significant additional vein assaying 104 gpt gold over 0.4 meters was encountered in
hole GC 21-184. This intercept is located 47 meters above the Idaho Fault.

• Also, from the Paymaster, GC 21-184 intercepted 1.5 meters of 20.1 gpt gold (including 0.9 meters of
26.7 gpt gold) in the upper vein and 1.4 meters of 3.8 gpt gold in the lower vein.

• GC 20-183 (Paymaster) intercepted 0.9 meters of 14.7 gpt gold in the upper vein.

• Followed by a new discovery in the Joe Dandy, the southernmost ore shoot, with 7.3 meters that assayed
11.5 gpt gold (including 2.3 meters of 19.5 gpt, true thickness).

• Current underground production is from Skookum Shoot – growth from 5,000 ounces to 10,000+/-
ounces per year production run rate from the Skookum over next 12 months.

New Jersey Mining Company ? 201 N. 3rd Street ? Coeur d'Alene, Idaho 83814

NJMC's RARE EARTH ELEMENT (REE) SUBSIDIARY
Company management believes that NJMC's REE holdings represent a significant unrealized value for shareholders.

And while concrete plans are not yet in place,
the company is evaluating a spin-out of its REE subsidiary to NJMC shareholders,
possibly at or near the timing of up-listing to a senior exchange.

• Permitting underway for drill programs at Diamond Creek and Roberts.

Diamond Creek REE Project
The REE bearing veins of the Diamond Creek area are on the short list
of the well-recognized and studied occurrences in the United States.

In 1979, M.H. Staatz, of the U.S. Geological Survey (USGS) estimated
an overall probable resource at Diamond Creek of approximately 70,800 metric tonnes of total rare-earth oxides,
using an average grade of 1.22 percent.

Reported sample assays show REE oxide contents ranging from 0.59 to 5.51 percent.

Additionally,
three samples cut across one of the larger veins were assayed for gold,

and contained 0.5, 2.4 and 11.9 grams per tonne (0.017, 0.07, and 0.348 ounces per ton).

The Diamond Creek REE Project covers approximately 421 hectares
(1,040 acres) and is comprised of 52 unpatented mining claims.

It is located in the Eureka Mining district, approximately 13 kilometers (8 miles) north-northwest of the town Salmon, Idaho.

Roberts REE Project
Recent sampling by Company geologists returned grades in excess of
12% combined Rare Earths Elements, with gold values up to 8.8 grams per tonne and Niobium as high as 0.50%.

At the Roberts, one carbonatite occurrence can be found in a northwest trending seam which measures approximately 400 meters long and 90 meters wide.

The second occurrence is a small carbonatite plug measuring about 200 meters in diameter.

Studies conducted by A.T. Abbott (1954) and A.L. Anderson (1958) from the Idaho Geological Survey (IGS),
and E.P. Kaiser (1956) with the U.S. Geologic Survey (USGS) pioneered recognition of these unusual deposit types in the Mineral Hill District.

The unusual carbonatite seam and intrusive plug occurring on the
Roberts property are characterized by an impressive REE concentration.

Abbott reported cutting a 2.5' sample across the Roberts lode which returned 21.5% combined rare earth oxides
and thoria. NJMC personnel believe that Rare Earth Elements like Neodymium, Praseodymium and Samarium occur on the property in abundance.

The Roberts REE Project is comprised of 12 unpatented mining claims covering an area of approximately 219 acres.

This project is located within the Mineral Hill Mining District, approximately 30 miles northwest of the town of Salmon, Idaho.

• NJMC's Rare Earth Element properties resources are already listed as part of the United States' Rare Earth Element national inventory, as identified in IGS and USGS publications.

• The presence of "at-risk" rare earth elements such as Neodymium, Praseodymium, Dysprosium, Yttrium, and Niobium have been confirmed through NJMC's sampling at the Diamond Creek and Roberts properties.

At Diamond Creek, the gold and REE's occur within the same veins,
but it is not clear if the gold is genetically related to the REE mineralization.

Some of the mineral pulses have gold,
thorium, uranium, niobium, yttrium and REE's.
[NIOBIUM VERY VALUABLE R.E.E.]
Niobium and gold are possible by-products that would add
greatly to the economics of Diamond Creek.

The REE mineralization at Diamond Creek is found in quartz veins
over a large area approximately 3.2 km (2 mi) long and 0.8 km (0.5 mi) wide.
New Jersey Mining Company ? 201 N. 3rd Street ? Coeur d'Alene, Idaho 83814

The Principal Rare Earth Elements Deposits of the United States
– A Summary of Domestic Deposits and a Global Perspective
– USGS Scientific Investigations Report 2010-5220

CONCLUSION AND COMMENTARY Mr. Swallow concluded,
"We realize that there is a lot to 'unpack' in this press release,

however we believe it is important to have an understanding of the Company.

In addition to the above-mentioned conceptual plans,
management is also evaluating up-listing to a senior exchange in
an effort to increase the Company's exposure to mainstream equity investors,
portfolio managers,
and other groups.

Because the company and operations have shown substantial growth
and operational viability,

we have a good understanding of how a phased approach fits into the more modest capex requirements of an established producer.

NJMC is a small operating company working to become a larger company.

There are no guarantees in this business
- or any other
- and everything is subject to change.

We also realize that discussing potential plans/thinking is somewhat unconventional,
however we find it easier and more honest to converse with folks
if we are both substantially on the same page.

This press release discusses the thoughts of management and hopefully allows people to analyze whether or not NJMC aligns with their own investment criteria.

New Jersey Mining Co. has been (and will be) an example of building
as you go and has experienced success where others have failed.

There will always be choppiness in our results on both sides of the ledger and I would expect more of the same as our 'up and to the right' path continues."

Quality assurance/quality control
All of the samples were analyzed by American Analytical of Osburn, Idaho,
an ISO certified laboratory.

Samples were analyzed using lead collection fire assay with a gravimetric finish.

A series of known assay standards are submitted with each drill hole
as part of a quality assurance-quality compliance program.

Qualified person
NJMC's Vice President, Grant A. Brackebusch, P.E. is a qualified
person as such term is defined in

National Instrument 43-101 and has reviewed and approved the technical information and data included in this press release.

New Jersey Mining Company ? 201 N. 3rd Street ? Coeur d'Alene, Idaho 83814





NJMC [-chart]newjerseymining.com/wp-content/uploads/2019/07/NJMC.Logo_.RGB-2-e1563497260710.png[/chart]




WOW Par Value 0.10 CENTS 'New Jersey Mining Co. (NJMC)'
0.10

Share Structure
Market Cap Market Cap.40,681,015
02/23/2021

Authorized Shares.200,000,000

Outstanding Shares.137,575,296
Restricted..................47,571,031
Unrestricted...............90,004,265
Held at DTC..............78,662,054
Float...........................84,439,207
Par Value..............................0.10

DESCRIPTION-GOLDEN CHEST MINE [LOTS OF SILVER] BEFORE BUYOUT IN 1980'S WAS TRADING $4 TO $5 PPS. SPOKANE WASHINGTON EXCHANGE
New Jersey Mining Company is a gold producer headquartered in north Idaho.

The Company is focused on diversifying and increasing cash flows through
a portfolio of mineral properties including:
[HUGE SILVER VEINS] [3FT TO 4FT WIDE] The Golden Chest Mine
(currently in production),
majority ownership in the nearby New Jersey Mill,
and 50% carried interest in the past producing Butte Highlands Mine
located in Montana.

In addition to its producing and near-term production projects,
New Jersey Mining Company has several exploration prospects,
including the McKinley, Eastern Star and Toboggan projects.

https://newjerseymining.com/the-team/
https://www.njmcmerch.com/
https://newjerseymining.com/contact-us/
https://newjerseymining.com/legal/
https://newjerseymining.com/critical-minerals/
https://newjerseymining.com/diamond-creek/
Diamond Creek- Idaho
An Iron-Rare Earths-Gold Property
The Diamond Creek REE Project covers approximately 421 hectares (1,040 acres) and is comprised of 52 unpatented mining claims. It is located in the Eureka Mining district, approximately 13 kilometers (8 miles) north-northwest of the town Salmon, Idaho. The REE mineralization at Diamond Creek is found in quartz veins over a large area approximately 3.2 km (2 mi) long and 0.8 km (0.5 mi) wide.
The Golden Chest Mine was the largest historic lode producer of gold in north Idaho, primarily from shallow, underground, high-grade veins in the late-1890s and 1900s.
Modern exploration of the area began in the late-1970s with several companies, including Cominco-American, targeting gold and massive

Newmont followed in the 1980s, evaluating vein systems for bulk mineable potential, drilling forty holes and establishing an historic resource, mostly related to the Idaho Vein.
NJMC first leased the property in 2003. After several years of small-scale exploration, development, and gold production,
the Company formed Golden Chest LLC (with Marathon Gold) to advance the property in 2010.
Golden Chest LLC subsequently drilled 144 core drill holes (totaling 18,300 meters), resulting in a NI 43-101 Technical Report
that includes an overall mineral resource of 254,000 oz gold in the Measured and Indicated categories and 223,000 oz gold in the Inferred category at 0.4 gpt gold cut-off.
In 2016, NJMC completed an internal scoping study and developed an underground mine plan at Golden Chest,
that focused on unmined ore from the prior mine plan and from other accessible, drill-tested zones.
Also in 2016, NJMC excavated and began mining an open pit, called the Idaho Pit, located about 200 meters above the mine portal.
The open pit mine produced 3,525 ounces of gold in 2017.
With more than $13-million spent to explore, develop, expand, and modernize the Golden Chest Mine, NJMC has an outstanding platform for future exploration and development.

https://newjerseymining.com/roberts/
A Rare Earths-Gold Property
The Roberts Rare Earth Element Project is comprised of 12 unpatented mining claims covering an area of approximately 89 hectares (219 acres). This Project is located within the Mineral Hill Mining District, approximately 48 kilometers (30 miles) northwest of Salmon, Idaho. In Idaho, most of the lode REE occurrences lie along a northwest trending line that extends from Lemhi Pass, through Diamond Creek, to the Mineral Hill district, before crossing the Idaho-Montana state line. This lineament stretches more than 50 miles across central Idaho. The Roberts Project is on this trend and is the next best REE mineralization northwest of NJMC's Diamond Creek Project.
The Mineral Hill district was historically prospected in the early 1900's for gold and copper. Rare earth element (REE) mineralization was first discovered in the early 1950's. Studies conducted by A. T. Abbott (1954) and A. L. Anderson (1958) from the Idaho Geological Survey, and E. P. Kaiser (1956) with the USGS, pioneered recognition of these REE occurrences. Abbott reported cutting a 2.5-foot sample across the Roberts Lode which returned 21.5 per cent combined rare earth oxides and thoria.














https://newjerseymining.com/new-jersey-mill/
https://newjerseymining.com/murray-gold-belt-map/
https://newjerseymining.com/butte-highlands/
https://newjerseymining.com/mckinley/
https://newjerseymining.com/eastern-star/
https://newjerseymining.com/we-live-here/

We Live Here:
New Jersey's corporate philosophy is a direct reflection of the personal motivations and individual belief systems of our employees and preferred contractors.
We live, work, and raise families in the extended communities where we operate, thus we have a deep-seated desire to protect our neighborhoods and environment for future generations.
We are committed to preserving the best elements of our history while remaining open to opportunities to restore and protect our environment.
At New Jersey we eat our own cooking. New Jersey has eight father/son/daughter teams within our work force and network,
thus we are vested in the protection of the environment and advancement of the company while building the next generation of responsible leaders.
And while we respect and work closely with consultants on an as needed basis, we believe that some groups utilize environmental consultants as a form of risk transfer.
In short, we feel that one of the best forms of built-in responsibility is gained by working where you live and putting your time and money at risk
– and that building and marketing a company around the distant experience of others is a speculative business plan of the past. (more…)
Company Profile:

New Jersey Mining Company (NJMC:OTCBB) is exploring for and developing gold, silver and base metal ore resources in the
Coeur d'Alene Mining District of northern Idaho and western Montana.
The Company has a gold
exploration joint venture with Newmont North American Exploration Limited at the Toboggan Project near Murray, Idaho.
The Company's portfolio of mineral properties also includes: the Niagara copper-silver deposit, the Golden Chest mine,
the New Jersey mine, the Silver Strand mine and several exploration prospects.

The Company's strategy is to explore for gold, silver and base metal deposits in the Coeur d'Alene Mining District, a world
class mining district, while concurrently mining and processing higher grade resources at its New Jersey mill facility near Kellogg, Idaho.
Our financial strategy is to generate cash from these operations, thus reducing the need to raise funds through financing activities including the sale of common stock.

NJMC purchased a diamond drill rig in 2007. Exploration drilling with the company's rig for the 2009 exploration season is planned at the Toboggan Project.
Currently, gold is being produced from underground exploration on the Clagett and Katie veins at the Golden Chest mine. [DIS IS AH RICH MINING COMPANY]
Development of a ramp to access a reserve block that holds 28,200 ounces of gold reserves on the Idaho vein is currently on hold until the company can raise funds at favorable terms.
Completion of the ramp to access the Idaho vein will require 300 meters of development.
A seasonal underground mining operation at the Silver Strand has been permitted, and some production is planned for 2009.
New Jersey Mining Company is favored with:


Exploration Strategies [SILVER VEINS HUGE 3FT TO 4FT WIDE]

NJMC's geologists are exploring for gold, silver, and base metals in Belt metasediments which host many important, world-class metallic deposits.
We believe the Belt, especially the Silver Valley, has been under-explored with modern exploration technology, and the potential to find new deposits is excellent.
The Belt sediments were deposited in an ancient rifting basin and some of the mineral deposits were formed nearly simultaneously with the deposition of the sediments.
Some geologists think the Belt Basin was split into two parts, and the

NJMC is exploring for three types of deposits in the Belt Basin:

1. Gold deposits with co-product silver which were sourced from granitic or alkaline igneous rocks intruding the Belt metasediments.
The Golden Chest mine, Giant Ledge prospect and the Toboggan Project fit this category.
2. Stratabound copper-silver deposits in the Revett formation which have the potential to contain more than 100 million ounces of silver.
The Company's Niagara deposit has a resource of 14.2 million tonnes at 0.46% copper and 20 grams per tonne silver, and may expand with more drilling.\
3. Silver-lead-zinc deposits that have been deposited on an ancient seafloor with the sediments of the Prichard formation, the oldest formation of the Belt Basin.
The Enterprise and CA prospects fit this category.

The first category of deposits has not been explored extensively, and NJMC thinks that the potential is excellent for finding one or more of these deposits in the
Toboggan Project as well as expanding the gold resource at the Golden Chest.
Alkaline intrusive-related gold deposits are attractive exploration targets because they can be large,
of high grade, low sulfide content, and self-buffering (non-acid producing) due to carbonates.
These deposits can be overlooked due to the often inconspicuous nature of the mineralization and the related placer deposits are often poorly developed due to the
telluride and/or pyrite mineralization found in such deposits.
Examples of such deposits are Cripple Creek, CO, Golden Sunlight, MT, and Porgera, Indonesia.
These deposits typically occur in breccia pipes, bonanza veins, and disseminations and replacements in the intrusive and surrounding sedimentary rocks.
Their characteristics include a gold-tellurium association, narrow high-grade gold veins, and low sulfur.

The second category of deposits is typified by large deposits in northwestern Montana including Revett Minerals' Troy and Rock Creek deposits and
Mines Management's Montanore deposit which contain a combined resource of 520 million ounces of silver and 2.1 million tonnes of copper.
These deposits commonly have mineralization stacked in several horizons. Mineralization consists of disseminated and veinlet controlled bornite,
chalcopyrite, chalcocite, and their oxidation products of malachite and azurite.

The third category of deposits has exciting potential for very large deposits. It is possible that a deposit will be found in the Prichard Formation which represents the seafloor form of mineralization.
It is hypothesized that these deposits could be source of the metals in the Coeur d'Alene veins, and an example is the Sullivan deposit which is north of the Silver Valley in Canada in the Belt Basin.
NJMC Golden Chest Mine -

Golden Chest Mine

Placer gold was discovered in the streams near Murray in 1882 and led to a gold rush that was the birth of the Coeur d'Alene Mining District.
Past gold production for the Murray area is estimated at 300,000 ounces, including of 200,000 ounces from placers.
The Golden Chest was the location of one of the first lode claims in the district, and is the largest historic lode producer of gold in the district with production
estimated at approximately 65,000 ounces mostly from shallow underground mining of the Katie and Dora high grade veins.
Most of this historic mining took place in the late 1890's and 1900's. In the late 1980's Newmont Exploration Limited (NEL) explored the Golden Chest
with 35 shallow reverse circulation and 5 core holes and estimated an "inferred geologic resource" of 231,000 ounces at 1.66 grams per tonne (gpt).
This historic resource was primarily contained to a large quartz vein system known as the Idaho vein on the southern end of the property.

NJMC has leased the property since 2003 and conducted small scale underground mining comprised of 8,400 tonnes grading 6.90 gpt.
A ramp extending 500 meters and connecting with the No. 3 level was driven.
NJMC also completed about 3,500 meters of core drilling on the property primarily focused on extending the Idaho vein at depth which was successful.
Highlights from this period of drilling include:
DDH4-06 which intercepted 15.5 meters grading 5.50 gpt gold and DDH05-3 which intercepted 7.1 meters assaying 10.32 gpt gold. NJMC
has also calculated an SEC-compliant reserve of 242,000 tonnes grading 5.10 gpt gold along the Idaho vein.

Geology

Gold mineralization at the Golden Chest is related to a thrust fault known as the Idaho fault and the property is located on the west limb of the Trout Creek anticline,
a major north-trending fold in the Prichard formation.
The Idaho fault occurs at the contact of Prichard formation units G and H. Unit G, a quartzitic unit,
is the host for most of the veins while the overlying Unit H is an argillite-siltite sequence of rocks.
Near the fault, Unit G has been found to host narrow, high-grade vein structures.

In the southern part of the mine, gold mineralization is found near and parallel to the north-trending Idaho fault while the northern part of the mine hosts the
higher grade Katie and Dora veins which splay off the Idaho fault in a northeasterly direction. Gold mineralization can be found along at least 1,500 meters
of strike length along the Idaho fault.
The lowest level of the Golden Chest mine is the No. 3 level which is at the valley bottom elevation, and drilling has only probed the Idaho vein about 120 meters
below this level in a district known for hosting orebodies that outcrop on surface and continue at depth for 2,500 meters.

Exploration and Development Plan

The exploration and development plan for the Golden Chest will consist of both surface and underground core drilling as well as underground development.
About 7,200 meters of surface drilling and 3,600 meters of underground drilling are planned for 2011.
The goals of the drilling program will be to increase the density of drilling on the surface for a NI 43-101 compliant resource estimate and also to extend the mineralization down dip.
An underground mapping and sampling program will also be undertaken.

One drill is currently working underground in the north end of the mine in the area of the high grade veins and one drill is working on surface exploring Idaho vein.

New Jersey Mining Company Announces High Grade Intercept
of 33.0 g/t Gold Over 2.6 Meters at


Golden Chest Mine -

http://investorshub.advfn.com/boards/read_msg.aspx?message_id=61016179
New Jersey Mining Company (NJMC) Contact Information:

P.O. Box 1019
Latest Report Authorized Shares N/A Kellogg, Idaho 83837
CIK 0001030192 Par Value 0.1000 Phone: 208-783-1032
Fiscal Year End 12/31 Transfer Agent(s) Fax: 208-783-3331
OTC Market Tier OTCQB Columbia Stock Transfer Company Email Operations:minesystems@usamedia.tv
Profile Data Failures To Deliver N0 Email PR: ir@newjerseymining.com
SIC - Industry Classification 1040 - Gold and Silver Ores Web: http://www.newjerseymining.com
Incorporated In: ID, USA www.newjerseymining.com
Year of Inc.

6/10/2016
http://www.otcmarkets.com/stock/NJMC/profile
Contact Info
201 N. Third Street
Coeur d'Alene, ID 83814
NJMC Security Details
Share Structure
Market Value1
$10,897,417
a/o Jul 15, 2016
Authorized Shares
200,000,000
a/o Apr 06, 2016
Outstanding Shares
94,760,148
a/o Apr 06, 2016
-Restricted
Not Available
-Unrestricted
Not Available
Held at DTC
Not Available
Float
63,053,814
a/o Apr 06, 2016
Par Value
0.1
Shareholders
| | | |
| --- | --- | --- |
| Shareholders of Record | 321 | a/o Apr 06, 2016 |
http://www.shoshonenewspress.com/special_sections/

Silver to Surge to $450/oz and Gold to $12,000/oz - Cazenove's Robin Griffiths
By Mark O'Byrne
Gold and silver are higher this morning with the dollar, the British pound and commodity currencies falling in value.
It is too early to tell whether the recent margin driven, paper sell off on the COMEX is over but physical supply remains limited while demand remains robust,
particularly in China, India and wider Asia.
Cross Currency Rates
Knowledgeable experts continue to urge investors to own gold and silver due to the likelihood of much higher prices, currency and inflation risk.
One of the most respected global technical and macro strategists in the world, Robin Griffiths has said that
silver and gold could rise to $450 and $12,000 per ounce respectively due to the debasement of paper currencies.

Dow Jones to Gold Ratio - 50 Years (Quarterly)
Griffiths was chief technical strategist with HSBC for over 20 years, has 44 years investment experience and now works for Cazenove Capital,
one of the oldest investment houses in the world tracing its origins back to the 17th century.
It manages money on behalf of blue blooded clients and is widely believed to manage some of the British Royal family's wealth.
When asked by King World News if his $350 target was a realistic price level for silver Griffiths stated,
"That is absolutely not unrealistic. If you adjust the old all-time high for inflation...that gives you $450 for silver.
Then you add in the fact that they are printing money, you can take it higher than that without any difficulty at all."

Dow Jones Industrial Average - 50 Years (Quarterly)
Griffiths told King World News that "Bulls (bull markets) are very successful at wobbling people out at the wrong time. "
Griffiths has previously said that not owning gold today is a form of insanity and "may even show unhealthy masochistic tendencies,
which might need medical attention." (see here)
He has also critiqued the western media's superficial coverage of gold and their resort to Warren Buffett's ignorant comments on gold despite money
printing and international currency debasement on a scale never before seen in history .
Meanwhile perhaps the leading commodity expert of our time, Jim Rogers, has said that silver was not and is not a bubble.
Regarding the recent price correction he said, "I don't know what caused it maybe it was short covering, maybe it was rumors.
I have no idea." He continued "silver went down a great deal but if you raise margin requirements 150%-200% you would expect something to collapse," he added.
"I hardly see how silver could be a bubble when, even at its top, it's still below its all-time high. That's not much of a bubble."
If it goes to $150 this year, all other things being equal, then I'd say you better sell your silver.
If it goes to $150 in 10 years then I would say that's a normal progression up and that's the way things work.
But if the U.S. dollar suddenly turns into confetti then you better hold your silver at $200. So it depends on the circumstances and the timing more than anything else.
Since 2003, GoldCore have said that gold and silver would reach their inflation adjusted highs of $2,400/oz and $130/oz.
Our estimates appear increasingly conservative especially given the fact that the official inflation statistics have been debased over the years and are not an accurate reflection of real inflation.
Predicting the future price of any asset class is impossible. Predicting that gold and silver will continue to protect against financial and economic shocks and crashes and global currency debasement is possible.
The current correction should be used as another buying opportunity in order to protect against the continuing extraordinary degree of macroeconomic, monetary and geopolitical risk in the world.
The super red banksters cults -
Rothschilds World Part 1 "Glen, Rush, Michael...Here's to you boy's"

http://www.youtube.com/watch?v=yhKHwrUA5SM&feature=related
Rothschild World Part 2 "The Deep Dark Secret"
http://www.youtube.com/watch?v=y6QRGhGWQ4U&feature=fvwrel
http://www.youtube.com/watch?v=u2HPF2qP0Ss&feature=related
http://www.walkaboutventures.com/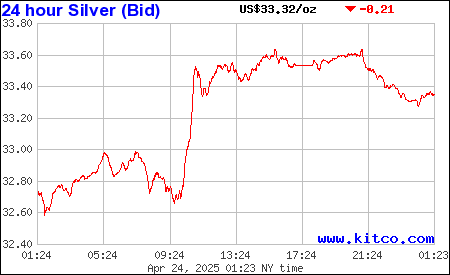 http://www.888c.com
God Bless
DISCLAIMER
Nothing in the contents transmitted on this board should be construed as an investment advisory,
nor should it be used to make investment decisions.
There is no express or implied solicitation to buy or sell securities.
The author(s) may have positions in the stocks discussed
and may trade in the stocks mentioned.
Readers are advised to conduct their own due diligence prior to considering buying or selling any stock.
All information should be considered for information purposes only.
No stock exchange has approved or disapproved of the information
02-07-2021
DISCLAIMER: ONLY FOR MICK
https://investorshub.advfn.com/boards/profilea.aspx?user=1012
*The Board Monitor and herewithin , are not licensed brokers and assume NO responsibility for actions,
investments,decisions, or messages posted on this forum.
CONTENT ON THIS FORUM SHOULD NOT BE CONSIDERED ADVISORY NOR SOLICITATION
AUTHORS MAY HAVE BUYS OR SELLS WITH THE COMPANIES MENTIONED IN TRADING POSTERS SHOULD DUE DILIGENT BUYING OR SELLING.
ALL POSTING SHOULD BE CONSIDERED FOR INFORMATION ONLY. WE DO NOT RECOMMEND ANYONE BUY OR SELL ANY SECURITIES POSTED HEREWITHIN.
ANY trade entered into risks the possibility of losing the funds invested.
• There are no guarantees when buying or selling any security.Any