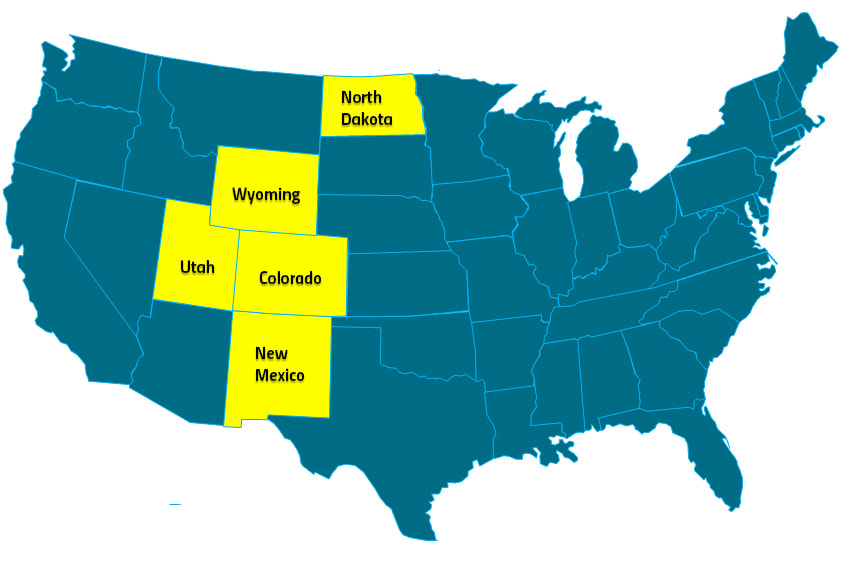 Foothills Exploration, Inc. (the "Company") currently holds over 34,000 acres in the Greater Green River and Wind River Basins of Wyoming and over 7,800 acres in the Uinta Basin of Utah. The Company is actively seeking to grow its footprint in the Rocky Mountain region by targeting high quality oil and gas assets for acquisition and development. Our management team and advisers have a deep working knowledge and depth and breadth of experience in our geographical area of interest.

Our skilled and experienced technical team effectively evaluate the merits of prospective acquisitions, determining each project's geological risk/reward profile and driving informed decisions as to whether we can efficiently optimize and maximize the properties.?
GREATER GREEN RIVER / WIND RIVER BASIN PROJECTS
Greater Green River Basin
The Company owns 22 producing natural gas wells situated on approximately 18,214 gross acres in the Greater Green River Basin of Wyoming, 78% held by production. The properties are located in Sweetwater County, Wyoming, and provide meaningful upside potential from a field-wide optimization and maintenance program, currently being implemented by the Company. The properties are long-life conventional natural gas assets with significant proven, probable and possible reserves. The properties also have numerous behind-pipe opportunities, both in the Fluvial and Marine sections of the Frontier formation with sizable upside development opportunities from large undeveloped acreage position.
Wind River Basin
The Company owns approximately 16,387 acres of leaseholds located in Fremont County, Wyoming. This acreage position provides the Company with substantial upside in the form of attractive exploration and development projects targeting multiple formations across predominantly continuous oil and gas leases. The Company plans to retain a third-party engineering firm to perform a comprehensive geological and geophysical analysis of the acreage to quantify possible and contingent reserves for this developmental acreage.

The Company's acreage is located in a large undrilled area and is along the eastern flank of a deeper sub basin in the Wind River Basin proper, where a deep structural deposit called the Beaver Creek field has produced approximately 71.7 million barrels of oil and 906,473,338 MCF of gas. The Big Sand Draw field, updip to the south, has produced some 60.8 million barrels of oil and 214,923,203 MCF of gas from multi-pay horizons generally in the Frontier, Muddy, Lakota, Morrison, Phosphoria, Tensleep and Madison formations. The Paleozoic aged section is the primary objective, and the Phosphoria, Tensleep, Madison and Flathead Formations of the Paleozoic have yielded significant oil production in a number of regional fields down dip to the west, updip to the south and along structural trends farther to the west - northwest.

The Wind River Basin is located in central Wyoming. The basin contains over 60 large oil and gas fields producing from 17 different formations. In 2018, a U.S. Geological Survey ("USGS") petroleum assessment determined that there were an estimated 528 million barrels of oil, 2 trillion cubic feet of gas and 40 million barrels of natural gas liquids of undiscovered resources of the Niobrara Interval of the Cody Shale of the Wind River Basin Province, Wyoming.
UINTA BASIN PROJECTS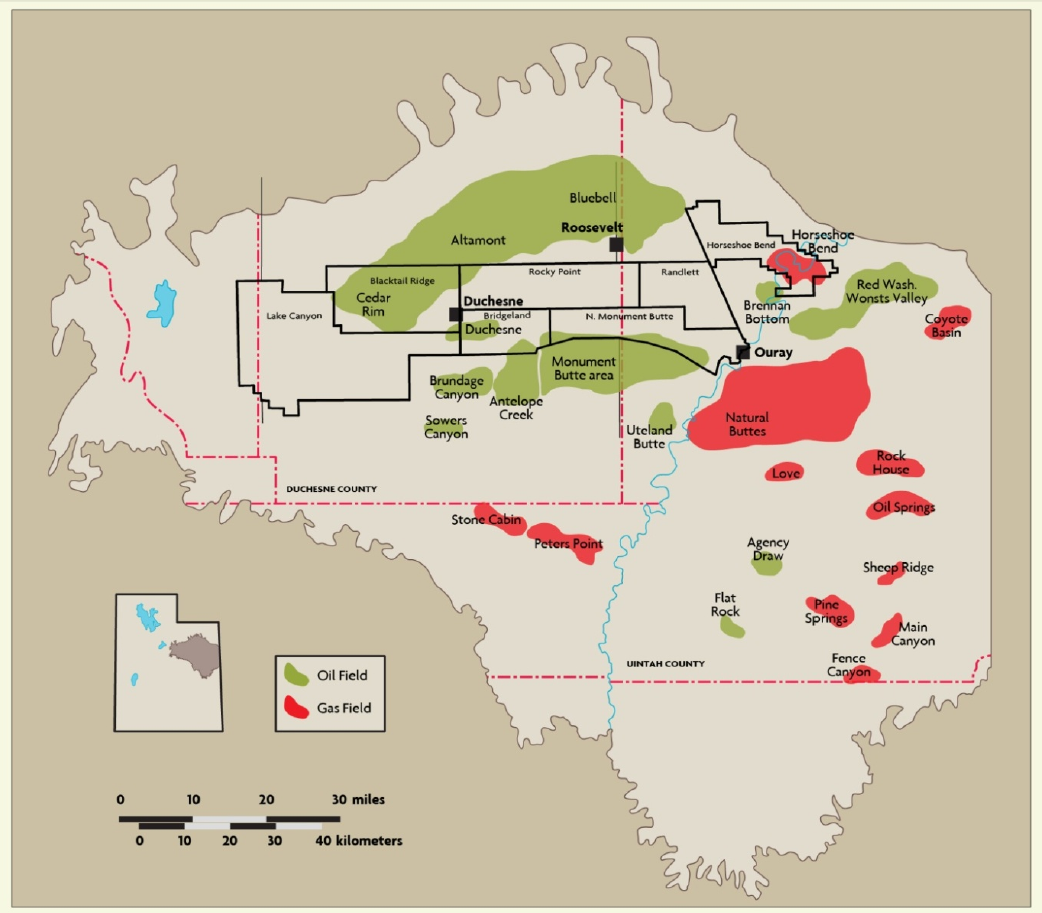 Stagecoach Project
The Company owns a 21% non-operated working interest in two (2) Uinta Basin horizontal gas wells:
Stagecoach 111-20H and Stagecoach 117-20H.
Both wells have been producing natural gas in commercial quantities since December 2017 and both are operated by EOG Resources, Inc. (NYSE: EOG).
These wells fit with the Company's overall growth strategy for the Basin and provide Foothills with the ability to gain insight on an emerging horizontal play from a world-class operator. The wells have been classified as Confidential by the operator with the
State of Utah Department of Natural Resources Division of Oil, Gas and Mining.
Duck Creek Project
The Company has developed a workover program on its wells with behind pipe oil production potential located in the Duck Creek area (Natural Buttes Field) of the Uinta Basin. The Company seeks to add proved reserves and increase production through the use of advanced completion technologies and selectively re-completing existing wells. The rework program will target bypassed pay zones in the Uteland Butte, Castle Peak, Carbonate Marker, B-Limestone, Black Shale, and Douglas Creek formations. Reworks will consist of swabbing, perforating and frac rework operations.
Altamont-Bluebell Project
Asset consists of 5,700 acres with proved undeveloped reserves and provides the Company with numerous infield drilling locations and considerable upside potential in the near term:
7+ MMBO total proved reserves
6+ MMBO total probable/possible reserves
Existing infrastructure in place
Multiple stacked pay zones
Horizontal drilling targets in Castle Peak, Uteland Butte and Upper Wasatch
Long-Life Reserves – Uinta Basin wells have historically produced for as long as 30-40 years.
Proven Oil Field with PUD Locations

THE TEAM:

KEVIN J. SYLLA
Executive Chairman and CEO/Director of Foothills Petroleum, Inc.

Mr. Sylla is Executive Chairman of Foothills Exploration, Inc. ("FTXP") and also serves as CEO and Director of Foothills Petroleum, Inc., ("FPI"), a wholly-owned key operating subsidiary of the Company. He played a key advisory role in the successful combination and integration of the Tiger Energy assets into FTXP. Mr. Sylla has served as Managing Director of Tiger Energy Operating, LLC, Tiger Energy Partners International, LLC, and Tiger Energy Mineral Leasing, LLC for the past five years and continues to manage these indirect subsidiaries of the Company. He has over 10 years of oil & gas industry experience with extensive knowledge in business development, mergers and acquisitions, and management of oil and gas field operations. Mr. Sylla has participated extensively in the financing, acquisition and development of numerous domestic oil and gas properties.

Mr. Sylla's acquisition experience has been focused on improving operating and financial inefficiencies with under-performing assets resulting in enhanced value creation. Mr. Sylla is the managing member of Wilshire Energy Partners, LLC, a principal shareholder of the Company and has provided consulting services to the Company since its formation. During his career, Mr. Sylla has drilled, reworked and overseen the management of hundreds of wells. Mr. Sylla completed the Petroleum Land Management Program at Texas Christian University and earned his Energy & Finance Management Certification from the University of Denver.
B.P. ALLAIRE
Chief Executive Officer, Interim Chief Financial Officer & Director

Mr. Allaire is CEO, Interim Chief Financial Officer and Director of FTXP. He also serves as President & COO/Director of FPI, President/Director of Foothills Exploration Operating, Inc., President/Director of Foothills Petroleum Operating, Inc., and Manager of Foothills Exploration, LLC, all direct and/or indirect subsidiaries of FTXP. Mr. Allaire is an entrepreneurial management executive and seasoned business operator with over 25 years international work experience in a myriad of functional roles spanning finance, sales, marketing, strategy, operations, business development, mergers & acquisitions and operations management across a wide variety of industries. Mr. Allaire is the former Managing Partner of Versailles Capital Partners, LLC, a multi-discipline strategic advisory and business development firm based in Los Angeles. He is experienced in executing a rollup strategy and specifically the integration of acquired companies into complex corporate entities with multiple wholly-owned subsidiaries.

Since 2007, Mr. Allaire has provided business development, financial management and strategic advisory services to numerous clients and various partnerships operating in the exploration and development of oil and gas in the Mid-Continent and Gulf-coast regions of the U.S. Mr. Allaire graduated with a B.S. in Management, A.S. in Finance & Investments, and A.S. in Advertising & Public Relations all from Johnson & Wales University in Providence, RI. He also earned his M.B.A. from Harvard University's Graduate School of Business.

CHRISTOPHER JARVIS
Executive Vice President of Finance & Director

Mr. Jarvis is Executive Vice President of Finance and Director for FTXP and Vice President of Risk Management and Director of FPI. He has over 20 years of capital markets and investments experience covering the equity, commodity, and fixed-income markets. He engineered and executed energy risk management hedges for large multi-national companies and as a publishing analyst, he was ranked #1 by Bloomberg's BARR analyst ranking system. He is a Certified Financial Analyst (CFA) and also a Certified Market Technician (CMT). He routinely appears on CNBC, Fox Business News, and Reuters. He is a contributor to major print media outlets including Reuters, Bloomberg and the Wall Street Journal as an oil and gas analyst.

Mr. Jarvis earned a B.A. in Arts History from University of Massachusetts and an M.B.A. from the University of Connecticut, with a concentration in Finance. He is a member of the CFA Institute and also the Market Technicians Association (MTA). He has been a member of the University of Connecticut Financial Accelerator Advisory Board for the last 10 years and previously served as the Vice President of the Autism Society of New Hampshire (2004-09).

ALEX HEMB
Director

Mr. Hemb is a Director of FTXP and also serves as a Director of FPI. He has over 25+ years international experience working as a petroleum engineer both onshore and offshore, having worked in Norway, Canada, Belize, Germany, and Scotland in addition to the U.S. He engineered and developed technology for separating oil and water and commercialized this into a successful company providing oil/water separation services to the oil and gas industry. Mr. Hemb is currently Vice President of Engineering for Helmer Directional Drilling, where he has worked for the past 15 years.

Mr. Hemb spent 9 years working across a variety of engineering, planning and sales roles with Baker Hughes both in the U.S. and internationally. He has a proven management track record, having performed a successful turn-around of the Norwegian division of CETCO, returning the division to profitability by reducing losses, growing new business, right-sizing the company and hiring his replacement Managing Director to lead the division. Mr. Hemb has a B.S. and M.Sc. in Petroleum Engineering from Montana Tech and he also holds numerous certifications from various oil and gas technical schools. He completed compulsory Military Training in Norway and served as a Military Police based at NATO's Northern European HQ.

TARA ROBERTS
Vice President of Business Development

Ms. Roberts is Vice President of Business Development of Foothills Exploration, Inc. Ms. Roberts formerly spent over 7 years working across a variety of disciplines within the U.S. oil and gas industry, including positions as Landman, Revenue Accountant and Business Development Specialist. Roberts began her career at Chesapeake Energy Corporation (NYSE: CHK) – the second-largest producer of natural gas and the 11th largest producer of oil and natural gas liquids in the United States – where she held various positions over an almost four-year tenure. She also previously worked at Echo Energy as a Business Development Specialist. Ms. Roberts previously founded and established Eldorado Energy, Inc., an Oklahoma City-based company focused on acquisition of working interests, mineral rights and leaseholds.

Ms. Roberts earned a B.A. in Psychology from the University of Oklahoma and an M.S. in Law, with a concentration in Energy Law, from Oklahoma City University, where she graduated with high honors. She is a member of the AAPL (American Association of Professional Landmen) and Young Professionals in Energy. She was also the recipient of the 2017 Oklahoma Forty Under 40 award.
FOOTHILLS EXPLORATION, INC.
4607 Lakeview Canyon Rd., Ste 235
Westlake Village, CA 91361
Tel: (800) 204-5510

INVESTOR RELATIONS CONTACT:
Christopher Jarvis
EVP Finance
Email: ir@foothillspetro.com
Tel: (800) 204-5510