UPDATE 09-04- 2022
i find dis good link fer us'ins
https://www.business2community.com/investing/how-to-invest-in-web3
so dis what web3 is about
some companies tagging themselves web3
https://twitter.com/InfoFernhill/status/1029044913629876225/photo/1
https://twitter.com/InfoFernhill/status/979066673062752256/photo/1
https://twitter.com/InfoFernhill/status/978707923634302976/video/1
https://twitter.com/InfoFernhill/status/978707923634302976/video/1
https://twitter.com/InfoFernhill/status/972146239725699072/photo/1
https://twitter.com/InfoFernhill/status/971106539191676928/photo/1
https://fernhillcorp.com/
https://www.business2community.com/investing/how-to-invest-in-web3
UPDATE; 07-21-2022
$FERN /\ #DigitalAssetTrading #Metaverse #NFTCommunity #DeFi
https://fernhillcorp.com/digxnft-marketplace-launch/
Fernhill Announces the Beta Launch of its DIGXNFT Marketplace
[-chart]fernhillcorp.com/wp-content/uploads/2022/07/New-DIGXNFT-logo-png-768x196.png[/chart]
Fernhill Announces the Beta Launch of its DIGXNFT Marketplace
LAS VEGAS, NV /July 21, 2022 / Fernhill Corp (OTCMKTS:FERN), a Web3 holding company focused on software solutions and marketplace infrastructure for digital assets, is pleased to announce the beta launch of its NFT Marketplace, DIGXNFT.

DIGXNFT caters to high-quality and exceptionally curated collections of art, music, videos, gaming, photography, domain names, real estate, and sports memorabilia, among other categories. Additionally, the company will provide white glove service with a full turn-key solution to assist creators with the minting, marketing, and selling of their non-fungible token (NFT) collection.

"Although the NFT world is a very competitive landscape, we feel confident that with our state-of-the-art infrastructure and our management team in place, we will not only succeed, but thrive," said Marc Lasky, President of Fernhill Corp. "We have a detailed roadmap that is strategically planned to continually build upon and improve our Marketplace, and with our decades of experience growing businesses, we know how to run a process and execute on our goals."

In beta, users will be able to:

Connect their MetaMask wallets and create an account.
Learn more about our first showcased collection: Fraud – The Game of White-Collar Crime (artwork by world-famous artist Rick Parker).
Join our Discord channel.
Review our roadmap and read our white paper.
The first NFT collection, Fraud – The Game, will launch on the DIGXNFT marketplace for viewing on July 21st. The official drop date is scheduled for Wednesday, July 27th.

Fraud – The Game of White-Collar Crime, was conceived as a satirical card game by Pete Newman, a cybersecurity professional and fraud expert. Artwork was completed by world-famous comic artist Rick Parker, best known as the artist behind MTV's Beavis and Butthead Comic Book and staff artist at Marvel Comics.

"Fraud is not only a fun, tongue in cheek game, but at its core it's really an amazing collection of art," said creator Pete Newman. "Thanks to the outstanding artwork of my partner in crime, artist Rick Parker, it makes perfect sense to sell this as an NFT game and as exclusive artwork."

This is a limited release collection with multiple NFTs to choose from. The NFTs are intended to be part of a larger community and online game that is currently in development. The sale will last one week and all NFTs will be available on a first come, first served basis.

"Ultimately, everything will become – or be attached to – an NFT," said Chris Kern, Chairman of Fernhill. "The NFT and metaverse industry are expected to grow in excess of $3 trillion over the next decade and experience unprecedented growth – no temporary market downturn can stop what NFTs will surely become. There are an infinite number of use cases for NFTs and we feel it's necessary to establish ourselves in the market and seize this unique opportunity now. We're very excited about launching DIGXNFT, and that more collections will come as we get through beta."

About Fernhill:

Fernhill Corp is a Web3 holding company focused on developing and acquiring software companies in crypto currency mining, digital asset trading, NFTs, DeFi and the Metaverse that form the foundation of the tokenized economy. Fernhill is a Signatory Member of the Crypto Climate Accord (CCA) and a Principal Member of the Metaverse Standards Forum.

For all official Fernhill corporate information, please refer to our filings, news and updates on the following resources:

OTC Markets

Nevada SOS

Fernhill Twitter

Fernhill Facebook

Fernhill LinkedIn

Fernhill Website

DIGXNFT

Company Contact Information: info@fernhillcorp.com

Any other links are not official & should be taken as such nor have anything to do with Fernhill Corp or its subsidiaries.

#$FERN
#FernhillCorp
#Web3
#DIGXNFT
#MakeCryptoGreen
#CryptoCurrencies
#GreenMiningPools
#FinTech #SaaS
#CryptoClimateAccord
#NFTs
#PerfectMine
#CryptoMining
#MainBloq
#DigitalAssetTrading
#Metaverse
#NFTCommunity #DeFi
UPDATE; 6-27-2022
#2 /\ FERN /\ Simplifying, Optimizing, and Automating The Blockchain Ecosystem
https://actionandambition.libsyn.com/simplifying-optimizing-and-automating-the-blockchain-ecosystem
Jun 27, 2022
reviewing /\
BANKING / HOLDING COMPANY
CHRIST KERN CEO/DIRECTOR
HIS 6TH VENTURE
$FERN
/ METAVERSE
WEB-3
CRYPTO SPACE
DE-FI
MINING
NFT WEB-3 PLATFORM
BLOCKCHAIN/ECOSYSTEM
DIGITAL WALLET
CURRENCY/FINANCE
COUNTRIES / REPLACING U.S.A. CURRENCY
THOUGHTS
JACK DORSEY IMPROVISING WEB-4 & WEB-5
TELECAST;
https://actionandambition.libsyn.com/size/5/?search=fern
i$FERN ASKED TO RESERVE FERN SYMBOL FOR
NASDAQ & N.Y.S.E.
both confirmed by both exchanges.
$FERN
[-chart]pbs.twimg.com/media/FR7OK3LWQAAe83v?format=jpg&name=small[/chart]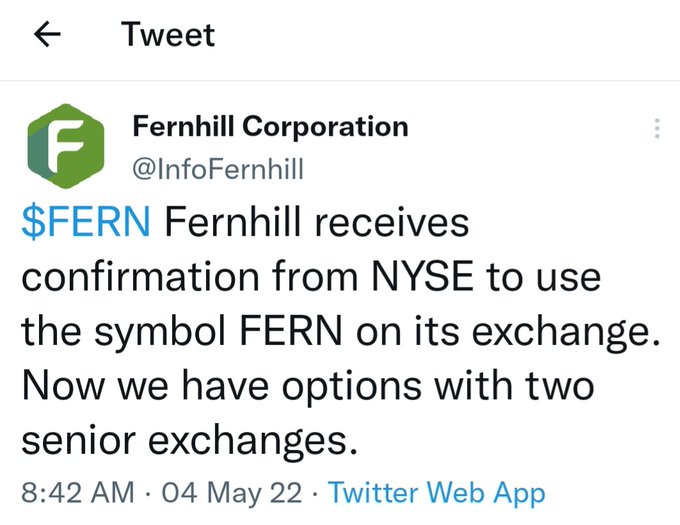 UPDATING /\ 5-3-2022
$FERN
/\ asked nasdaq to reserve symbol $FERN 5-3-22 Fernhill Corp Receives Nasdaq Approval for Ticker Symbol FERN
Fernhill
Tue, May 3, 2022, 6:00 AM
https://finance.yahoo.com/news/fernhill-corp-receives-nasdaq-approval-130000994.html
NASDAQ's symbol reservation department stating, "
Your request to reserve the ticker symbol 'FERN', for Fernhill Co
rp.,
Inc.

has been approved and will be reserved for you for twenty four months from the date of the reservation 02 May 2024.
Nasdaq is committed to supporting our global network of companies throughout all their life stages - before, during and after the Listing."
Chris Kern, Chairman, stated: "Getting a symbol reserved for trading on a senior exchange is a very big milestone for Fernhill.
The fact that we were able to secure our symbol so quickly for Nasdaq is another great step towards our uplisting objective for this year.
We will continue to work towards meeting the listing standards for corporate governance and other requirements knowing that we now have our symbol reservation approved.
Earlier this week Fernhill formally submitted an application the NASDAQ Capital Market Exchange.
The application has been logged and an analyst will be assigned to assist the Company throughout the listing process.
Fernhill will continue to trade on the OTC Markets under the symbol (OTC:FERN) throughout the process
and will remain trading with that symbol after our uplisting to a senior exchange.

About Fernhill:

Fernhill Corp is a Web3 holding company focused on developing and acquiring companies in crypto currency mining,
digital asset trading, NFTs, DeFi and the Metaverse that form the foundation of the tokenized economy.
Fernhill is Signatory Member of the Crypto Climate Accord (CCA).
UPDATING 4-13-2022 wow $FERN /\ 4-13-22
OTC DISCLOSURE & NEWS SERVICE
Fernhill Corp Provides Shareholder Update and Confirms the Company's 2022 Roadmap
Press Release | 04/13/2022
LAS VEGAS, NV / ACCESSWIRE / April 13, 2022 / Fernhill Corp (OTC PINK:FERN) is pleased to provide this shareholder update:
a recap of the Company's accomplishments, as well as an updated roadmap for the remainder of 2022.

Over the past year Fernhill has made considerable progress in establishing its foundation and has focused the business on growth
and building shareholder value within the digital asset/blockchain industry.

Among Fernhill's many accomplishments over the past year include:

Attained Pink Current Status with OTC Markets
Launched a new Corporate Website
Announced Plans to be up-listed to a Senior Exchange
Became a Member of Crypto Climate Accord (CCA)
Acquired Crypto Mining OS Platform - PerfectMine
Appointed Nathanel Coonrod as EVP of Engineering
Relaunched PerfectMine
Acquired Digital Asset Trading Platform - MainBloq
Expanded Executive team and Board of Directors (Chris Kern & Peter Bordes)
MainBloq completed its integration with FTX
Engaged Maxim Group, a leading Investment Bank
MainBloq signs with Global Hedge Fund - Corinthian Digital Asset Management
MainBloq completes integration with CoinBase Prime
Fernhill participates in M-Vest's Block Chain Conference
Announced development of a New NFT Marketplace
Appointed Chris Dey to its Advisory Board
MainBloq announced new technology to support Sub-Accounts for Exchanges
Currently in advanced discussions with several institutions and Family Offices for growth capital
Effective with the SEC for its Regulation A financing which allows Fernhill to raise up to $20M
Engaged a PCAOB auditor to begin the process of becoming fully reporting with the SEC.
"We are extremely proud of how much we have been able to accomplish in just the past year." said Fernhill CEO Marc Lasky.
"However, all of these accomplishments are truthfully just the building blocks of our over-arching goals. They are essentially just the tip of the iceberg."

Fernhill reaffirms its previously stated goals and objectives for 2022 and includes the following updated roadmap:

Complete the audits of Fernhill and MainBloq to become fully reporting with the SEC
MainBloq to sign several new financial institution clients
Expand our development team to support our growth
MainBloq to release new platform capabilities and updates
Launch our NFT marketplace of highly curated collections from vetted influencers and creators
Enter the DeFi Space with Staking, Liquidity Pools and Gaming
Launch PerfectMine 3.0 to include Staking and ASIC mining
Launch multi-channel marketing campaigns for MainBloq and PerfectMine
Add new Advisors and outside Board Members
Complete a highly strategic acquisition
Uplist to a senior exchange
"Regardless of the volatility in the crypto, equity markets and geo-political arena, we could not be more pumped about where we are as a company
and the future that Fernhill holds," said Chairman Chris Kern.
"I'm very thankful to have extremely talented, focused and passionate teams at Fernhill and MainBloq and highly confident in our ability to execute on our Road Map.
Combined with the new additions to our staff and board, potential acquisitions and a targeted uplisting, we expect 2022 to be a break-out year for Fernhill!"

About Fernhill:

Fernhill Corp is a developer and acquirer of high-performance proprietary software solutions focused on crypto currency mining,
digital asset trading and infrastructure applications that are designed to simplify, optimize and automate the blockchain ecosystem, including Mining, Minting,
Trading and DeFi. Fernhill is a Signatory Member of the Crypto Climate Accord (CCA).

For all official Fernhill corporate information, please refer to our filings, news and updates on the following resources:

OTC Markets
Nevada SOS
Fernhill Twitter
Fernhill Facebook
Fernhill Linkedin
Fernhill Website: FernhillCorp.com
Company Contact Information: info@fernhillcorp.com

Any other links are not official & should be taken as such nor have anything to do with Fernhill Corp or its subsidiaries.

About MainBloq:

MainBloq, a Fernhill Company ($FERN), is a digital asset connectivity platform connecting to leading exchanges to serve the needs of clients around the world.
MainBloq offers a modular platform including a smart order router, suite of execution algorithms, FIX / SOCKETS / REST gateway,
and consulting services to help banks and hedge funds execute on their trading strategies. For more information please visit www.mainbloq.io

MainBloq Website: mainbloq.io
MainBloq Twitter
MainBloq Facebook
MainBloq Linkedin

#$FERN #FernhillCorp #MakeCryptoGreen #CryptoCurrencies #GreenMiningPools #FinTech #SaaS #CryptoClimateAccord #LFG #PerfectMine #CryptoMining #MainBloq #DigitalAssetTrading

Forward-Looking Statements: This release includes 'forward-looking statements' within the meaning of Section 27A of the Securities Act of 1933, as amended,
and Section 21E of the Securities Exchange Act of 1934. Certain statements set forth in this press release constitute 'forward-looking statements.
' Forward-looking statements include, without limitation, any statement that may predict, forecast, indicate, or imply future results, performance or achievements,
and may contain the words 'estimate', 'project', 'intend', 'forecast', 'anticipate', 'plan', 'planning', 'expect', 'believe', 'will likely', 'should', 'could', 'would', 'may' or words
or expressions of similar meaning. Such statements are not guaranteeing of future performance and are subject to risks and uncertainties that could cause the company's
actual results and financial position to differ materially from those included within the forward-looking statements. Forward-looking statements involve risks and uncertainties,
including those relating to the Company's ability to grow its business. Actual results may differ materially from the results predicted and reported results should not be
considered as an indication of future performance. The potential risks and uncertainties include, among others, the Company's limited operating history, the limited financial resources,
domestic or global economic conditions, competition, changes in technology and methods of marketing, delays in completing various engineering and manufacturing programs,
changes in customer order patterns, changes in product mix, continued success in technological advances and delivering technological innovations, shortages in components,
production delays due to performance quality issues with outsourced vendors, services or components, and various other factors beyond the Company's control.

SOURCE: Fernhill Corp.

View source version on accesswire.com:
https://www.accesswire.com/697308/Fernhill-Corp-Provides-Shareholder-Update-and-Confirms-the-Companys-2022-Roadmap
UPDATING; 4-5-22
l.o.i./\[seeking]Fernhill unit inks LOI with Corinthian Digital Asset Management
https://seekingalpha.com/news/3787538-fernhill-unit-inks-loi-with-corinthian-digital-asset-management?utm_source=advfn.com&utm_medium=referral
Jan. 12, 2022 10:20 AM ETFERNBy: Jessica Kuruthukulangara, SA News Editor
Fernhill (OTCPK:FERN +9.2%) said its digital asset trading unit MainBloq signed a letter of intent to
provide Corinthian Digital Asset Management with algorithmic trading services.
Under the deal, MainBloq will deliver automated algorithmic trading, smart order routing
and customized trading solutions to optimize trading performance across multiple fund strategies.
"As we continue to expand upon MainBloq's market presence, working with world-class hedge funds and financial institutions, like Corinthian,
will be our core area of focus," said Fernhill chairman Chris Kern.
Corinthian is a global digital asset manager based in the UAE.
courtesy of $fern 11-29-2021
[-chart]pbs.twimg.com/media/FFXv71LXIAA2ktn?format=jpg&name=large[/chart]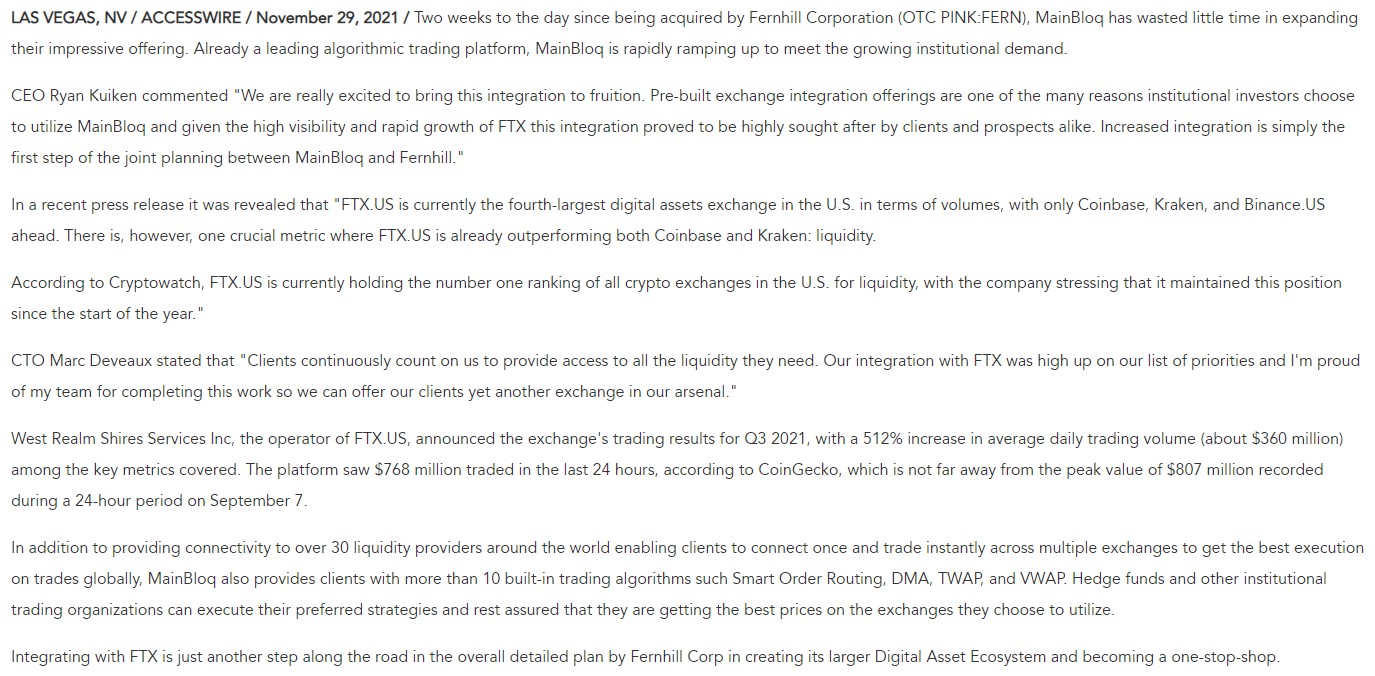 COMPANY PROFILE
Company Name: Fernhill Corp.
State of Incorporation: Nevada
Company Address: 3773 Howard Hughes Pkwy, Suite 500s, Las Vegas, NV 89169
Email: info@fernhillcorp.com
Publicly Traded: OTC Markets – Symbol: FERN
Fernhill OTC Markets Profile: https://www.otcmarkets.com/stock/FERN/profile
Fernhill Stock Quote (Yahoo Finance): https://finance.yahoo.com/quote/FERN?p=FERN
Corporate & SEC Counsel: Mr. Anthony Panek – Fabian Van Cott
Transfer Agent: Action Stock Transfer Corp.
Fernhill Twitter Site: https://twitter.com/InfoFernhill
Fernhill Facebook Page: https://www.facebook.com/fernhillFERN
NEW WEBSITE; 09-29-2021
WOW WEBSITE FER
$FERN
NEW STUFF
$NVDA
&
$AMD
CHIP MAKERS DARE
https://perfectmine.io/benchmarks
https://perfectmine.io/algorithms
https://perfectmine.io/faq
$FERN
awesome website
https://perfectmine.io/
https://perfectmine.io/
08-15-2021
Fernhill Corporation
NEW START 08-10-2021
[-chart]secureservercdn.net/192.169.220.85/7pv.0b7.myftpupload.com/wp-content/uploads/2021/05/fernhill-corp-logo.png[/chart]
https://fernhillcorp.com/
ABOUT US
Fernhill Corp is a diversified technology holding company that is publicly traded on OTC Markets under the symbol: FERN
TECHNOLOGY
We are developing technologies and making strategic acquisitions in blockchain/crypto, mobile apps, SaaS and alternative energy
VALUE
We strive to create long term sustainable and growing shareholder value by building our businesses and making strategic acquisitions
[-chart]pbs.twimg.com/card_img/1472428431732211713/G1HETYLQ?format=jpg&name=small[/chart]

[-chart]secureservercdn.net/192.169.220.85/7pv.0b7.myftpupload.com/wp-content/uploads/2021/05/cropped-digital-background-blue.jpg[/chart]
[-chart]secureservercdn.net/192.169.220.85/7pv.0b7.myftpupload.com/wp-content/uploads/2021/05/cropped-flower-field-sky-sunlight-sky.jpg[/chart]

UPDATED; 02-10-2022
COMPANY PROFILE
Company Name: Fernhill Corp.$FERN Stock – Unfurling Its Potential
1 MONTH AGO

https://pennystocks.today/fern-stock-unfurling-its-potential/

[-chart]pennystocks.today/wp-content/uploads/2022/01/BTC-Bitcoin-logo-with-New-Zealand-forest-behind-it-green-ferns-630x420-1-1155x675.jpg[/chart]




teadily upscaling in the crypto space, Fernhill Corp. (OTC: FERN) is a diversified technology holding company that develops and acquires new generation technology
– specifically for blockchain, crypto, mobile apps, SaaS, and alternative energy.
In July, after signing a LOI to acquire a Saas-based crypto mining operating system, FERN witnessed an immediate 187% increase over 13 days.
Similar to other crypto mining ventures such as SPRT, FERN has an angle on the emerging green-crypto mining space which is seeing bullish interest across the market.
With its roadmap for 2022 announced, FERN stock has been gaining momentum with a 50% increase before the end of the year.

Catalysts
Over the summer, FERN announced its acquisition of PerfectMine, an established and fully operational crypto mining operating system and monitoring platform.
At the time, FERN's CEO Marc Lasky underscored the importance of this acquisition for the business, stating that it "sets the stage for Fernhill to become one of the leading
providers of crypto mining tools and resources to help optimize and create green mining solutions for the masses".
He added that the acquisition is actually the first among a series of planned acquisitions of digital asset exchanges in the US that match the company's long-term plans.

Showing no sign of slowing, the company shared its intention to sign a LOI for another Crypto platform by the end of Q3.
The acquisition target was revealed in November as the groundbreaking digital asset trading platform Mainbloq.
Designed to deliver customized trading solutions that optimize digital asset trading, Mainbloq is connected to more than 30 of the top global crypto exchanges.

Meanwhile, FERN has made major progress with PerfectMine, relaunching its website and providing an updated roadmap for its products.
This combined with its new marketing plan for upscaling PerfectMines' client base,
are moves designed for generating profits to help qualify the company for uplisting to the NASDAQ by the end of 2022.
According to the company's roadmap, FERN is also starting the process to become fully SEC reporting and could complete it as early as January.

At the same time, the company has continued working on PerfectMine's infrastructure by adding new algorithms and pricing models.
PerfectMine's new features include social media integration, new pricing plans, integration with Coinbase, and scalable infrastructure on AWS.
With plans to launch a robust marketing campaign for PerfectMine as well, FERN spent the year focused mostly on improving its PerfectMine acquisition.

But this year, the company's attention has shifted to Mainbloq. As a company that serves banks and hedge funds,
it was important that Mainbloq become integrated with FTX which is considered to be the fourth largest digital assets exchange in the country. With this integration complete,
FERN is pursuing its big plans for Mainbloq, outlining that within the first half of the year it will launch new analytics and data services tools while expanding the infrastructure
to enhance performance and increase sales.

But that's just the tip of the iceberg for FERN which plans to launch a new user interface to improve consumers' experience,
create support for additional digital asset classes, and integrate with digital assets venues.
Meanwhile, the company will be bringing on new personnel and onboarding a number of global institutional customers as well.

While the company has plans for additional acquisitions in 2022, the addition of Mainbloq to its portfolio ties into FERN's plans for
"creating an integrated Digital Asset Ecosystem." As Fernhill's CEO highlighted during the acquisition,
"MainBloq met and exceeded all of the criteria we had put in place" adding that its "state-of-the-art proprietary technology fits perfectly
with our short term and long-term goals of becoming a leader in the blockchain and digital asset industry."

With these acquisitions complete and plans for improving them in 2022, FERN has the management team and framework necessary to become a real contender in the space.
Shareholders can look forward to further updates from the company,
but at the moment FERN is looking to launch new businesses and acquire companies with angles on the digital asset marketplace to accelerate its growth.

Media Sentiment

Setting out to become a leader in its industry,
FERN has already demonstrated its savvy business sense when it acquired PerfectMine at a deeply discounted asset purchase price of only $50 thousand.
As it continues to build its digital ecosystem, the company could become a contender in the space considering FERN's potential to move with crypto price surges.
With plans for addition acquisitions and other possible crypto mining operations, FERN stock could regain November PPS at $.05 – possibly doubling traders' investments.



State of Incorporation: Nevada
Company Address: 3773 Howard Hughes Pkwy, Suite 500s, Las Vegas, NV 89169
Email: info@fernhillcorp.com
Publicly Traded: OTC Markets – Symbol: FERN
Fernhill OTC Markets Profile: https://www.otcmarkets.com/stock/FERN/profile
Fernhill Stock Quote (Yahoo Finance): https://finance.yahoo.com/quote/FERN?p=FERN
Corporate & SEC Counsel: Mr. Anthony Panek – Fabian Van Cott
Transfer Agent: Action Stock Transfer Corp.
Fernhill Twitter Site: https://twitter.com/InfoFernhill
Fernhill Facebook Page: https://www.facebook.com/fernhillFERN
OTC WEEKLY REPORTS (NEW!)
August 6, 2021 – Weekly Report
https://www.otcmarkets.com/stock/FERN/overview
https://www.otcmarkets.com/stock/FERN/quote
https://www.otcmarkets.com/stock/FERN/profile
https://www.otcmarkets.com/stock/FERN/security
$FERN
SECURITY DETAILS,MKT CAP. 23,047,225
Share Structure
Market Cap Market Cap....23,047,225
08/09/2021
Authorized Shares.......3,000,000,000
07/16/2021
Outstanding Shares.....1,904,729,368
07/16/2021
Restricted........................365,904,061
07/16/2021
Unrestricted..................1,538,825,307
07/16/2021
Held at DTC....................Not Available
Float..............................1,033,577,935
06/14/2021
Par Value...............................0.0001
FERN SECURITY DETAILS 3-11-22 VS 7-16-21
Share Structure
Market Cap Market Cap 20,107,716
03/14/2022
Authorized Shares 3,000,000,000
03/11/2022
Outstanding Shares 2,241,662,827 VS 1,904,729,368
03/11/2022
Restricted 670,116,313 VS
.365,904,061
03/11/2022
Unrestricted 1,571,546,514 VS 1,571,546,514
03/11/2022
Held at DTC Not Available
Float 1,033,577,935 VS 1,033,577,935
06/14/2021
Par Value
0.0001
https://www.otcmarkets.com/stock/FERN/news
https://www.otcmarkets.com/stock/FERN/financials
https://www.otcmarkets.com/stock/FERN/disclosure
02-07-2021
DISCLAIMER: ONLY FOR MICK
https://investorshub.advfn.com/boards/profilea.aspx?user=1012
*The Board Monitor and herewithin , are not licensed brokers and assume NO responsibility for actions,
investments,decisions, or messages posted on this forum.
CONTENT ON THIS FORUM SHOULD NOT BE CONSIDERED ADVISORY NOR SOLICITATION
AUTHORS MAY HAVE BUYS OR SELLS WITH THE COMPANIES MENTIONED IN TRADING POSTERS SHOULD DUE DILIGENT BUYING OR SELLING.
ALL POSTING SHOULD BE CONSIDERED FOR INFORMATION ONLY. WE DO NOT RECOMMEND ANYONE BUY OR SELL ANY SECURITIES POSTED HEREWITHIN.
ANY trade entered into risks the possibility of losing the funds invested.
• There are no guarantees when buying or selling any security.Any