new year's eve/ 2018-2019- ElixinolCBD
$ELLXF:First-Ever Public Ad in Japan for CBD Brand Elixinol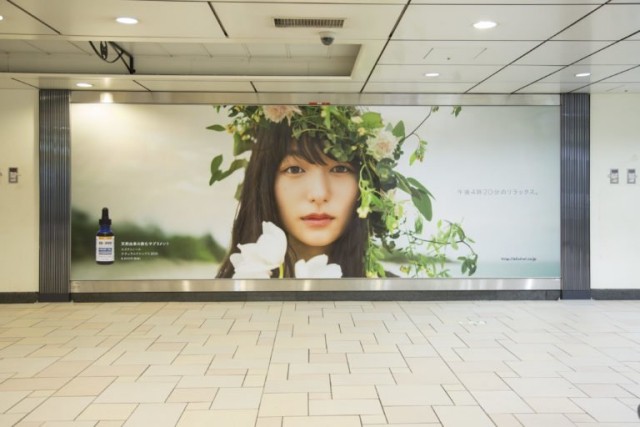 @ElixinolCBD/ 31 Dec 2018
Elixinol Global Ltd. engages in the industrial hemp and medical cannabis business in Australia.
It manufactures and distributes industrial hemp-based dietary supplements, foods, and skincare products in the USA.DESCRIPTION
Elixinol Global Ltd. engages in the industrial hemp and medical cannabis business in Australia.
It manufactures and distributes industrial hemp-based dietary supplements, foods, and skincare products in the USA.
https://www.otcmarkets.com/stock/ELLXF/profileV
Elixinol Global Limited is an ASX listed company with a global presence in the cannabis industry through our subsidiary businesses.
These include:V

Elixinol USA is a manufacturer and global distributor of industrial hemp based dietary supplement and skin care products, operating out of Colorado, USA.
Hemp Foods Australia is a leading hemp food and skincare products wholesaler, retailer, manufacturer and exporter of bulk and branded raw materials, and finished products
Elixinol Australia is an emerging Australian medicinal cannabis company with applications pending approval with the Australian Office of V
50 Pitt Street,
Level 6
Sydney, NSW 2000
Australia
Logo, listing
OTCQX Member Since 09/2018
OTCQX International
OTCQX Composite
OTCQX International
Verified Profile 09/2018
15 Reasons Why Hemp Producer Elixinol Should Be in Your Portfolio
Contributed Opinion

https://www.streetwisereports.com/article/2018/12/17/15-reasons-why-hemp-producer-elixinol-should-be-in-your-portfolio.html

Source: Fincom Investment Partners for Streetwise Reports (12/17/18)

Frederick Lacy
With the U.S. government legalizing hemp in the recently passed 2
018 Farm Bill, Fincom Investment Partners profiles a hemp company
whose largest market is the U.S.
CBD Oil

Elixinol is the least known of the Big Three pure-play, public CBD companies.

U.S. federal government just legalized hemp—first time in 80 years.
+++++ Q3 revenue up 159% Y/Y and 27% over prior quarter.
Profitable.
Elixinol offers significant value compared to cannabis peers.

Elixinol Global Ltd. (EXL:ASX; ELLXF:OTCQX) is a U.S.-focused,
publicly traded,
"pure play" hemp manufacturer,
85% focused on CBD. Investors with interest in hemp/cannabis,
or wellness—and growth—may consider adding Elixinol to their portfolio.

We believe CBD is part of a massive growing trend away from strong "meds" (like opioids) into more natural, less invasive health options.

CBD (non-intoxicant) "cannabidiol" market is booming.
CBD is a cannabis related-compound,
but does not contain
THC (the "high" component in marijuana).

There are no psychoactive effects, only natural health benefits.

Numerous research studies show wide ranging benefits including inflammation,
pain,
anxiety,
arthritis,
diabetes,
PTSD,
infections,
epilepsy,
depression,
alcoholism and
MS.

We argue CBD is bigger than cannabis.

We believe more people are interested in improved health—than
in getting "high"—certainly, on a daily basis. We hope.

This author's family has been in the nutrition and vitamin business
for the past 40 years;
70% of customers walk-in with complaints relating to pain, stress or sleeping.

Our experience indicates the over-the-counter (OTC) market is real
and enormous
— market size estimates for CBD range wildly,
but "bigger than cannabis" is good enough for us.

CBD "grows" on you. CBD benefits appear to increase as people age.

We suspect this may relate to the
"holy grail" of medicine,
oxidative stress.

The "European Journal of Pharmaceutics and Biopharmaceutics"
(January 2019) concluded:

"Precisely due to this lack of psychoactive effects,
CBD is doubtless the most auspicious phytocannabinoid for the
treatment of various pathologies, namely inflammatory and neurodegenerative diseases,
mental disorders,
neuropathic pain,
epilepsy and
cancer."

Hemp/CBD is now U.S. federally legal for the first time in 80 years.

On January 1, the 2018 Farm Bill becomes effective.

Hemp has been removed from federal schedule 1 controlled substance classification,
a bi-partisan effort championed by Republican Senate Majority Leader Mitch McConnell.

We expect significant near-term media and investor attention;
this is a true milestone.

Doors open for banks, corporations.

Already several giants,
including Coca-Cola and
Walmart,
have publically expressed interest in the CBD "wellness" market.

We think "everybody" will get involved, in some form, like
Pepsi,
Walgreens,
Whole Foods and
dozens of others.

CBD is mostly sold in mom & pop stores today,
so the enormity of the "next phase" has yet to begin.

https://c.stockcharts.com/c-sc/sc?s=ELLXF&p=D&b=5&g=0&i=t5243368819c&r=1544573573644

Note the recent spike in volume. Elixinol was invited to the recent Cowen Cannabis Summit;
and did just two days of institutional investor meetings.

While too early to call a trend,
our thesis remains institutional investors are just beginning to discover CBD
and will be attracted to the Elixinol value proposition.
(source: http://Stockcharts.com)

Better odds with CBD.

We find only three
"investable," public,
pure-play CBD companies having significant sales.

The Canadian government lists 132 authorized cannabis producers.

Who will pick the winner? CBD is easier—one can easily bet all the good horses.

Elixinol focuses more on the wholesale side,
selling to many other CBD companies who then re-package the oil,
while
CWEB and
CVSI sell mostly at independent nutrition retailers.

All 3 are profitable,
with strong growth,
quality products, relatively similar sales and earnings,
and all sell for a fraction of the big Canadian cannabis companies. Whole Foods is not going to sole-source. Neither should you.

Cramer does hemp.
This recent article
(see link) from CNBC's Jim Cramer's The Street.com
http://www.thestreet.com
is one of what we suspect becomes a flood of press anticipating
January 1, 2019, hemp legalization.

We believe this a "tell" in that this flawed article, with glaring errors, means (to us) that CBD has "legs"—the press has yet to clue in,

although we agree it is nice they did choose to quote Elixinol's Gabriel Ettenson.

Furthermore, we note if the CBD sector does anything close to the
40X growth (by 2022) as projected, CBD stocks are going seriously higher.

Hemp/cannabis "action" moves from Canada to U.S. Our suspicion
the October 17 Canadian legalization was a "sell the news"
event looks prophetic.

For investors participating in any form of cannabis/hemp,
we believe the best opportunities are in the U.S.

We further believe the Canadian cannabis public valuations and "earnings" multiples are beyond insane.

U.S.-focused CBD looks optimal, to us.

Better read the fine print. Cannabis pumpers were celebrating the
recent Altria (see below) investment in Cronos. We wonder what they
are smoking.




Altria (Phillip Morris,
the Marlboro maker) only pays tobacco farmers around $2 a pound.

It varies,
but tobacco farming,
the highest paying major crop,
only earns around $1,500 per acre.

For example, that means the "poster child" of over-valuation,
Tilray,
which has been crashing,
but still worth $8 billion,
could earn a whole $3,600 a year on their whopping 2.4 cannabis acres
(a nice-sized back yard) under cultivation.

We agree there is some marginal difference in various strains,
etc., and know the THC and CBD content in the flowers have value,
but it's nowhere near worthy the hype.

The USDA (Sept. 2018) reports U.S. tobacco crop planting alone at 321,000 acres.

Do the math. Marijuana farming supposedly yields over $1 million per acre. Investors have to be idiots to think farmers won't switch.

Plus, it grows all over the world.

Investors should stick with value-added manufacturers as both a
better relative value and timely set-up.

Potential supply shortage. Hemp oil requires a larger product input;

it will take farmers several cycles to scale up for any significant demand jump. Elixinol,
which has been growing and marketing hemp and CBD in the US since 2014, is well aware of the supply situation.

The company has been lining up supply channels, worldwide, for expansion.

https://static2.seekingalpha.com/uploads/sa_presentations/509/33509/slides/7.jpg?1535565325

Well cashed. Elixinol has about US$40 million in cash and is deploying to expand production and marketing.

We foresee no immediate financing need. For investors,
we believe that regardless of whatever happens in the stock markets,
CBD is here to stay, and Elixinol has cash to grow.

Better business model. Elixinol had, by necessity,
begun as a vertically integrated manufacturer, but farming is a tough, low margin business.

CBD is a manufactured product, an oil, which is a value-added process that takes care and skill.

Hemp is only an input product. We believe this is the "sweet spot"—it's the manufacturers,
not growers, who have margin power.

Big Liquor and Big Tobacco do not pay farmers the fortunes cannabis growers seem to expect.

https://s3-us-east-2.amazonaws.com/elixinol-content/uploads/2016/05/24043546/Labratories.png
State of art manufacturing facility (source: Elixinol)

Cannabis prices declining. Anybody can grow it, all over the world;

cannabis has been grown in India for at least 4,000 years.

Early cannabis states, Oregon, for example,
legal since 2015,
now have high quality cannabis prices in Portland as low as $75 an
ounce ($2.65 per gram) (source: http://www.priceofweed.com).

The corollary is that lower input prices (hemp/cannabis) actually strengthen Elixinol's oil margins.

Stick with the bigger, better names.

Sadly, both nutrition and penny stock worlds attract charlatans
like pigs to mud. We know schemers will be out in force.

We suggest investors (and CBD users) completely ignore the wannabes
and pumpers; stick with the bigger, better quality CBD manufacturers.

Excellent sales growth, profitable. Elixinol is profitable,
which is a nice plus,
given the rapid growth —Q3 revenues were A$10.4, up 159% Y/Y
and up 27% over 2Q 2018

Experienced Management. Founder Paul Benhaim has been in the hemp industry since 1996.

The company possess a deep understanding of the issues and
structure of the hemp/CBD market, its supply and processing, and
is beefing up the sales team for anticipated consumer demand.

https://s3-us-east-2.amazonaws.com/elixinol-content/uploads/2018/04/25185500/About-Process.jpg
Elixinol founder Paul Benhaim hard at work (source: Elixinol)

An "unknown" U.S. entity.

Although Elixinol is technically an Australian (ASX listed) company,

84% of sales are in the US.

Elixinol is positioning for future growth in the U.S., Europe and elsewhere,

but we believe Elixinol qualifies as a "U.S. pure-play"
and presently offers an opportunity for investors to "discover"
Elixinol early.

The company has expressed a desire to "uplist" to NASDAQ or NYSE.

Valuation comparison

We believe if cannabis investors start looking at the numbers,
sober, CBD stocks become "no-brainers".

Elixinol trades around a US$ 210 million market cap
(Issued shares 125 million, including 78 million lock up shares due 2020),
while Cronos (CRON) who recently grabbed headlines with a major investment from
Altria (Phillip Morris) trades for $2.3 billion
(before including the Altria $1.8 billion investment).

In the September quarter,
Cronos had an operating loss of $4.9 million ($7 mm net loss)
on only $3.8 million in sales. Elixinol was profitable,
with 2X the sales at $7.6 million (AUD/USD rate converted at 0.73),
but Elixinol trades for 1/10 the value.

We wonder what Altria execs were smoking—Cronos doesn't even post financials or news on its website.

Risk Factors

This is a fast moving market and subject to violent market changes. Volatility is off the chart.


Be careful. Shares of Elixinol primarily trade,
and are listed, in Australia.

Liquidity may be an issue for other investors. Elixinol trades on
the OTCQX market and there is no assurance of ultimate uplisting
by the NYSE or NASDAQ,
or if even this is necessary with Elixinol being the number 1 IPO of 2018 of all Australian companies.

Like all of the cannabis industry, there are plenty of competitors; entry barriers are low.
Elixinol has an early lead,
long experience in hemp, and possesses talent to maintain competitive advantage.
Nevertheless, increased competition is a certainty.

There are numerous state and federal agencies still weighing in on
CBD as a food. No assurance can be made that some agency will attempt
to deny CBD sales,
even though hemp/CBD becomes federally legalized with the 2018 Farm Bill.

We see the largest near-term risk as a pinprick bursting the bubble
of other cannabis stocks, especially Tilray and many other insanely overvalued Canadian companies.

Investors tend to "sell everything" when capitulating, so volatility
may remain strong even if the CBD market continues to expand.

Management is probably spread too thin. A global company, and
based in Australia,
anyone would have inherent difficulties managing U.S. operations,
which account for 81% of Elixinol sales.

The president of the U.S. operations represents the second largest shareholder in the company,
so it is not a major issue. Our conversations with management
indicate the company is well aware of this and actively seeking
to build staff,
but it remains a risk factor if the company can't act fast enough to capture opportunities.

Frederick Lacy, President of Fincom Investment Partners,
began as a Chicago commodity broker in 1984.

In 1987 he joined Bateman Eichler, Hill Richards in Los Angeles, focusing on small to mid-cap equities,
ultimately "retiring" in 2000 as a Managing Director of Investment Banking.

Mr. Lacy has been involved in numerous investments,
from arranging start-up capital for what became Petrohawk,
which sold for $15 Billion, to mobile payments in India.

Several long-time clients were founding investors of Cheniere Energy.

Mr Lacy's decades in California technology includes arranging an
early $13 million VC financing for "permanent ledger" software
(now commonly known as "blockchain") led by top-tier fund Upfront Ventures.

Other investments include 3D holographic display technology,
early mobile applications, power conversion, along with multiple consumer health-related products:
Canadian Glacier bottled water,
Kinetin skin cream, a proprietary oxidative-stress formula, and
UV purification systems.

In 1989 Mr. Lacy hosted "the Venture Capitalist" which aired on
(now) CNBC, a
nd has followed the natural foods industry for 35 years.

Want to read more about Cannabis? Sign up to receive the FREE Streetwise Reports' newsletter.
Newsletter Sign-Up

Disclosure:
1) Frederick Lacy: Fincom Investment Partners owns shares of the following companies mentioned in this article: Elixinol.

I personally am, or members of my immediate household or family are, paid by the following companies mentioned in this article:
None.

My company currently has a financial relationship with the following companies mentioned in this article: None. Fincom disclaimer below.
I) determined which companies would be included in this article based on my research and understanding of the sector.

2) The following companies mentioned in this article are billboard sponsors of Streetwise Reports: None. Click here for important disclosures about sponsor fees.

3) Statements and opinions expressed are the opinions of the author
and not of Streetwise Reports or its officers.

The author is wholly responsible for the validity of the statements.

The author was not paid by Streetwise Reports for this article.

Streetwise Reports was not paid by the author to publish or syndicate this article.

The information provided above is for informational purposes only
and is not a recommendation to buy or sell any security.

Streetwise Reports requires contributing authors to disclose any shareholdings in,
or economic relationships with, companies that they write about.

Streetwise Reports relies upon the authors to accurately provide this information and Streetwise Reports has no means of verifying its accuracy.

4) This article does not constitute investment advice.

Each reader is encouraged to consult with his or her individual financial professional
and any action a reader takes as a result of information presented
here is his or her own responsibility. By opening this page,
each reader accepts and agrees to Streetwise Reports' terms of use
and full legal disclaimer.

This article is not a solicitation for investment.

Streetwise Reports does not render general or specific investment
advice and the information on Streetwise Reports should not be considered a recommendation to buy or sell any security.

Streetwise Reports does not endorse or recommend the business,
products,
services or securities of any company mentioned on Streetwise Reports.

5) From time to time, Streetwise Reports LLC and its directors, officers,
employees or
members of their families,
as well as persons interviewed for articles and interviews on the site,

may have a long or short position in securities mentioned.

Directors, officers, employees or members of their immediate
families are prohibited from making purchases and/or sales of
those securities in the open market or otherwise from the time of
the interview or the decision to write an article until
three business days after the publication of the interview or article.

The foregoing prohibition does not apply to articles that in substance only restate previously published company releases.

Fincom Investment Partners Disclaimer

This report is for informational purposes only and is not a solicitation of any security purchase or sale.
Prices are moving too fast to constantly recalculate; do your own due diligence.

Opinions expressed herein by the author are not an investment recommendation and are not meant to be relied upon in investment decisions.

The information upon which this material is based was obtained from sources believed to be reliable, but has not been independently verified.

Therefore, Fincom Investment Partners cannot guarantee its accuracy.

Any opinions or estimates constitute our best judgment as of the
date of publication, and are subject to change without notice.

We recommend investors conduct thorough investment research of their own, including detailed review of the related Companies' SEC filings,
and consult a qualified investment adviser.

Fincom Investment Partners and its officers and directors own shares
in the securities mentioned in this report and may buy or sell shares
at any time without prior notice.

Fincom Investment Partners has not been compensated for this report.

Charts and images provided by the author.
Related Articles