https://www.akaritx.com/
Akari is focused on developing inhibitors of acute and chronic inflammation, specifically the complement system, and leukotriene system,
for the treatment of rare and orphan diseases with unmet need. We believe that blocking early mediators of inflammation
will prevent initiation and continual amplification of the processes that cause certain diseases.
Nomacopan is a recombinant small protein (16,740 Da) that acts on complement component-C5,
preventing release of C5a and formation of C5b–9 (also known as the membrane attack complex, or MAC),
and independently also inhibits leukotriene B4, or LTB4, activity, both elements that are co-located as part of the immune/inflammatory response.
Nomacopan is currently being clinically evaluated in four indications:
bullous pemphigoid (BP), , a severe blistering skin disease
atopic keratoconjunctivitis (AKC), a sight threatening surface of the eye condition
thrombotic microangiopathys (TMA) including including atypical hemolytic uremic syndrome (aHUS) and hematopoietic stem cell transplant-associated thrombotic microangiopathy (HSCT TMA)
paroxysmal nocturnal hemoglobinuria (PNH).
Akari believes that the dual action of nomacopan on both C5 and LTB4 may be beneficial in AKC, BP, and aHUS. Akari is also developing other tick derived proteins, including longer acting versions.
Nomacopan is a highly soluble and stable biological molecule, and independently binds to both C5 and LTB4. This novel dual binding enables targeting of two distinct and separate disease categories based on their underlying etiology.
Four Primary/Lead Indications in Phase II/III Plus Pipeline of Earlier-Stage Targets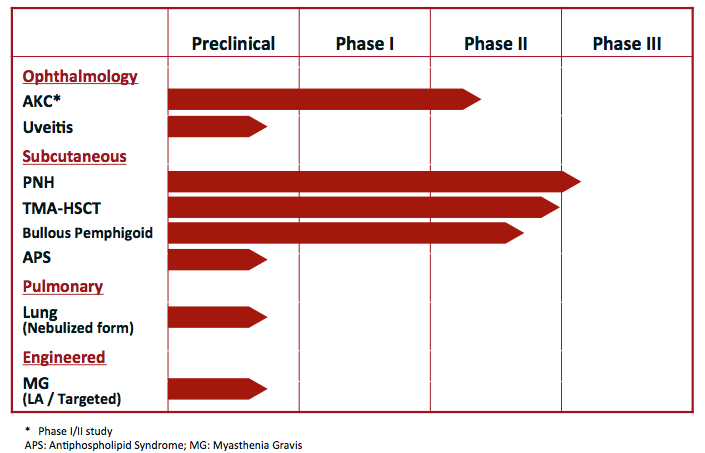 https://www.akaritx.com/bullous-pemphigoid-phase-iia/
https://www.akaritx.com/akc-phase-i-ii/
https://www.akaritx.com/long-term-safety/
https://www.akaritx.com/phn-phase-ii-iii/
RECENT PRESS RELEASES
July 1, 2020
July 1, 2020
June 1, 2020
May 1, 2020
March 31, 2020
https://finance.yahoo.com/news/akari-therapeutics-reports-first-quarter-110010702.html
Patients with COVID-19 pneumonia
The Company believes nomacopan's dual inhibition of both the complement (C5) and leukotriene (LTB4) pathways makes
the drug potentially well suited for the treatment of patients with COVID-19 pneumonia and related COVID disease.
Leukotriene inhibition is a validated pathway for the treatment of severe lung inflammation and LTB4 is a potent granulocyte and
leukocyte attractant which in turn are key drivers of the damaging cytokine storm that underpins acute respiratory distress syndrome (ARDS).
Likewise, there is growing evidence of the role of the complement pathway in the microthrombi and organ damage associated with COVID-19 pneumonia.

In pre-clinical lung inflammation models including a study of viral induced lung inflammation, nomacopan (formerly known as Coversin)
showed significant reductions in key lung inflammatory markers such as neutrophils and lung vascular leakage (Garcia et al., 2013; Roversi et al., 2013).
Likewise in sepsis models (Huber-Lang et al., 2014) nomacopan has shown significant downregulation of a wide range of pro-inflammatory cytokines
and chemokines including TNF, IL-6, GM-CSF, IL1alpha, IL1beta, IL17, MCP1 (CCL2), MIP1alpha (CCL3),
MIP1beta (CCL4) which have all been shown to be elevated in patients with COVID-19 disease.

Akari is actively pursuing several clinical study opportunities in patients with COVID-19 pneumonia in the UK and U.S.
The Company intends to provide additional detail when these programs are finalized and approved.
https://finviz.com/quote.ashx?t=aktx&ty=c&ta=1&p=d
$AKTX FIVE YR.
https://www.otcmarkets.com/stock/AKTX/disclosure
https://www.otcmarkets.com/stock/AKTX/news
https://www.otcmarkets.com/stock/AKTX/security
https://www.otcmarkets.com/stock/AKTX/profile
https://www.otcmarkets.com/stock/AKTX/quote
https://www.otcmarkets.com/stock/AKTX/overview
*DISCLAIMER *The Board Monitor and The Board Assistants herewith, are not licensed brokers and assume NO responsibility for the actions, investment decisions, and or messages posted on this forum.
• We do NOT recommend that anyone buy or sell any securities posted herewith. Any trade entered into risks the possibility of losing the funds invested.
• There are no guarantees when buying or selling any security.