Real Stock Plays

Find a good online stock broker and open an account. Become familiarized with the layout and to take advantage of the free trading tools and research offered to clients only.
Some brokers offer virtual trading which is beneficial because you can trade with play money
Books provide a wealth of information and are inexpensive compared to the costs of classes, seminars, and educational DVDs sold across the web.
My personal all-time favorite is How to Make Money in Stocks by William O'Neil
Read articles
Articles are a fantastic resource for education. Recommended website for investment education: investopedia.com and Google search.
Forums can be another source for question and answer. The vast majority of participants are not professional traders, let alone profitable traders.
Heed advice from forums with a heavy dose of salt and do not, under any circumstance, follow trade recommendations.
Study the greats
Learning about the greatest investors of years past will provide perspective, inspiration, and appreciation for the game which is the stock market. Greats include Warren Buffett, Jesse Livermore, George Soros, Benjamin Graham, Peter Lynch, John Templeton and Paul Tudor Jones, among others. One of my favorite book series is the Market Wizards by Jack Schwager.
Read and follow the market
News sites such as Yahoo Finance and Google Finance serve as a great resource for new investors.
By monitoring the markets each day and reading headline stories investors can expose themselves to trends, 3rd party analysis, not to mention economic concepts and general business.
Pulling quotes and observing fundamental data can also be good.



courtesy of charting /\ wit tweezer top calls /\ Tony
@Montana_Trades
Really good study sheet on Candlestick Patterns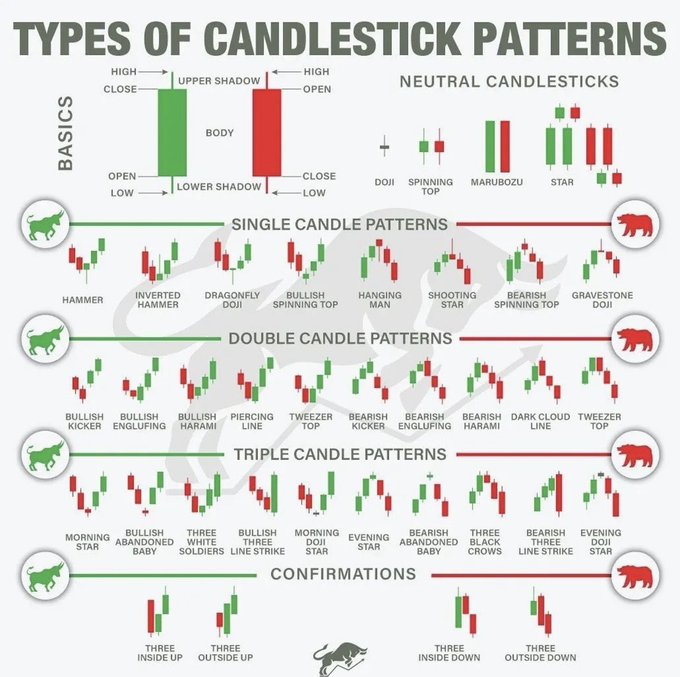 02-07-2021
PER IHUB MGMT
DISCLAIMER: ONLY FOR MICK
https://investorshub.advfn.com/boards/profilea.aspx?user=1012
*The Board Monitor and herewithin , are not licensed brokers and assume NO responsibility for actions,
investments,decisions, or messages posted on this forum.
CONTENT ON THIS FORUM SHOULD NOT BE CONSIDERED ADVISORY NOR SOLICITATION
AUTHORS MAY HAVE BUYS OR SELLS WITH THE COMPANIES MENTIONED IN TRADING POSTERS SHOULD DUE DILIGENT BUYING OR SELLING.
ALL POSTING SHOULD BE CONSIDERED FOR INFORMATION ONLY. WE DO NOT RECOMMEND ANYONE BUY OR SELL ANY SECURITIES POSTED HEREWITHIN.
ANY trade entered into risks the possibility of losing the funds invested.
• There are no guarantees when buying or selling any security.Any

DISCLAIMER;
JUST TO MAKE SOME THINGS CLEAR
I AM NOT AH FINANCIAL ADVISIOR
& NOT AH BROKER.
I AM JUST AH REGULAR GENT DAT LIKES TO
CHAT CHATTER ON MANY COMPANIES.
SOME I OWN AH LOT I DON'T.
SO NOT RESPONSIBLE ANYTHING I DESCRIBE.
DA MICK.