Outstanding Shares 1,050,898,753 05/13/2020
Restricted 20,095,990 05/13/2020
Unrestricted 1,030,802,763 05/13/2020
Held at DTC 961,480,34305/13/2020
Latest News:-

Feb 4, 2021 Neutra Focused on Growth
There will be No Share Consolidation aka R/S, NTRR will focus on Strong Growth and Value sof Shareholders!!!
KATY, TX / ACCESSWIRE / February 4, 2021 / Neutra Corp. (OTC PINK:NTRR) ("Neutra" or "the Company") has decided to release a statement that management does not plan on having a share consolidation, also known as a "reverse split" at this time. Instead, the Company will focus on the growth of its wholly owned subsidiary VIVIS CBD.
"We have made leaps and bounds to where we were before in 2018," said Neutra CEO Sydney Jim. "We have built our own production facility, launched new CBD products, hired a national sales staff, and gained new white label contracts. Neutra will be concentrating on growing VIVIS CBD in the best interest of the Company and its shareholders. Hopefully, we will have our final piece for complete vertical integration soon."

Neutra Corp. (OTC: NTRR) is a research and development company bringing modern solutions to nutraceuticals, food and drug and environmental purification markets. Founded in 2011, the company formed in the vitamin and supplement health and wellness industry, later expanding into medical cannabis, and now is directing its key focus to the rapidly growing hemp-based cannabidiol ("CBD") segment. Neutra intends to become a vertically integrated company engaged in all areas of the seed-to-sale value chain, including cultivation, manufacturing, formulation of products, distribution and retail sales.
Within its broadened scope, Neutra intends to commercialize offerings designed for a growing new world culture where consumers are coming to expect products that promote health and stave off potential dangers. The company is focusing on meeting this demand with cutting-edge products, solutions and technologies that meet increased needs of health- and environment-conscious consumers.
Neutra Among First to Apply for Texas Hemp Handling License
Quote:

---

Neutra Among First to Apply for Texas Hemp Handling License

Press Release | 03/20/2020

SUGAR LAND, TX / ACCESSWIRE / March 20, 2020 / Neutra Corp. (OTC PINK:NTRR) has applied for a hemp handling license in Texas, the first step towards legal cultivation and processing of its own hemp in the Lone Star state. It also puts Neutra closer to its long-term goal of becoming a vertically integrated company with grow, produce and distribute hemp and hemp-based CBD products without having to rely on any outside sources.

"We were online the moment the application portal opened," said Neutra CEO Sydney Jim. "This is a big development for us. Obtaining a license will greatly help us accelerate our ongoing vertical integration plan. Having a hemp source close to home will also enable us to speed production and get products to market much faster and cheaper."

The Texas Department of Agriculture (TDA) opened its online application portal March 16. The online portal will help speed application processing and approval versus the traditional method of mailing in an application. Application processing and approval is estimated to take up to 60 business days, the TDA states.

The TDA has been quite supportive of hemp production in Texas under current Commissioner Sid Miller. Miller said it "is a great victory for Texas" when the U.S. Agriculture Department approved the Texas Hemp Plan, opening the door to legalization of cultivation and processing of the crop.

Neutra has been preparing and working towards vertical integration. The company has a fresh influx of private equity funding. It's also looking to integrate technology into its CBD production efforts.

The CBD marketplace has taken off in the past few years. Consumers have discovered the many health benefits of hemp-based oils, lotions and supplements and have opened up their wallets to buy CBD products. As a result, some market analysts expect CBD product sales to reach an estimated $16 billion by 2026, up from just a little over $1 billion in 2018.

NOTICE REGARDING FORWARD LOOKING STATEMENT

Safe Harbor Statement under the Private Securities Litigation Reform Act of 1995: This news release contains forward-looking information within the meaning of Section 27A of the Securities Act of 1933, as amended, and Section 21E of the Securities Exchange Act of 1934, as amended, including statements that include the words "believes," "expects," "anticipate" or similar expressions. Such forward-looking statements involve known and unknown risks, uncertainties and other factors that may cause the actual results, performance or achievements of the company to differ materially from those expressed or implied by such forward-looking statements.

Neutra Corp. (NTRR) is an early-stage research and development company that's bringing modern healthy living solutions to a multi-billion dollar market. Cutting-edge technologies within the nutraceuticals, food and drug, and environmental purification sectors are creating a new kind of world culture-one where consumers are demanding access to products that promote health and stave off potential health dangers. One of the nutraceutical sub-markets is the new thriving Hemp-based CBD market, in which we intend to participate.

CONTACT:

Sydney Jim

888-433-4033

info@neutrainc.com

---
https://www.texasagriculture.gov/RegulatoryPrograms/Hemp.aspx
Neutra Subsidiary VIVIS Awarded Texas Hemp-Handling License; Now Installing Equipment to Ramp Up Production
SUGAR LAND, TX / ACCESSWIRE / April 15, 2020 / Neutra Corp. (OTC PINK:NTRR) subsidiary announces it has received a hemp-handling license from the Texas Department of Agriculture. This license will allow VIVIS to legally cultivate and process hemp within the Lone Star State, fulfilling a key part of Neutra's vertical integration plan, put into place last year. Now, with license in hand, VIVIS and Neutra are busy with the initial phase of installing processing equipment at its new Houston facility.
"This is definitely an historic day for Neutra and its investors," said Neutra CEO Sydney Jim. "This license will help us greatly optimize and improve our operations. We have control of our process from cultivation, to processing, to production, to marketing, to sales. We'll be better able to ensure we're putting out a contaminant-free, hemp-based product, which should give us a big edge in the market with consumers seeking top-tier CBD oils, lotions, supplements, etc., at competitive prices."
Despite the COVID-19 pandemic sweeping the globe, Neutra has not let the coronavirus and subsequent economic shutdown stand in the way of its progress. Instead, it sees this time as an opportunity to focus and direct its energies. This will ensure it's in a strong position to take advantage of opportunities when the pandemic passes and consumer economic activity resumes. The company has made smart use of the private equity funding it received at the beginning of the year. In addition to applying for and now getting the Texas hemp-handling license, Neutra has also been examining ways to integrate more technology into its hemp-based CBD production efforts.
https://www.otcmarkets.com/stock/NTRR/news/story?e&id=1577166
Neutra's Houston Facility Ready to Debut at Opportune Time as FDA Nears Guidelines for CBD Products in Food
SUGAR LAND, TX / ACCESSWIRE / April 24, 2020 / Neutra Corp. (OTC PINK:NTRR) is nearing another important milestone. With its Texas hemp-handling license now in hand, the company is preparing to open its new Houston-area facility in about a week. This facility will give Neutra greater ability to process hemp into CBD products for sale into an ever-growing market.
The processing site's debut couldn't come at a better time. Even though the COVID-19 pandemic has forced many businesses to close, or at least curtail operations, hemp-based-CBD sales remain strong as consumers still have ample access to products via e-commerce outlets. In addition, the Federal Drug Administration (FDA) is evaluating potential ways to allow CBD to be used as a dietary supplement and is looking to come up with enforcement discretion guidance.
"Our new facility is going to put us in a strong, solid position for future growth," said Neutra CEO Sydney Jim. "We'll be able to create new products, take advantage of economies of scale, build market share and innovate strategies to improve shareholder value. And, if the FDA does allow CBD as a dietary supplement, we'll be able to quickly take action."
CBD (aka cannabidol) is the non-psychoactive component of cannabis derived from hemp. CBD does not provide a high, as does THC (tetrahydrocannabinol). Consumers use hemp-based CBD oils, topical, lotions and supplements to achieve relief from pain and muscle discomfort, stress and anxiety, and insomnia.
The CBD market has enjoyed steady growth in recent years. This growth is fueled by legislation that made hemp-based CBD legal, as it is not considered a controlled substance.
CBD was one of 2019's top-selling supplements. End-of-year sales topped $1 billion. Analysts predict sales reaching $10 billion by 2024 as its popularity with consumers soars.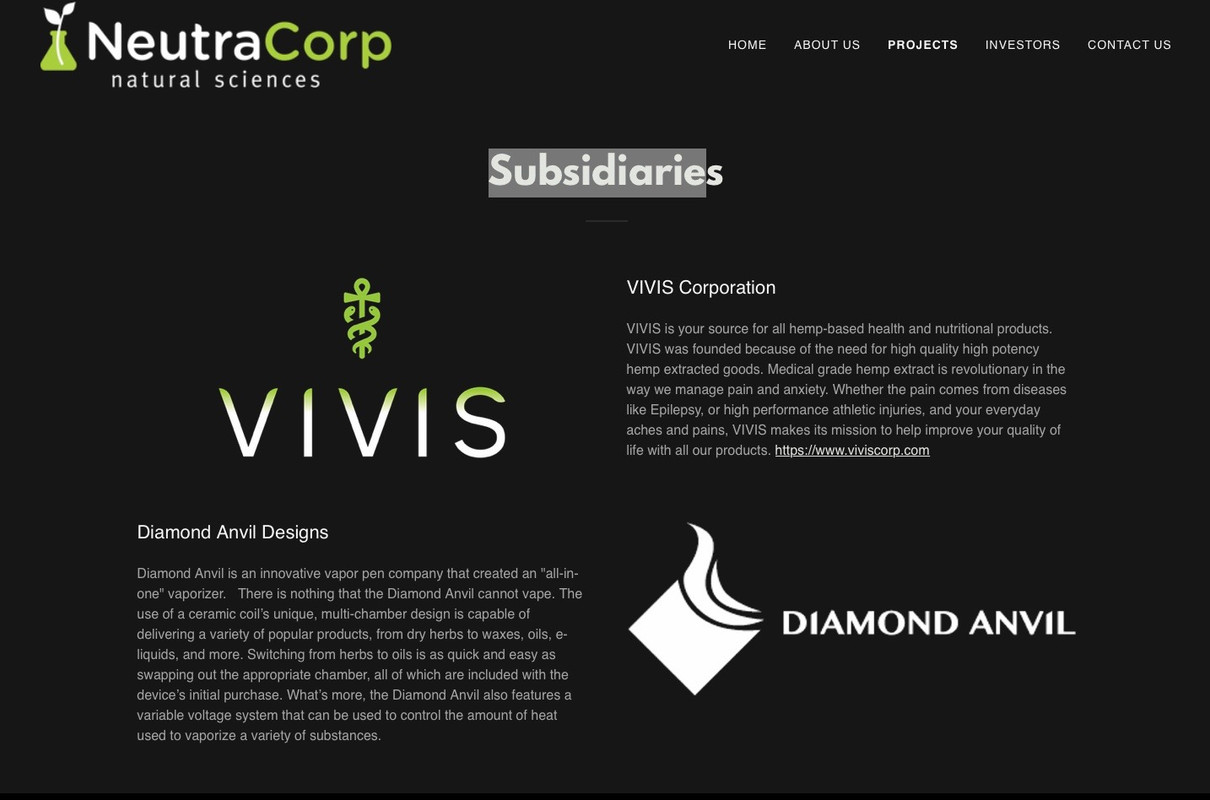 In a time where people are looking at alternatives - both in health products and potential new avenues of investment - companies like Neutra Corporation offer ground-floor opportunities.
Neutra Corporation has the inside track in a vertical market has been given the full GREEN LIGHT by the State of Texas.
https://www.star-telegram.com/news/state/texas/article231426808.html
Other helpful links:
https://www.texasagriculture.gov/RegulatoryPrograms/Hemp.aspx
https://dfw.cbslocal.com/2020/01/27/usda-approves-texas-state-hemp-plan/