NaturalShrimp, Inc. Announces New Equity Credit Line of $11,000,000
Dallas, TX, Aug. 21, 2019 (GLOBE NEWSWIRE) -- via NEWMEDIAWIRE -- NaturalShrimp, Inc., an aquaculture Company which has developed and patented the first commercially operational RAS for shrimp, announced today that it has negotiated a new equity credit line of $11,000,000.
The $11,000,000 equity line, being executed with GHS Investments, LLC, allows the Company to access additional equity capital from GHS in $500,000 tranches. The agreement with the terms and conditions can be accessed via a forthcoming 8K.
Commenting on the financing, NaturalShrimp CFO, William J. Delgado, noted, "We continue to work and expand on our available capital in anticipation of our expansion in La Coste, TX and elsewhere. This brings our total available capital to approximately $16,000,000. We will use the funds diligently and only where our expected return will outweigh the capital expenditure."
Gerald Easterling, President of NaturalShrimp, added, "The last few weeks have seen a significant uptick in demand for our technology. Raising this additional capital is a crucial step in the expansion and joint venture process."
About NaturalShrimp, Inc. NaturalShrimp, Inc. (SHMP) is a publicly traded agro-tech company located near San Antonio, in La Coste, Texas. It has developed and tested the first commercially viable system for growing shrimp indoors using proprietary technologies in a system that produces healthful, naturally grown shrimp without the use of antibiotics or toxic chemicals. Visit www.naturalshrimp.com.
Contact: William Delgado
775-443-4740
bdelgado@naturalshrimp.com
April 2019: CEO "Bill" Williams interview about SHMP's patented technology for growing shrimp anywhere in the world


https://upticknewswire.com/interview-ceo-bill-williams-of-naturalshrimp-incorporated-otcqb-shmp-2/



April 4, 2019: NaturalShrimp takes possession of New Water Treatment Systems Toward Full Production:

https://www.globenewswire.com/news-release/2019/04/04/1796949/0/en/NaturalShrimp-Takes-Delivery-of-New-Water-Treatment-Systems-Toward-Full-Production.html




March Event (1): NaturalShrimp will be at "Seafood Expo North America" March 17-19, 2019, the Largest Seafood Expo in North America for Suppliers, Industry Professionals

SHMP management is hitting all of the top industry gatherings in the U.S. to engage the broadest range of those in attendance. https://www.seafoodexpo.com/north-america/




March Event (2): NaturalShrimp will meet industry/business clients at "Aquaculture 2019" March 7-11,2019: https://www.was.org/meeting/code/AQ2019

Also: To see other upcoming Aquaculture or Seafood Events coming in 2019-2020 that NaturalShrimp and/or F&T may be headed, go to: https://thefishsite.com/events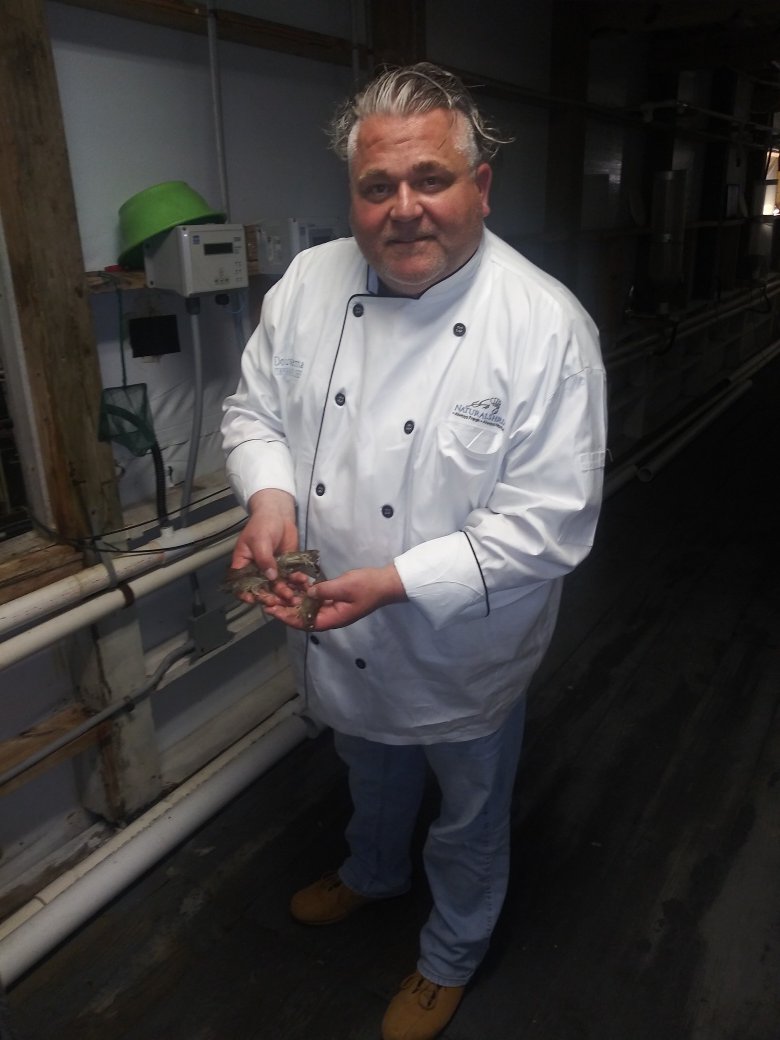 Douwe Iedema, Executive Corporate Chef, NaturalShrimp, Inc. - 2019



TOP CHEFS ARE DROOLING OVER NATURALSHRIMP" - Clientele at Ritz Carlton, Four Seasons Hotels & Resorts!

Tripveel is a trending online Travel and Haute Cuisine e-magazine, a collaborative product partnered with Open Table, Priceline.com and Booking.com.

Tripveel: https://www.tripveel.com/tripveel/natural-shrimp Instagram: https://www.instagram.com/p/BujKAERnby6/ Facebook: https://www.facebook.com/tripveel/






Also served at these Dallas venues: Hyatt Regency, Cowboys Stadium, Celebrity Chef Tour, Green Grocer Dallas: http://naturalshrimp.com/our-shrimp/



FEBRUARY 28, 2019, FROM THE NATURALSHRIMP FACILITY, ON OTC MARKETS BOARD

Go to >
https://www.otcmarkets.com/stock/SHMP/news/NaturalShrimp-Inc-Completes-Testing-Its-Patented-Technology?id=219786
NaturalShrimp, Inc. (OTCQB: SHMP) announced today that it completed testing its patented technology to grow shrimp indoors with onsite Shrimp Lot 180.
"The method worked extremely well and maintained the water control parameters within acceptable limits through the grow-out period," said Bill G. Williams,
Chairman and CEO. With the results and the hard data now recorded, the acquisition of additional new systems will allow NaturalShrimp to facilitate roll-out
and expansion by adding additional harvests to present capability. This new equipment will enable NaturalShrimp to increase operations, while at the same
time providing additional R&D development for continuous innovation. The Company said it anticipates issuing additional news about its partial harvest soon.
The Company said it was cleared to harvest shrimp on February 21, 2019 by the Texas Parks and Wildlife Department (TPWD). The TPWD is a Texas State
Agency. The TPWD also conducted an onsite inspection of the shrimp and the Company's production facility on February 22, 2019. (Article is linked above)

>>> Paul Knopick email at E&E Communications: pknopick@eandecommunications.com

>>> Office Telephone Number for Paul Knopick at E&E Communications: (940) 262-3584