FIBERTOWER CORPORATION (NasdaqGM: FTWR)
185 Berry Street, Suite 4800
San Francisco, CA 94107
415.659.3500 (Phone)
415.659.0007 (Fax)
Important Websites
Home Page:
http://www.fibertower.com
Investor Relations
Gus Okwu
721 Rock Springs Court NE
Suite #721
Atlanta, GA 30306
404.532.0086
gokwu@drg-e.com
Company Contact
Ornella Napolitano
185 Berry Street, Suite 4800
San Francisco, CA 94107
415.659.35100
investorrelations@fibertower.com
Accounting Firm Handling FTWR
Ernst & Young LLP
5 Times Square
New York, NY 10036-6530
212.773.3000
About Fibertower Corporation (FTWR:NAS/GM).
Who We Are
FiberTower Corporation provides facilities-based backhaul services to wireless carriers in the United States. Backhaul is the transport of voice, video and data traffic from a wireless carrier's mobile base station, or cell site, to their mobile switching center, where the traffic is then switched onto a fixed telecommunications network. As of December 31, 2007, it deployed 2,813 sites, including 2,148 billing sites. The company was incorporated in 2000 and is based in San Francisco, California.
FiberTower Corporation is a backhaul and access transport provider focused primarily on the wireless carrier market. With its extensive spectrum footprint in 24 GHz and 39 GHz bands, carrier-class microwave and fiber networks in 13 major markets, customer commitments from six of the leading cellular carriers, and partnerships with the largest tower operators in the U.S, FiberTower is considered to be the leading alternative carrier for wireless backhaul.
FiberTower was formed in 2000 to address the weakest link in rapidly evolving wireless networks - backhaul. Backhaul is defined as the all-important transport piece between a carrier's cell site (base station at the cell tower) and its switching facility.
Due to the rollout of mobile broadband access networks, bandwidth demand in the wireless network is rising exponentially, putting considerable strain on a decades-old copper infrastructure designed to backhaul voice traffic. Today, with the advent of wireless data, carriers seek scalable, flexible and cost-effective backhaul alternatives that will support their 3G and 4G broadband initiatives. Such alternatives, including microwave and fiber, are the new evolution in wireless backhaul.
Fibertower's Spectrum Map and Area Coverage
Spectrum leasing is a flexible option for carriers and service providers to fill in network gaps. FiberTower enables this through its 24/39 GHz fixed wireless spectrum portfolio, the most expansive of its kind in the US.
FiberTower has networks operating in 13 major markets, including Atlanta, Boston, Chicago, Cleveland, Dallas/Fort Worth, Denver, Detroit, Houston, NJ/NY, Pittsburgh, San Antonio/Austin/Waco, Tampa and Washington DC.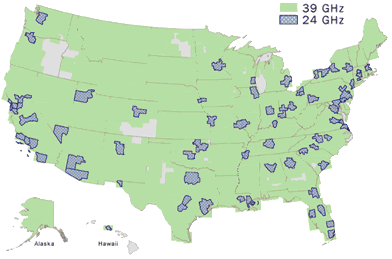 FTWR Management
Kurt Van Wagenen, President and Chief Executive Officer
Kurt Van Wagenen serves as President and Chief Executive Officer for FiberTower. Prior to FiberTower, he served as President and CEO of NEON (formerly Globix Corporation) from January of 2007 until November of 2007 when NEON merged with RCN Corporation. Prior to being appointed CEO of NEON, he served as President and Chief Operating Officer of Globix Corporation after being promoted from his prior position as Chief Operating Officer of Globix Corporation's Network Services division. Van Wagenen also served as Vice President of Network and Operations for NEON Communications from 2001 until the merger of NEON and Globix in 2005. Before joining NEON in 2001, Van Wagenen was employed by Verizon Communications and its various predecessors in diverse positions of increasing responsibility, where he commenced his employment in 1986. Van Wagenen holds an M.B.A. from Harvard University and a B.S. in Engineering from the Rensselaer Polytechnic Institute. He is also a Chartered Financial Analyst.
Ravi Potharlanka, Senior Vice President and Chief Operating Officer
Ravi Potharlanka serves as Senior Vice President and Chief Operating Officer for FiberTower. He is responsible for day to day operations of FiberTower's markets. Prior to joining FiberTower, Potharlanka served as VP of International Market Development at Teligent, where he managed the operations of International joint ventures. Prior to that, he was Director of Market Development for Teligent's domestic operations. Potharlanka also worked as Director of Product and Technology Development at Nextel Corporation as well as Manager of Technology Development at Airtouch. He holds a BE in Electronics and Communications Engineering from REC, Trichy (India), an MS in Electrical Engineering from the University of California, Davis, and an MBA from Harvard Business School.
Thomas Scott, Senior Vice President and Chief Financial Officer
Thomas Scott serves as Senior Vice President and Chief Financial Officer at FiberTower. He is responsible for finance, administration and strategic planning. Prior to FiberTower, Scott was the CFO of First Avenue Networks, which merged with FiberTower in August of 2006. Prior to that, Scott had several interim senior management roles as a consultant, including President and Chief Financial Officer at Teligent. Scott also worked for Winstar Communications' corporate development group and held investment-banking positions with Montgomery Securities (Banc of America Securities), Thomas Weisel Partners and Merrill Lynch. He holds a BA and MBA from the University of Virginia.
David Leeds Michael Finlayson, Senior Vice President, Technology
Michael Finlayson serves as Senior Vice President of Technology at FiberTower, where he heads national engineering and technology initiatives. Prior to FiberTower, Finlayson served as Vice President of Technology for First Avenue Networks, a FiberTower predecessor company. Before First Avenue, Finlayson served as Senior Technical Consultant for Flarion Technologies where he was responsible for technical consulting worldwide, including the deployment and testing of 3G/4G mobile broadband networks for major cellular operators across the U.S., Europe and Asia. Prior to that, Finlayson held technical management roles for Shasta Networks, culminating in his most recent role there as Midwest Engineering Manager, where he managed the testing and implementation of Shasta's broadband service platform for U.S. carriers. Prior to his tenure with Shasta Networks, Mr. Finlayson held engineering and management positions with Wellfleet Communications (now Bay Networks). Michael Finlayson began his career in networking at the University of Buffalo, where he also attended.
Joseph M. Sandri, Jr., Senior Vice President, Regulatory and Government Affairs
Joseph Sandri serves as Senior Vice President of Regulatory and Government Affairs for FiberTower. He is responsible for all regulatory and business aspects related to FiberTower's extensive spectrum assets. Prior to joining First Avenue, Sandri served as president of IDT Spectrum and senior vice president and regulatory counsel for Winstar/IDT Solutions. Prior to that, he interned in the FCC Mass Media Enforcement and Common Carrier Policy Bureaus. He holds a BS from the University of Maryland, a JD from the Catholic University Columbus School of Law, and certification from the Institute for Communications Law Studies in Washington, D.C.
Ferdi Schell, Senior Vice President, Systems
Ferdi Schell serves as, Senior Vice President, Systems for FiberTower, bringing extensive engineering and operations experience in wireless and wireline telecommunications. His responsibilities include National Operations, Network Performance, Facilities Engineering, and IT. Prior to joining FiberTower, Schell worked with BC Tel Mobility as VP of Engineering and Operations (CTO) and Telus Communications as VP of Planning and Engineering (Chief Engineer). He has successfully engineered, built and operated large microwave and fiber backhaul systems in Canada. Schell holds a Master's of Business Administration and Bachelor of Applied Science in Engineering Physics from the University of British Columbia, as well as a Diploma of Technology in Telecommunications from the British Columbia Institute of Technology. He also serves on the Board of Directors for Dyaptive Systems in Vancouver Canada.
Stock Filings and Information
http://finance.yahoo.com/q?s=FTWR
http://www.otcmarkets.com/stock/ftwr/quote
Company News
http://fibertower.com/corp/news-press-releases.php
Chart and Stock Information
Transfer Agent
Computershare Investor Services
250 Royall Street
Canton, MA 02021
800.730.6001
Share Structure
Estimated Market Cap - 4,388,794 as of Dec 12, 2011
Outstanding Shares - 15,128,554 as of Dec 21, 2009
Number of Share Holders of Record - Not Available
Source:
http://www.otcmarkets.com/stock/ftwr/company-info