EVLI HEADING TO THE EXPERT MARKET
NO FILINGS SINCE 2020 = HEADING TO TURD LAND AND NO ONE CAN BUY ANYMORE
ONE MONTH PERFORMANCE

EVLI IS NOT SEC REGISTERED
--------------------------------------------------------------------------------------------------------------------------------------------------------------------------------------------------------------------------------------------------------------------------------------------------------------------------------------------------------------------------------------------------------------------------------------------------------------------
Probably not much time left to bail on EVLI before Expert Market.
EVLI is a suckers bet. Sharp doesn't want it.
Even if Sharp wants custodianship, which he clearly said he doesn't, he would need to get past financial statements from a disgruntled, ousted CEO who is also a convicted felon.

If Blankenship cant afford attorneys to fight Sharp in court, he probably hasn't had the cash to cover accountants to properly maintain records and would be unlikely to hand them over even if he did.

Even if it all got worked out, it would take months for any new custodian to file and get all the financials updated, posted and approved by OTC markets or the SEC.

EVLI will have long since gone to Expert Market waiting for filings, reviews and approvals.

Canadians would be eating the lunches of OTC rookies by then.

The only thing that buying EVLI is accomplishing is providing Robert Hymers with an exit, before reality sets in for gullible traders.

Worst of all, some continue to claim that EVLI is a SEC registered stock when it clearly isn't.
Quote:

---

CERTIFICATION AND NOTICE OF TERMINATION OF REGISTRATION UNDER SECTION 12(G) OF THE SECURITIES EXCHANGE ACT OF 1934 OR SUSPENSION OF DUTY TO FILE REPORTS UNDER SECTIONS 13 AND 15(d) OF THE SECURITIES EXCHANGE ACT OF 1934.

---
This blatantly false claim implies that EVLI would be an easy fix for a new custodian.

Its just wrong.
IMO and FWIW.

EVLI UPDATE (JUNE 16, 2022)
George Sharp
@GeorgeASharp
That having been said, those of you stuck in $EVLI, may want to send Blankenship emails encouraging him to accept my offer.

...7:16 AM · Jun 16, 2022·Twitter Web App

George Sharp
@GeorgeASharp
This morning, I sent the following email to Mark Blankenship of $EVLI. I did this at the behest of several shareholders. I am not willing to litigate the matter & I EXPECT THAT HE WILL REJECT THE PROPOSAL, so nobody should get their hopes up.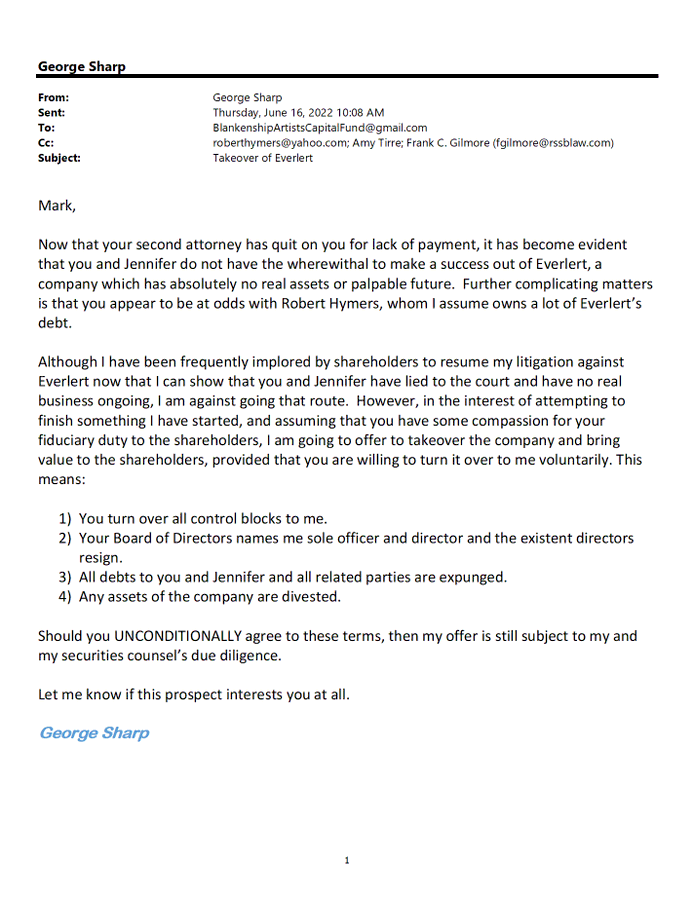 7:13 AM · Jun 16, 2022·Twitter Web App