has the exclusive world-wide license to the Passive Scanning Technology™. Passive Security Scan Inc.'s technological breakthrough in walk-through security scanning, will transform security protocols for educational, institutional, public, and government facilities in the USA, and the world. Passive Security Scan's Passive Portal™ is proudly manufactured here in the USA.
Traditional metal detectors are "active-sensing". Meaning, they emit potentially harmful radiation that may cause damage to our bodies with prolonged or frequent exposure. Instead of using x-rays or other forms of emissions, the sensors inside in the Passive Portal™ read variations in the Earth's magnetic field and alert users when firearms, knives, and other weapons are present during screening.
Defense Technologies International brings products to market in the areas of personal and collateral protection by creating technology that is unique in design and operation. The company, through its subsidiary Passive Security Scan Inc., developed the Passive Portal™, a walk-through weapons detector. The company plans to develop further products for the security industry that will change the face of their respective industries. The company's primary product has application in addressing the serious issue of school security and safety.
Subsidiaries
Passive Security Scan Inc. was formed to bring our Passive Scanning Technology™ and our Passive Portal™ weapons detection system to the market, and to improve public safety with a system specifically designed for public and private schools, sports arenas, and other public venues. The Passive Scanning Technology™ was developed in 2005 and has been continually improved upon with the newest technological advances. The Passive Portal™ gateway is our newest model ready for production and for the market.
Team
Passive Security Scan Inc. is managed by a group of seasoned professionals with years of experience in their respective field of knowledge. It is the Company's short and medium term goal to continue to seek out and appoint additional exceptional professionals to the Team.
Management Team & Advisory Board
Merrill W. Moses, President and CEO
David Corey, Production Manager
Rick Fluck, Technical Director
Michele Mase, Public Relations Director
David King, Marketing Director – Eastern Seaboard USA
Privateer Market Force Inc. - National Marketing Consultant
Please see bios on the Management Team and Advisory Members at: Passive Security Scan Inc.

Officers and Directors
Mr. Merrill W. Moses
President, CEO and Director
Mr. Merrill W. Moses has sat-on over a dozen different Corporate Boards and has acted as President/CEO and/or as an officer and director of multiple Public Companies and dozens of Petroleum, Oil and Gas, and Alternative Energy enterprises. Mr. Moses is currently and has served as CEO and President of numerous energies, high-technology, banking/finance, and escrow companies, as well has provided stewardship over both domestic and international banking conglomerates. Additionally, Mr. Moses has successful been involved with and has operated numerous large and successful Private Investment Banking firms accumulating a client base of thousands and having negotiated massive international Energy and Utility agreements; experience that money just can't buy. During these experiences, Mr. Moses has provided services in the realm of 'asset and commodity trading', 'factoring and trade finance', 'credit augmentations' as well as asset and collateral debt enhancements. Mr. Moses served as a Bank President for 16 years providing for nationwide commercial and residential lending services, bridge loan funding, self-liquidating debt financing and significant "Investment and Trading portfolio programs" for commercial as well as humanitarian and social purposes. He served as President George W. Bush's Honorary Chairman of the House Majority Trust as well as serving "with distinction" on the National Republican Congressional Committee's "Business Advisory Council" for the state of California. Mr. Moses attended Brigham Young University, majoring in finance and business through 1976.
Mr. Charles Cortland "Cort" Hooper
Director
Mr. Charles Cortland "Cort" Hooper, brings a wealth of business experience and know-how to the Company. As a missile guidance engineer, Mr. Hooper lead a team in the designing and building missile guidance systems for the U.S. Army ground to air combat installations, and the Hawk and Nike missiles. Mr. Hooper is a graduate of the University of California at Los Angeles as a Systems Engineer. Mr. Hooper has a Master of Science Degree in Management from UCLA and the U.S. Naval Post Graduate School and did his doctorate work in Finance. Mr. Hooper had a distinguished career as an officer in the U.S. Navy during the Viet Nam war. Mr. Hooper will advise the company in regard to organizational structure, strategic planning and management and will serve on the Board to contribute to the overall management in the areas of finance, strategic planning, market development, and the value and strategy of the company in the securities markets.
Their Mission
Providing Peace of Mind with our Advanced Security Products.
DTI's products encourage adoption of our cutting-edge technologies by providing functional and budgetary viability. Our goal is to maintain a company where research and creativity are nurtured, leading to a prosperous future for the company and high value for our shareholders and our customers.
Its subsidiary, Passive Security Scan Inc. brings products to market in the areas of people and property protection.
Passive Security Scan Inc. will succeed in the markets of personal and collateral protection by creating technology that is unique in design and operation.
Their Primary Market
How safe are your Schools and Universities?
Over the last five years there has been a marked increase in violent crime at elementary, secondary and university school levels. The National Crime Victimization Survey reported "students ages 12-18 were victims of about 1.5 million nonfatal crimes while they were at school."
According to the National Center for Education Statistics, from 2006-2008, there were nearly 2,000 homicides, 1,500 suicides and 50 violent deaths of children ages 5-18 at schools. These statistics come from reported incidents; there are any number of crimes that go unreported. Passive Security Scan can positively impact these numbers. Passive Security Scan can give students, teachers and staff members a safer, more secure learning environment, without the worry of extended daily radiation exposure.
In addition, the 'Passive Security Scan' is adaptable to most public venues including, but not limited to:
Government Buildings, VA Hospitals, Sports Stadiums, Night Clubs, Commercial Yards and Depots, and not least, Airports.
Introducing the Passive Portal™
The Passive Portal™ represents a major breakthrough in weapons detection technology. This superior system provides many advantages over standard metal detectors.
The Passive Portal™ can now be ordered with an optional elevated body temperature detector. This detector passively provides real-time elevated body temperature screening, also known as EBT, to limit the spread of contagious diseases.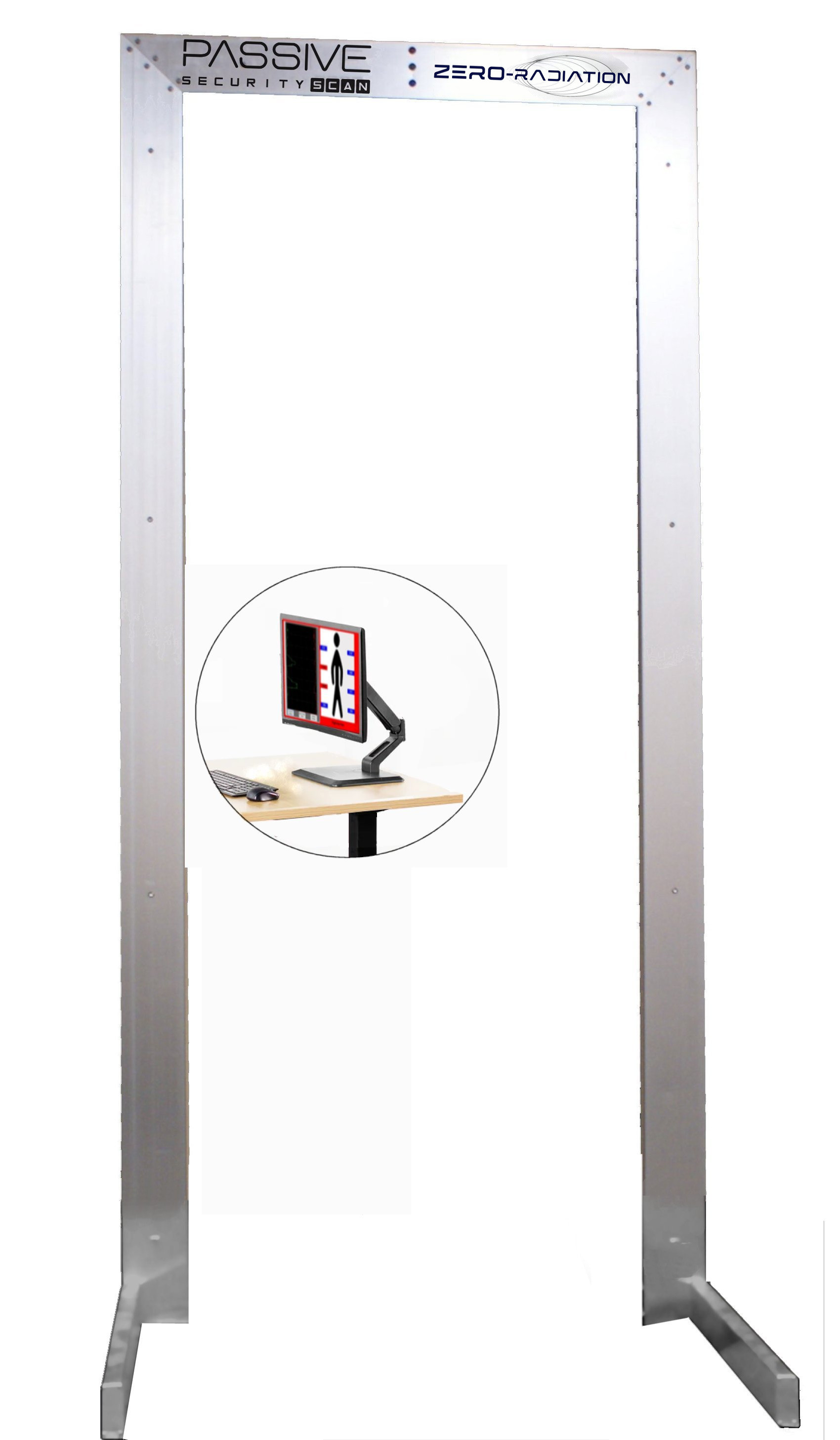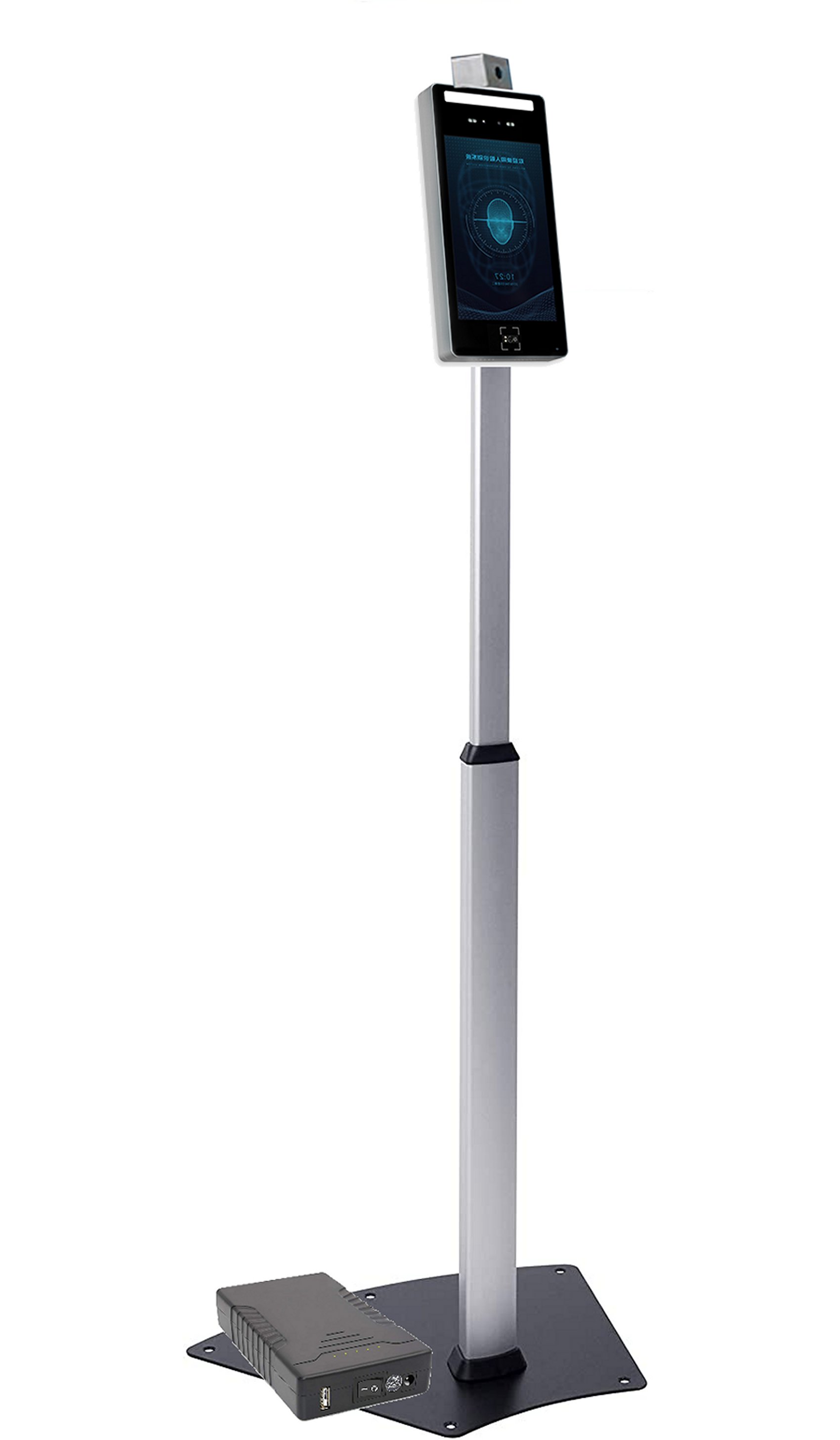 Passive Scanning Technology™ is a zero-emission technology. Simply put, this means there is no potential for cancer and other inherent health risks associated with ionizing radiation.
At only 28 lbs, the Passive Portal™ is so light that it can easily be moved by a single operator; a design that makes it easy to transport, store or install outside at a football game or other events.
Their extensive, in-house testing shows a near 99% threat detection accuracy.
Colored LEDs and an audible alarm clearly alert security and staff members. The Passive Portal™ can be configured to verbally locate potential threats.
At less than 2 inches thick, the Passive Portal™ features a non-intimidating, new-age appearance, unlike that of standard metal detectors.
Because this new technology uses very little power, it can run on its built-in batteries for approximately 12 hours of operation, or when connected to a 110/220-volt power outlet, the system can be operated under AC power with its included power supply.
The Passive Portal™ can scan up to 1200 people per hour. This is 3 seconds per scan! With Bluetooth connection to the optional interactive tablet, the potential threat is approximated to a specific area of the body- dramatically speeding the threat assessment process.

Even with all of these clear advantages, the Passive Portal is significantly more affordable than standard metal detector alternatives.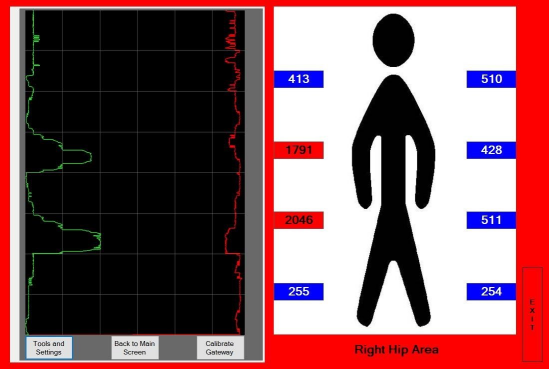 Passive Portal Windows 10 Interface
Registered Trademark: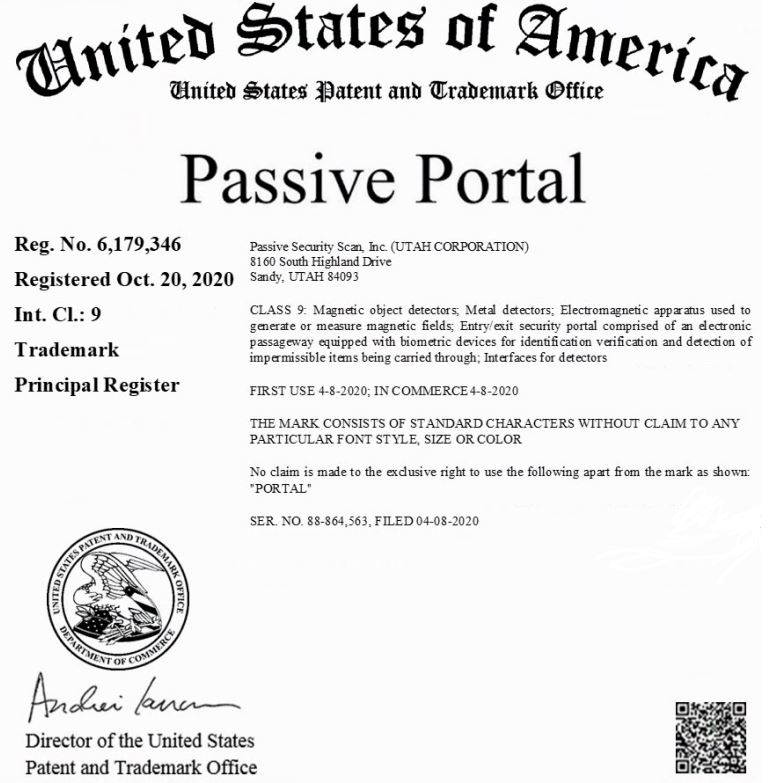 Share Structure
Authorized
600,000,000 Common Voting Shares, $0.0001 par value.
21,500,000 Preferred, Convertible Shares, $0.0001 par value.
5,000,000 Series A – Voting Shares, One hundred votes for each share, convertible to ten common shares.

5,000,000 Series B – Non-Voting shares, convertible to ten common shares.
1,500,000 Series C – Non-Voting shares.
1,500,000 Series D – Non-Voting shares.
Issued & Outstanding as of: 09/20/2022
Total Issuance Authorized: 489,943

Restricted Shares: 8,176
Unrestricted: 553,794
FLOAT: 553,794