UPDATE; 05-19-2021
$AMLH Baller Mixed Reality Gains Strong Industry Recognition
[ industry leader in collectibles, augmented reality, and blockchain.][acquiring cutting-edge technologies in Web 3.0, NFTs and the metaverse.]
8:17 am ET May 17, 2022 (Accesswire)
Becoming a Leader in Collectibles, Augmented Reality, and Blockchain
MIAMI BEACH, FL / ACCESSWIRE / May 17, 2022 / Baller Mixed Reality (an American Leisure Holdings portfolio company) is quickly gaining recognition as
an industry leader in collectibles, augmented reality, and blockchain.
As of May 10th, Crunchbase (the preeminent resource tool for corporate,
non-profit and entrepreneurial data) ranks Baller as the #2 trending Augmented Reality Company in the United States on its leaderboard
- three places ahead of Meta.
It also ranks Baller the #2 trending Collectibles Company,
#2 3D Technology Company, and
#25 blockchain company.
[-chart]www.accesswire.com/users/newswire/images/701674/image.png[/chart]
Founder & CEO of Baller Mixed Reality, Jonathan Herman says,
"Baller finds itself at the convergence of three major business trends
- the rising value of celebrity autographed memorabilia,
the mainstream awareness and acceptance of NFTs,
and the coming wave of new augmented reality devices.
We are very excited about the forthcoming release of AR eyewear from Apple, Samsung,
Meta and others,
and we are positioning our unique digital assets to be enjoyed with these new technologies."
Early collectors of Baller's limited edition NFTs, which are currently viewable
with Adobe Aero compatible phones and tablets,
will have an entirely new way to experience Baller's sports and entertainment collectibles as these eyewear products come to market.
Stay tuned for additional updates as Baller brings more of its innovative 3D-AR NFTs to these sectors.
ABOUT BALLER MIXED REALITY
Led by Jonathan Herman, Baller Mixed Reality is pioneering the new era of autographed metaverse collectibles with augmented reality NFTs autographed by legendary sports and entertainment figures.
NFT Collections: OpenSea.io/Baller_Mixed-Reality
Contact: info@ballermr.com | (888) 840-1118 Social Links
(Twitter, Discord, TikTok, YouTube, Facebook, Instagram, LinkedIn):
qr1.be/LT4A
ABOUT AMERICAN LEISURE INC.
American Leisure Holdings Inc. (AMLH) is a tech-forward parent company that recently updated its status with the SEC and OTC Markets.
AMLH plans to bring accretive shareholder value by participating in high growth, revenue-generating ventures
and acquiring cutting-edge technologies in Web 3.0, NFTs and the metaverse.
Adrian Patasar
info@amlh.net | (561) 654-5722
Web: AMLH.io
Twitter: LeisureAMLH
MEDIA CONTACT: Sean Creighton at 845-893-6109 or sean@echelonculture.com


UPDATE; 02-14-2021
The Company Profile data was verified by the issuer within the previous 6 months.

$amlh courtesy of $amlh

[-chart]pbs.twimg.com/media/FDHZoLnXEAQ-fla?format=jpg&name=4096x4096[/chart]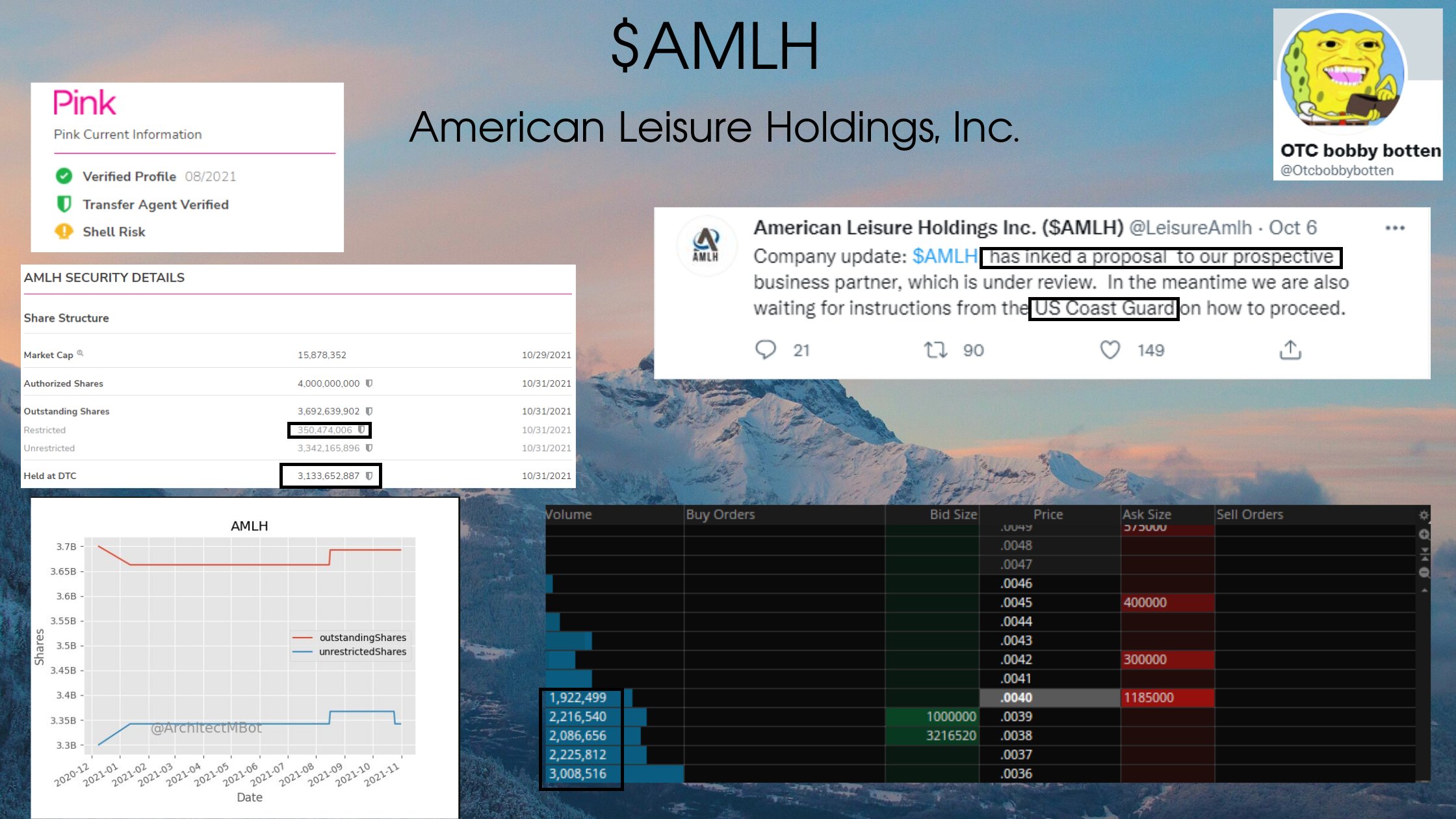 $AMLH

American Leisure Holdings, Inc.
Authorized Shares
4,000,000,000---NOW
6.5 BIL A/S
12/20/2020
Outstanding Shares
3,662,693,902---SAME
12/20/2020
THE ABOVE IS HIGHER NOW !!!!! UPDATED; 02-14-2022
#2 courtesy of ceo $AMLH wow Adrian Mckenzie Patasar spoke to JOHN Z.
$AMLH-CURRENT PINKS
6.5 BIL A/S
Outstanding Shares 3,692,639,902
Restricted 350,473,551
02/13/2022
Unrestricted 3,342,166,351
02/13/2022
Float 4,000,000,000
11/12/2021
https://www.otcmarkets.com/stock/AMLH/security
HOLDING COMPANY , INTERNATIONAL TOO
A.M.P. HAS OVER 20 COMPANIES.
MAIN ISRAEL INVESTORS.
METAVERSE, DIGITAL CURRENCY PATENT, NFT'S, COINCHAIN, BLOCKCHAIN,
WEB-3 SPACE
SAID WORKING ON WEBSITE.
SAID AH PREFERRED WOULD BE DONE TO RAISE MONEY!
https://www.otcmarkets.com/stock/AMLH/security
Twitter
https://twitter.com/LeisureAmlh
=================================================================================================================
9 MOS $AMLH BEAUTIFUL CUP OR *V* FORMATION TODAY REACHED 52 WK HIGH. 52-Wk Range 0.00 - 0.0037 Low High WAS
NOW HEAD & SHOULDER!, TRADING ON THE SHOULD @ $0.0012'S 20-14-2022
[-chart]www.stockscores.com/chart.asp?TickerSymbol=AMLH&TimeRange=275&Interval=d&Volume=1&ChartType=CandleStick&Stockscores=1&ChartWidth=830&ChartHeight=500&LogScale=None&Band=None&avgType1=SMA&movAvg1=50&avgType2=SMA&movAvg2=100&Indicator1=RSI&Indicator2=BBW&Indicator3=AccDist&Indicator4=MACD&endDate=&CompareWith=&entryPrice=&stopLossPrice=&candles=redgreen[/chart]
BTM CHART IS LOCKED IN.
CAN'T GO BELOW; 08-04-2021





































02-07-2021
DISCLAIMER: ONLY FOR MICK
https://investorshub.advfn.com/boards/profilea.aspx?user=1012
*The Board Monitor and herewithin , are not licensed brokers and assume NO responsibility for actions,
investments,decisions, or messages posted on this forum.
CONTENT ON THIS FORUM SHOULD NOT BE CONSIDERED ADVISORY NOR SOLICITATION
AUTHORS MAY HAVE BUYS OR SELLS WITH THE COMPANIES MENTIONED IN TRADING POSTERS SHOULD DUE DILIGENT BUYING OR SELLING.
ALL POSTING SHOULD BE CONSIDERED FOR INFORMATION ONLY. WE DO NOT RECOMMEND ANYONE BUY OR SELL ANY SECURITIES POSTED HEREWITHIN.
ANY trade entered into risks the possibility of losing the funds invested.
• There are no guarantees when buying or selling any security.Any