Tencent Cloud and Chinasoft International strategic cooperation to help the in-depth development of the industrial Internet.

source
https://finance.sina.com.cn/jjxw/2021-11-08/doc-iktzqtyu6134718.shtml

November 08, 2021 17:47 Beijing Evening News

On November 3, 2021, Tencent Global Digital Ecology Conference will be held in Wuhan. At the conference,

Tencent Cloud and ChinaSoft International signed a strategic cooperation agreement. In-depth cooperation in education and other industries to jointly promote the in-depth development of the industrial Internet.



Dr. Ju Yan, Senior Vice President of ChinaSoft International and CEO and President of ChinaSoft International Internet ITS Group, expressed that he hopes to have in-depth cooperation with Tencent Cloud. In the project delivery stage of key industries (government, finance, cultural tourism, education, etc.), Chinasoft International can serve as Tencent Cloud. Partners in product implementation and customized services, together with Tencent Cloud, create joint solutions and products, leverage the advantages of the Chinasoft International Jiefang number software industry Internet platform, and accompany Tencent Cloud to provide value-added services for the digital transformation of government and enterprises. At the same time, on the basis of closer cooperation, expand cooperation in products such as Tencent Cloud, Smart Retail, Tencent Map, Tencent Medical Classic, and Qidian.

Chen Guangyu, senior vice president of Tencent Cloud, said that the cooperation between the two parties will help Tencent Cloud take root in the industry, cultivate the region, further polish products, technologies and services, and also help Chinasoft International realize the productization of project capabilities. In the future, it is hoped that the cooperation between the two parties can give full play to Tencent Cloud's product advantages and technical advantages, integrate Chinasoft International's industry resources, technology and experience, and jointly plan and build forward-looking digital solutions to help more enterprises transform and upgrade.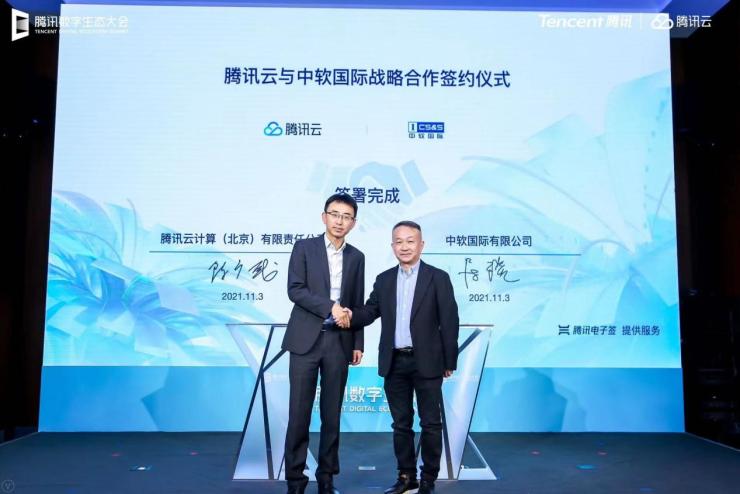 Tencent Cloud and ChinaSoft International Strategic Cooperation Signing Ceremony

Complementary advantages to help the digital transformation of industry customers.
As a leading global software and information technology service company in the industry, Chinasoft International has more than 20 years of practical experience in IT services and solutions, and has a profound experience in telecommunications, government, manufacturing, finance, public services, energy and other industries. Tencent Cloud has accumulated a deep technical foundation and mature product service experience in the industrial Internet field. It is committed to the integration of cutting-edge digital technology and industrial landing, providing better and easy-to-use tools for industrial upgrading. It has launched in various sub-fields Fit the actual digital solution.

Since the cooperation, Tencent Cloud and ChinaSoft International have complemented each other's advantages, deeply integrated, and jointly assisted the digital transformation and upgrading of enterprises. They have accumulated experience in many successful projects in the market. Among them, cooperation in key projects in the government field has achieved key technological breakthroughs.

At present, ChinaSoft International has developed and implemented scenarios based on Tencent's public cloud TRTC, iPaaS, enterprise WeChat, Tencent Conference, and TCNS, TDSQL, TSF, TKE, Coding and other products, and has coordinated with Tencent Cloud to solve the resource landing and operation The problem of coverage. The "Changsha Cross-Trade Platform" is a benchmark project jointly invested by both parties. Tencent Cloud uses the "Yunqi Base" as the carrier platform to open up Tencent's To B-end product, technology and ecological advantages to help local enterprises in their digital transformation.

At the same time, relying on years of operation experience and the refined operation capabilities of soft-related enterprises covering the whole country, ChinaSoft International has cooperated with Tencent Cloud to help regional governments to promote enterprises', Use data, empower intelligence", gather industrial ecology, cultivate industrial talents, create industrial benchmarks, promote the deep integration of Tencent Cloud's big data, artificial intelligence and other technologies with the real economy, and accelerate the sinking of digital services into the regional market.

Build a win-win situation and help the rapid development of the digital economy.
In the future, the two parties will carry out more in-depth cooperation, based on existing projects to summarize and precipitate reproducible solutions and professional service capabilities, and focus on realizing the expansion of smart cities, cultural tourism parks, education, and government affairs.

The changes that cloud computing has brought to IT and the entire commercial market are no longer empty talks. Traditional enterprises have undergone a fundamental transformation in the cloud era. Large enterprises have gained a steady stream of vitality in the cloud. Small and medium-sized enterprises can obtain opportunities and development in the market faster through the cloud.

In the future, ChinaSoft International will work closely with Tencent Cloud to create better public cloud services and jointly contribute to the rapid development of China's digital economy.
---
0
Liked By
Be the change you want to see in the world!
Spread the love. Be the first to like this post!