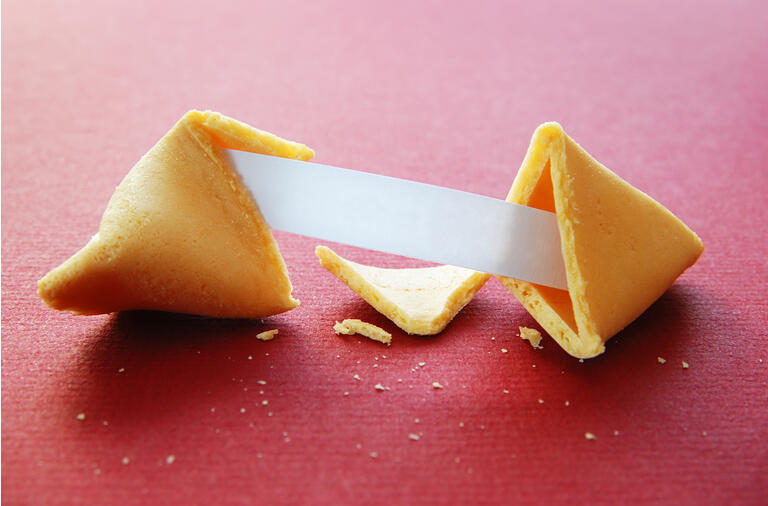 EasyBuy4u/E+ via Getty Images
WISH - Synopsis
ContextLogic (NASDAQ:WISH) owns and operates WISH, a mobile focused e-commerce platform. WISH has a discovery-based shopping experience (discovery e-commerce) that guides the shopper towards a product and provides shopping activity based around spontaneity and novelty. The company is focused on affordable and bargain type non-branded products for both value-conscious and lower income shoppers. Most of the sellers of products on WISH's platform are based in China and thus products found can often be astoundingly low in price. A trade-off for shoppers on WISH is the longer delivery time, which can be a fortnight or more, although this continues to improve.
WISH trades at a deep discount to other e-commerce platform peers, with a Price/FY 2021 Estimated Sales ratio of 2.53x (versus Etsy (NASDAQ:ETSY) at 9.52x, MercadoLibre (NASDAQ:MELI) at 11.56x, Jumia (NYSE:JMIA) at 14.85x, Shopify (NYSE:SHOP) at 41.1x). At a market cap of $8.42 billion as of 23 June 2021 closing price of $13.60, it trades at a 7.6% discount to its 2016 fund raising valuation of $8.5 billion as a private company, a 43.3% discount to its December 2020 IPO valuation of $14.856 billion, and a 15.8% discount to the rumored $10billion valuation that Amazon (NASDAQ:AMZN) and Alibaba (NYSE:BABA) were both separately prepared to acquire it for in 2015. WISH is also one of the most shorted stocks in the market, with Fintel placing short interest at 30%.
In my opinion, the deep value of the stock has arisen in part from a misconception of WISH's core customer market and growth opportunities. I will describe this as resulting from both an "income divide" and a "generational divide". Concisely put, bears on the stock misunderstand the company as selling junk that they would never buy, and are wrongly perceiving it as an e-commerce company that is the next "Groupon". In reality, WISH's cheaply-priced products provide useful affordability for both value-conscious and lower-income shoppers in a fun and unique interface shopping experience.
WISH's appeal is not only to lower-income consumers - something those bearish on the stock likely also fail to recognize. Two generations of consumers - millennials and Gen Zs - were brought up with smartphones for instant price comparisons, advertising-driven "free" services, fast fashion's cheap chic, the sharing economy, and in the case of millennials, most having entered the workforce following the GFC. These consumers tend to be value-conscious and bargain-hunting irrespective of their income category. The shopping experience of rifling through and finding bargains that WISH provides has significant appeal to Gen Y and Z. The "oddities" of the occasionally bizarre products that are sold and appear in WISH further boosts the perception of bears of WISH's impending "Groupon malaise". However, these oddities appeal to the Elon Musk-style humor of millennials and zoomers and the "LMAO" appeal of the product suggestions enhances the uniqueness of their shopping experience.
WISH is well-primed to further expand its platform to a specific targeted/stand-alone shopping offering to its Gen Y and Zs customers, together with greater social-media integration and content it offers to these consumers during the shopping experience. These may be either developed on WISH's own or in collaboration with another tech peer. Whilst WISH may be the Dollar General of e-commerce to some, it is also very apt to describe it as the Snapchat of e-commerce.
There are also a multitude of possible partnerships (WISH x GameStop? WISH x Snap?) that WISH can enter in with other tech companies in broadening its network and offerings where each partner brings their own strategic advantages to the other. WISH also has had and will continue to have strategic investment/potential takeover appeal to various tech giants and its potential private market value provides significant margin of safety to the current stock price.
WISH has a visionary millennial founder/CEO, Peter Szulczewski who has kept a relatively low-profile with few public interviews. Good-looking and charismatic, Peter Szulczewski himself is a hidden upcoming catalyst for WISH waiting to be unlocked when he adopts a more visible public profile and starts actively engaging with his customer/investor audience on social media (e.g. like other charismatic visionaries such as Elon Musk and Ryan Cohen).
WISH - Introduction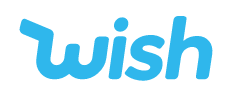 Source: WISH
WISH (WISH) was founded by CEO Peter Szulczewski in 2009, with the initial idea to build a next-generation mobile ad network to challenge Google's AdSense. However, Peter Szulczewski (with co-founder Danny Zhang) pivoted the business shortly afterwards to an app that offered users a "WISH list" to create of products from across the web, similar to Pinterest. WISH's userbase had grown to 500,000 daily users in 2013, when the company launched its mobile focused e-commerce platform WISH for vendors to sell merchandise, with a focus on low-priced products mostly from China. As at the latest quarter, WISH had 101 million monthly active users, over 550,000 merchants, and over 500 million registered users. WISH was also the most downloaded shopping app in 2019. WISH's major investors include Peter Thiel's Founders Fund and Yuri Milner's DST Global, apart from Peter Szulczewski himself who is the largest shareholder.
A trade-off for WISH's low-priced products is the longer delivery times - of two weeks or more although WISH has been reducing this. With WISH's rapid growth and a large merchant base to handle, customer service has also seen criticism in the past, but this area has seen major improvements since. Most of WISH's products being non-branded, low-priced goods from China, has given the platform and company a misperception in some quarters. Peter Szulczewski has often described that despite WISH's growth metrics, Menlo Park investors repeatedly stated that they did not know anyone who shopped on the platform, and was told they would unlikely surpass whatever sales volume they had at the time. A Medium post that Peter wrote on this in 2016 can be found here. Now, five years later and with FY 2020 revenue ($2.541billion) grown 471% from its FY 2016 revenue figure ($445million), WISH still faces detractors on its ability to grow and misconceptions on its market. There are parallels here to the past misunderstanding of Snapchat (SNAP). SNAP was misunderstood during its life as a private company and following its IPO - as being a fad limited to a niche audience (the sexting app association during its earlier years whereas the reality was its pioneering, innovative features having broad Gen Y and Z appeal).
Prior to founding WISH, Peter Szulczewski had been a Google software developer, and from this background he recognized the opportunity to harness consumer data in his own venture. Szulczewski had begun his Google career with a four month internship coding prior to graduation at age 23. This was followed by a full-time role, writing prototype algorithms for keyword expansion. He subsequently worked in the Google Korea office. This experience has been described as training Peter to cater for the public, as the Korean market required more detailed search portals compared to the minimalist ones used by Google in the West. Peter is credited with an impressive legacy at Google: "code that helped advertisers expand their reach, and a $100-million spike in revenue."
WISH financial performance and position
WISH derives its revenue from its three segments: 1) its Core Marketplace e-commerce platform for vendors and customers, from which it earns 15% commission fees of the total order value (product price and shipping cost); 2) ProductBoost, WISH marketplace's native advertising tool for sellers to boost attention for their products; 3) Logistics. In the latest quarter ended 31 March 2021, its Core Marketplace accounted for 61.7% ($477million) of the total quarter's revenue ($772million), ProductBoost accounted for 6.4% ($50million) and Logistics account for 31.7% ($245million).
WISH's financial performance for the past three financial years is shown below. Revenue in FY 31 December 2020 grew 33.6% YoY and FY 2019 grew 10% YoY. WISH registered a gross profit of $1.594billion in FY 2020 and a net loss of $745million. We can see that the biggest operating expense in FY 2020 is sales and marketing ($1.708billion). The marketing spend is an area of significant debate between bulls and bears on the stock. Bulls like myself recognize Peter's consistent long-term vision for the company where sales and marketing are building the company's significant global customer growth (which in turn drives WISH being amongst the top choices for its vendors to sell on) and the ongoing, massive global market expansion potential. Bears see the spend as an unsustainable driver for revenue growth of an unprofitable bottom-line company selling cheap products that they cannot fathom consumers being repeat buyers of.
The fact is, WISH currently could have a profitable bottom-line at any time it desires by reducing sales and marketing spend but this would slow its significant revenue growth and offering expansion. Looking further back at earlier financial years in WISH's IPO prospectus confirms this. WISH's potentially profitable bottom-line is similar to Amazon in the earlier part of its operations, as well as Chewy, albeit that WISH is a platform versus the integrated warehousing/inventory holding approach of Amazon and Chewy. At the same time, WISH's past high marketing spend has the potential to be a bullish catalyst - we can assume that as a relatively young and fast evolving company led by an ambitious visionary founder, it will find ways to optimize it's spend going forward. This will be particularly interesting as WISH takes advantage of more non-traditional approaches for publicity and further brand-building to be discussed later.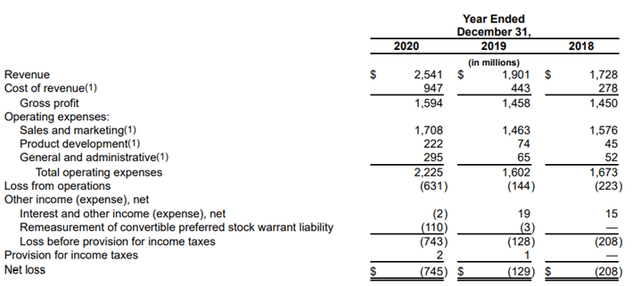 Source: WISH annual report

Source: WISH prospectus
WISH has a net cash position of $1.73billion. As I see it, we have a significantly growing company that can have a profitable bottom-line whenever it desires, plus a strong balance sheet. Additionally, there is the visionary founder who will captivate the market as he continues to execute results and begins engaging with his audience much more publicly on his vision. Therein, WISH will not necessarily need to but will have the optionality to raise further capital at a later stage whilst the market applauds its capital raise, and a continuing virtuous cycle.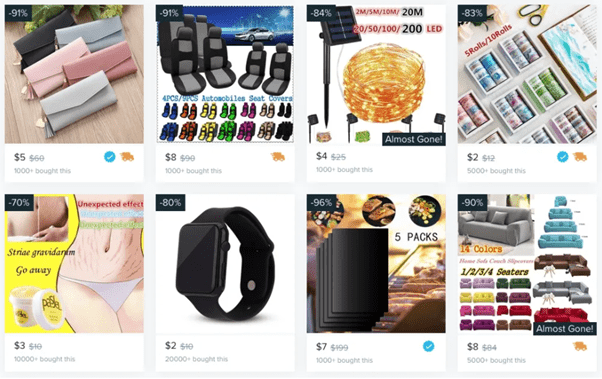 Source: WISH
WISH Local
WISH launched WISH Local in 2019, a program where local brick-and-mortar stores partner with WISH to act as pickup locations for WISH orders, giving WISH an effective local warehousing and fulfillment footprint without the high capex of owning real estate. WISH Local brick-and-mortar partners also can purchase products from WISH and sell them in their storefronts. The local brick-and-mortar stores benefit from increased customer traffic and being able to tap into WISH's massive customer base to sell their items. This is particularly interesting - as a revenue generator and cost-saver for WISH, WISH's narrative in it's helping small, local brick-and-mortar stores, and the additional partners it could work with. Small local stores have been the partners in this mutually-beneficial program, but there is also the potential that WISH could tie up with a company with a large brick-and-mortar chain footprint such as GameStop or others, bringing significant major benefits to both partner companies.
WISH founder and CEO Peter Szulczewski
Peter Szulczewski has been described in media reports as staying out of the spotlight and rarely giving interviews. There are only a few longer length video interviews that can be found on Peter although it has been 12 years since WISH began. There is a Twitter account that appears to belong to Peter Szulczewski, which has 1,585 followers but infrequently tweets and is not verified as being him with Twitter's tick (compare this with Ryan Cohen who only began more regularly tweeting his emoji says a thousand words tweets in the past half year and has 191.4k followers).
Peter Szulczewski is clearly highly driven and with bold ambitions - he has stated long-term ambitions for WISH to achieve $100 billion in revenue. It is understandable, that as a matter of seeking to work quietly to achieve results previously, Peter Szulczewski has kept a low-profile in the past. However, now that WISH is a public company, and with the stock price down 43.3% from IPO price and heavily shorted, perhaps Peter will now take on a requisite higher profile role in public. For visionaries with bold, far-reaching ambitions for their companies, their public persona and getting out the story of their company's vision is a necessary part to complement the core vision, talent and ability to execute. The qualitative factor of a CEO who has an active public profile and is engaged with their audience on social media - brings millions worth in free publicity, new customers, higher valuations and completes the virtuous cycle needed to achieve far-reaching long-term ambitions. Fortunately, Peter Szulczewski's potentially more active public profile is a hidden asset waiting to be unlocked. In his few past interviews, Peter is thoughtful, articulate and wryly humorous. He stands out with his model looks and physique to match a Hollywood action star. There is also a host of interest in WISH recently amongst retail investors, which WISH would do well to capitalize on for large numbers of new customers (WISH shopping credits for shareholders perhaps). Peter himself could drive even more in free publicity value and new customers for WISH, than their sponsorship of the Lakers can - and now is an ideal time to do so. I view that Peter will do this - we can look to the examples of other tech visionaries, once low-profile, who recognized the importance of a public persona and active social media engagement with their customer and investor audience.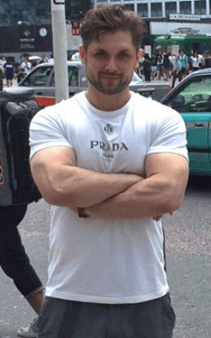 Peter Szulczewski
Source: Velvetropes.com
Expansion opportunities for the "Snapchat" of e-commerce
Peter Szulczewski and WISH's ability to pivot and its history of evolving to seize broader opportunities since its inception, is important going forward, as it taps on the broader opportunities it has within its 101 million monthly active user base and over 500 million registered users.
WISH currently has four additional platforms apart from its main WISH for different shopping focuses - Geek (for gadgets and tech), Mama (maternity and childcare), Home (décor) and Cute (beauty and fashion). In Q1 2021, the company launched 1Sansome, which features "fashion-forward women's apparel" and a very Instagram-type website targeted at Gen Y and Z consumers. Whilst this is a small launch, it is particularly interesting, not least because it illustrates the broader expansion opportunities for WISH not only for lower-income consumers, but for Gen Y and Z consumers broadly irrespective of income. 90% of WISH's customers also shop at Walmart, but there is also a significant percentage (20%) that have Amazon Prime memberships. 60% of WISH's shoppers are in the prized consumer category of millennials and Gen Z. A large base of Gen Y and Z consumers for a growth tech company would typically attract significant investor interest and command high valuation multiples - but perhaps the market has missed this amidst the previously described misconception about WISH.
Gen Y and Z - were brought up with smartphones for instant price comparisons, free tech-driven services, fast fashion's cheap chic, and in the case of millennials, most having entered the workforce following the GFC. Therein, value-consciousness of these two generations is not limited to lower-income groups - but a desire to look for affordable purchases that provide value. The popularity of vintage, 2nd hand clothing amongst millennials and Gen Z is an example of this. Second-hand shopping is motivated by looking for unique items, self-expressionism, the experience of rifling through and finding cool products at bargain prices (this generation's treasure hunt equivalent). Many of these same motivations are why consumers irrespective of income, shop on WISH. For this reason, WISH would do well in further expansion of a curated offering for new and existing Gen Y and Z customers, with a specific segmented offering under WISH. WISH's discovery-based mobile shopping is ideal for expanded offerings for this segment (think the discovery experience of Instagram, TikTok and Snapchat).
WISH has described its shopping experience as being a social and entertainment experience. Apart from its mobile app focus and streaming feed of products, WISH has a "Blitz Buy" bar, which displays a roulette style wheel that offers extra discounts on items when spun - a "gamification" of shopping. There are many ways in which WISH can expand further to be a social media integrated shopping experience to further engage the Instagram, Snapchat and Tik Tok generation. As with rifling through a flea market, there is a thrill to finding a unique or quality product at a bargain price. For the Gen Y and Z consumer, this experience is commonly shared with friends. Social media sharing and content for the WISH consumer - such as emojis when a purchase is made, delivery status updates content, unboxing videos - could further engage the Gen Y and Z customer, especially as the delivery times of WISH orders are longer than other platforms. WISH has a significant marketing budget and cash and some of this could be allocated into generating savvy content for customers which in turn drives word of mouth customer growth. WISH could expand into this on its own, or in a broader partnership with one of the social media and content companies.