BEYOND COMMERCE INCORPORATED


***Beyond Commerce Added to the LDIndex*** 08/07/18

https://www.otcmarkets.com/stock/BYOC/news/story?e&id=1144826

Only 7% of the Index has microstocks still left on the OTC.

The index is market cap weighted and is comprised of approximately 1,014 stocks in the U.S. and Canada with market capitalizations between $50 million and $300 million. For more information please follow the link: https://www.ldmicro.com/the-index

#BYOC Now officially an OTCQB Stock 08/06/18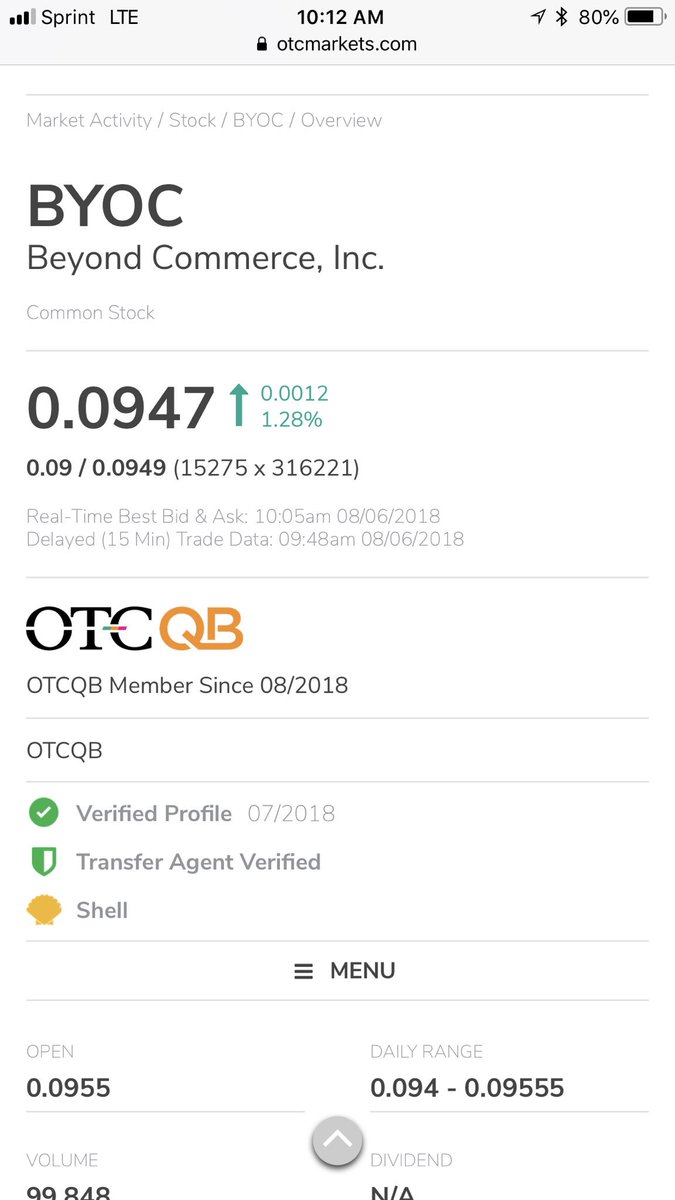 New Official FB Page: facebook.com/INCBYOC
New Twitter: @IncBYOC
NEW COMPANY DIRECTORS SECTION AND OTCQX SPONSOR ADDED 07/18/18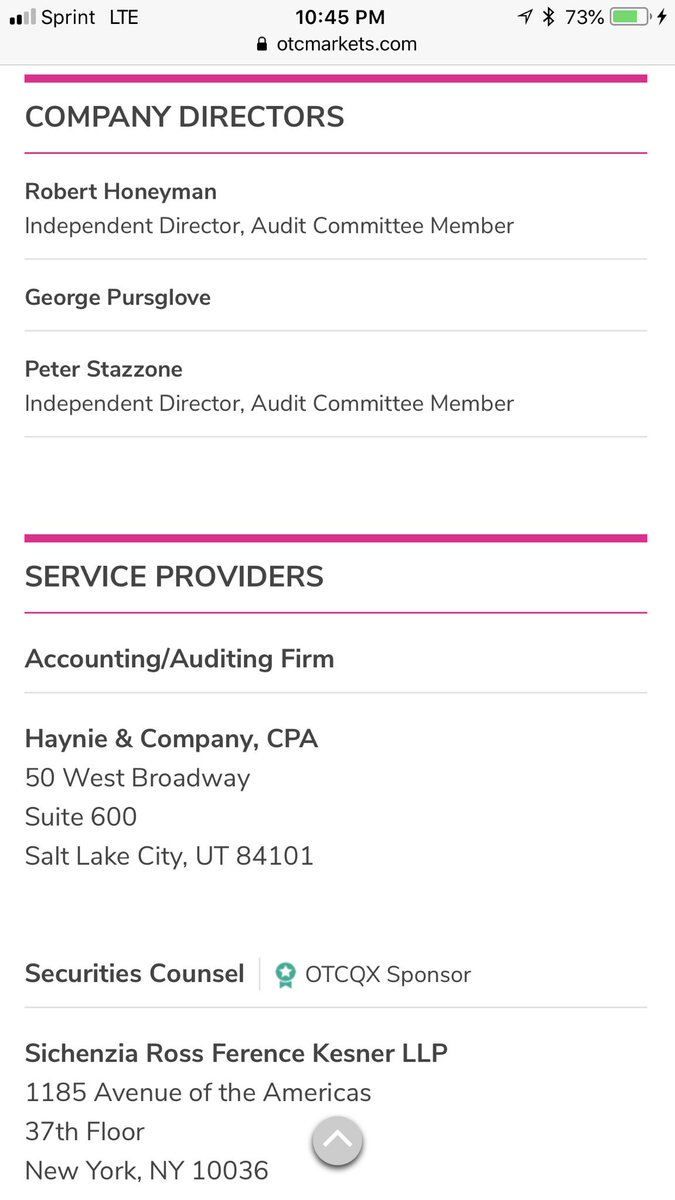 RESUME OF PETER STAZZONE




FROM THE SECURITIES COUNSEL WEBSITE:




FLOAT REDUCED BY 245,099,425 SHARES 06/08/2018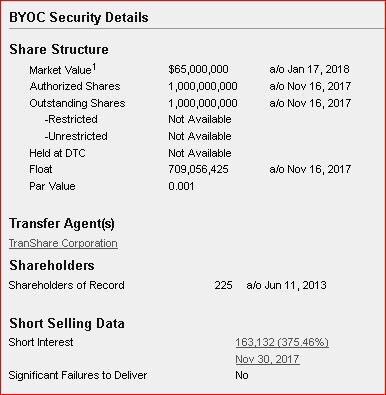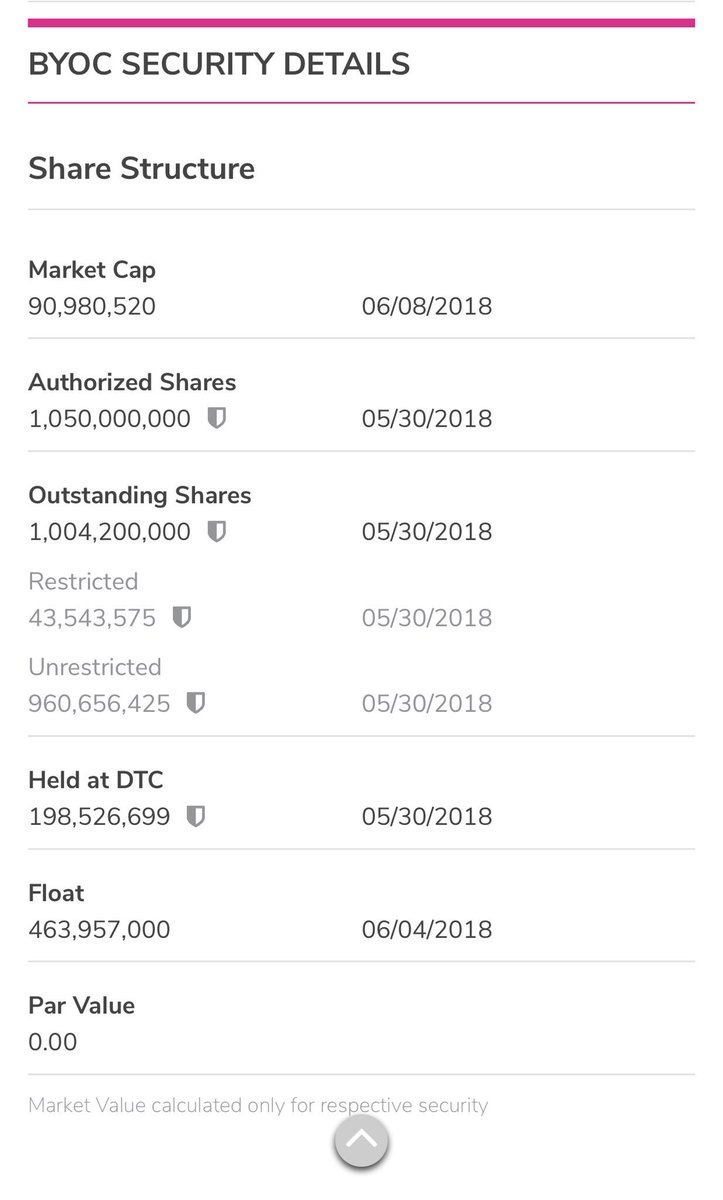 https://www.otcmarkets.com/ajax/showFinancialReportById.pdf?id=184175

OVER 700,000,000 COMMON SHARES OF THE AUTHORIZED 1,000,000,000 ARE LOCKED BY INSTITUTIONAL INVESTORS
REVEALS ITS FIRST BUSINESS VENTURE AGREEMENT 01-17-2018
THE ACQUISITION OF SERVICE 800
http://www.service800inc.com/


Customer Experience Measurement at All Levels Every Day
As customer expectations continue to change every day, understanding your customers' needs has never been more critical. Careful measurement can reveal connections between your delivery and customer behaviors.
Building an effective and actionable customer experience measurement program is no easy task. It requires thoughtful planning, strategic selection of your survey method, and consistency to ensure your results accurately represent all of your customers.
For some, the process of building a survey program can often time be overwhelming and many do not know where to start. How many questions do you ask? What survey method would be most effective reaching your customers? How do you avoid survey fatigue or reaching out too many times?
For others, the challenge comes from building a culture around their measurements or improving the scores they receive. Pay for Performance programs that produce the behaviors you desire rely on consistent and accurate measurements in order to be effective. On the other hand, the experiences you thought meant most to your customers might not be.
Over the last 25 years, SERVICE 800 has built the experience you need to ensure that your customer experience measurement program is best in class. Whether you are looking for more insight on how you rank against your competitors or need a partner to help guide you to actionable customer feedback, SERVICE 800 is here to help.
Going Beyond Collecting Data



Proven Insight Methodologies
SERVICE 800 has been crafting customer satisfaction and internal measurement programs for over 25 years. We specialize in helping the IT, medical technology, software development and OEM industries. By partnering with our clients to tailor a program that offers dependable and simplified service, SERVICE 800 helps you measure your customer's journey accurately.
In addition to giving you breakthrough customer insights, our services allow you to monitor the performance of your authorized service providers, channel partners, contractors and agents. These programs provide the ability to keep a close eye on internal functions to ensure they are performing up to standards.
SERVICE 800 results are leveraged by our clients across the company including:
Help desk agents
Field service technicians
Sales staff
Order fulfillment departments
Customer service representatives
Human Resources & Training
Other support teams
Worldwide Customer Experience Measurement
Conducting surveys and collecting feedback in over 30 languages every day.
Some of the world's largest companies rely on SERVICE 800's ability to get targeted feedback from their hardest to reach customers. For 25 years, SERVICE 800 has worked with many of the worlds largest Healthcare, IT, and Consumer Good companies, many of which have been customers for more than 10 continuous years.


PHONE SURVEYS
WEB SURVEYS
HYBRID SURVEYS
BENCHMARKING
REAL-TIME ALERTS
REPORTING


PHONE SURVEYS
SERVICE 800 goes beyond surveying; we have conversations that draw actionable feedback.
Collecting customer opinion via a telephone interview continues to produce the most accurate customer feedback metrics. Other methods collect timely information, however, unhappy customers are highly motivated to respond and may create a bias of primarily negative responses. Phone interviews collect complaints, compliments and everything in between, providing more accurate metrics that represent the whole population of your customers.
Accurate measurements stem from careful sampling of the customer set, limiting fatigue from too many surveys, and conducting professional interviews that impress your customers.
SERVICE 800's methodology goes beyond just asking a question and collecting a rating. Our tenured interviewers (Customer Representatives) are trained on your specific program and conduct personable and professional dialogs that draw out valuable feedback. For consistency and reliability, all Customer Reprs are directly supervised by SERVICE 800 staff.


WEB SURVEYS
Leverage our experience to maximize your web survey potential.
SERVICE 800 brings the experience and advice to help you design the web survey that will produce the results you need. While most web surveys generate only a 2 or 3 percent response rate, SERVICE 800's methods consistently produce greater success. This is achieved through design, thoughtful planning, and strategically timed reminders.
SERVICE 800 knows that some customers prefer the personal touch of a phone call while others are more apt to reply to a web survey invite. When you need to reach specific strategic targets, SERVICE 800 provides the option to reach targets by adding phone calls where more responses are needed.
SERVICE 800's carefully designed database eSMART, holds the characteristics of your customers, products, and service so that feedback can be linked to the behaviors you desire. Combining results from web surveys with other data collected creates higher analytical value.


Hybrid Programs Combine Phone and Web
SERVICE 800 knows that you and your customers may prefer the personal touch of a phone call while others may prefer an invite to a web survey. SERVICE 800 provides the option to combine collection methods to satisfy preferences and to achieve the responses you need.
SERVICE 800 has over 25 years of experience in collecting feedback and can help you develop the plan that meets your business goals and objectives. Many SERVICE 800 clients to use a combination of collection methods to reach their contacts and obtain the necessary response rates to product the accuracy needed for pay-for-performance and employee bonus programs.


Accurate Industry Benchmarks
Act or react to what makes you stand above your peers
SERVICE 800 industry benchmark programs measure the performance of your products or services against best-in-class industry peers. Unlike other benchmark programs, SERVICE 800 programs have been developed in cooperation with industry organizations that define benchmark standards, sampling requirements, scales and survey questions.
All SERVICE 800 benchmark participants are measured for accuracy using the same methodology. Consistency across the benchmark provides unbiased measurements that assist in identifying how your organization's performance compares to your peers. SERVICE 800 benchmarks can also identify where improvements are needed, where reductions may be made without impacting customer satisfaction, and what is the biggest driver of your customers' loyalty.


SERVICE 800 Hot Sheet Alerts
Identifying customer issues and wins in time to react
You can lose a customer with one poor service experience and new opportunities can arise just as fast. SERVICE 800's Hot Sheet Alerts notify you of urgent or time-sensitive situations so you can react promptly and effectively. Your quick follow-up will impress customers and increase their commitment to you.
SERVICE 800 Hot Sheet Alerts may be customized to your sensitivities. You can be quickly aware of customers that provide particular rating(s), mention a particular product or issue, mention a sales opportunity, or compliment your technicians. Insights from Hot Sheet Alerts can save current accounts or find new business, and help you drive the behaviors you desire. Your Hot Sheet Alerts can be directed to the individual manager that can react most effectively.
Hot Sheet Alerts provide more than notifications of customer issues. Many of our clients use Hot Sheet Alerts to identify customers that are delighted with their experience. This opens the door to celebrate wins and identify customers that may have potential for growth or retention.


eSMART Results Reporting and Analysis
Driving action through accessible results
SERVICE 800's eSMART reporting application has been carefully designed so that your managers, supervisors, technicians, agents and partners are able to see and hear respective customers' feedback. Begin to analyze your results by drilling into the feedback and metrics with a simple point-and-click. eSMART serves as a collection point for both feedback and service characteristics data to enable statistical analysis that drive action and manage cost.



SERVICE 800 HAS BEEN IN BUSINESS FOR OVER 25 YEARS AND CURRENTLY EMPLOYS 342 EMPLOYEES AND PULLS IN GROSS REVENUES OF $25.7 MILLION
OFFICE LOCATIONS
HONG KONG: 2 LOCATIONS
LONDON: 1 lOCATION
UNITED STATES: 1 LOCATION



BEYOND COMMERCE HAS RECENTLY SECURED

MAXIM GROUP LLC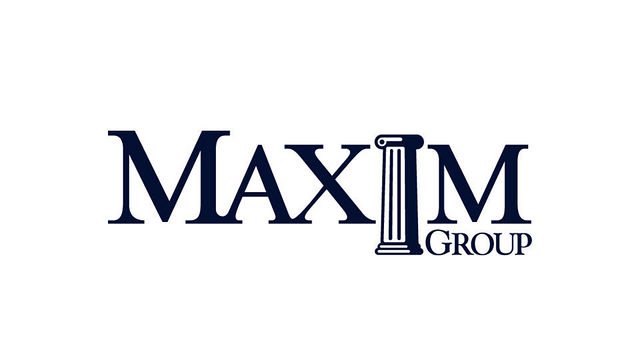 ALSO KNOWN AS THE INSTITUTIONAL MARKET MAKER MAXM

On February 27, 2018, Beyond Commerce, Inc. a Nevada corporation retained the Maxim Group, LLC ("MAXIM") a leading full service investment banking, securities and wealth management firm headquartered in New York to provide strategic corporate planning, financial advisory and investment banking services. The Company will use Maxim to help plan for its global expansion, as well as accelerate product growth and innovation. Pursuant to its retention, Maxim among other activities, will assist the Company in its efforts to become a fully reporting company under Securities and Exchange Commission guidelines, and advise the Company with respect to its efforts to list on a national exchange.

Here are just a FEW of the companies MAXM has uplisted to the NASDAQ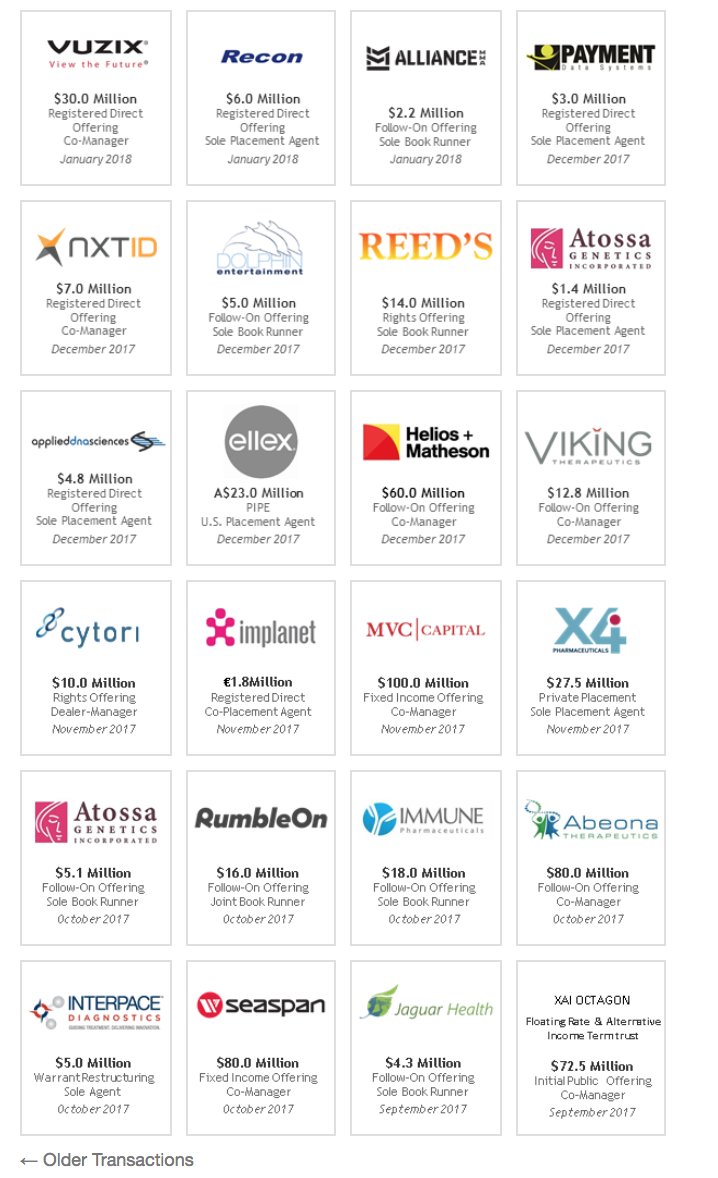 On October 4, 2017, Beyond Commerce, Inc. a Nevada corporation retained Boustead Securities, LLC, a California limited liability company as the Company's exclusive placement agent for a financing of up to $10 million via a private placement of the Company's securities conducted pursuant to Regulation D 506(c) of the Securities Act of 1933 and as filed with the Securities and Exchange Commission in a transaction exempt from registration under the Securities Act of 1933, as amended, and in compliance with the applicable laws and regulations of any jurisdiction in which securities are sold. The Company will use the additional financing to continue expanding its global reach, accelerate product growth and innovation, and invest in additional sales and marketing resources.

Boustead Securities's team has extensive experience and expertise advising corporate sellers and buyers across a wide range of industries. Services include:
Corporate Sales and Divestitures
Acquisition Advisory
Going Private Transactions
Activist Shareholder Advisory
Fairness Opinions
Expert Testimony and Valuation

THE BOUSTEAD SECURITIES DIFFERENCE
Boustead Securities is an investment banking firm that advises clients on IPOs, mergers and acquisitions, capital raises and restructuring assignments in a wide array of industries and circumstances. Our core value proposition is our ability to create opportunity though creative solutions and tenacious execution. Importantly, the firm differentiates itself from other investment banking firms including so called "boutique investment banks" in several ways.

One Stop Investment Bank

Boustead Securities provides the full gamut of investment banking and capital markets services for both rapidly growing companies and companies facing unique challenges. At Boustead Securities, we have diverse product offerings and are, indeed, a full service investment bank in more than name only. In corporate finance, for example, our investment bankers work closely with the capital markets sales force to maximize the likelihood of a successful IPO or capital raise. In the same vein, our merger & acquisition specialists have decades of collective expertise in corporate sales and divestitures, acquisition advisory and other important areas such as valuations, fairness opinions and solvency opinions. As such, Boustead Securities is able to provide each client with access to a full spectrum of services often found only at much larger investment banks.

Client First Orientation

While many firms talk about "old school relationship banking", most are seemingly focused on maximizing the amount of fees in the short term without caring about the long-term needs of the client. At Boustead Securities, we pride ourselves on not only our ability but our desire and willingness to help a company through multiple points of the corporate life cycle, whether it be an IPO, raising early stage equity capital, arranging mezzanine capital, advising on potentially game-changing acquisitions, accessing rescue financing or selling a business whether it be healthy or facing a "life threatening" financial crisis. Importantly, our investment bankers do not forget about a client after the transaction has been completed.

Entrepreneurial Mindset

We understand that the CEO or major shareholder at a young company has very different concerns than the CEO or a major shareholder at a much more sizable business. We also understand that clients are increasingly fearful about their investment banker given the myriad of potential conflicts that plague many investment banking firms. At Boustead Securities, our fee structures are synchronous with achieving the objectives of the CEO or entrepreneur and we fight tenaciously to achieve these goals.

Innovative Approach to Problem Solving

Modern business is a set of complex equations and real-time challenges. There are more choices, more regulations and more constituencies to consider. Our relatively small size and the expertise of our senior bankers enable us to move quickly and provide advice at levels smaller companies seldom experience.

At Boustead Securities, we believe our client first commitment and access to the capital markets coupled with innovative thinking and our entrepreneurial mindset can enable solutions to the increasingly complex issues faced by both privately-held and publicly-held companies alike. We would be delighted to meet with you and discuss your specific situation in more detail.



ABOUT BEYOND COMMERCE INC.





Beyond Commerce, Inc. is a Nevada corporation that operates as a holding company focusing on the acquisition of "big data" companies in the B2B Internet Marketing Technology and Services (IMT&S) space. BCI's objective is to develop, acquire, and deploy disruptive strategic software technology and market-changing business models through acquisitions or organic growth. BCI plans to offer a cohesive global digital product and services platform to provide clients with a single point of contact for all of their IMT&S initiatives. The all-inclusive platform will result in substantial organic growth potential generated through cross-selling opportunities and future expansion possibilities for BCI and its investors. The company was formerly known as BOOMj, Inc. and changed its name to Beyond Commerce, Inc. in December 2008. Beyond Commerce, Inc. is headquartered in Las Vegas, Nevada.
Beyond Commerce, Incorporated
Former Company Address and Number
9029 South Pecos
Suite 2800
Henderson NV 89074
Phone: (702) 463-7000
Fax: (702) 463-7007
Stock Transfer Agent:
Transhare Corporation
5105 DTC Parkway Suite 325
Greenwood Village, CO 80111
Tel: 303.662.1112
State of Nevada Incorperation Records:
http://nvsos.gov/sosentitysearch/CorpDetails.aspx?lx8nvq=IshhFfA60c7OOIJYl2GxZw%253d%253d&nt7=0
++++++++++++++++++++++++++++++++++++++++++++++++++++++++++++++&++++++++++++++++++++++++++++++++++++++++++++++++++++++++++++++
This section maintained by moderator Warmachine. No alterastions permitted without written concent.

ATTENTION!

PLEASE BE AWARE THAT THIS COMPANY HAS LOST THEIR QB STATUS

ON OTC MARKETS AND THE INFORMATION ABOVE IS OUT OF DATE
MOST RECENT SHARE STRUCTURE FAR FROM THE ANCIENT GARBAGE ABOVE
Authorized Shares 30,000,000,000 01/20/2022
Outstanding Shares 13,390,287,415 01/20/2022
Restricted 305,709,286 01/20/2022
Unrestricted 13,084,578,129 01/20/2022

++++++++++++++++++++++++++++++++++++++++++++++++++++++++++++++&++++++++++++++++++++++++++++++++++++++++++++++++++++++++++++++