1000 Alfred Nobel Drive Hercules, CA 94547 Phone: 510-724-7000 Fax: 510-724-3167 Web Site:
http://www.bio-rad.com
Sector: Technology Industry: Scientific & Technical Instruments Full Time Employees: 6,300
Bio-Rad Laboratories, Inc. and its subsidiaries engage in the development and production of specialty chemicals used in biochemical, pharmaceutical, and other life science research applications in the United States. Its products are also used to identify, analyze, and purify chemical and biological material components. The company operates through two segments, Life Science and Clinical Diagnostics. The Life Science segment supplies technological applications, such as electrophoresis, image analysis, molecular detection, chromatography, gene transfer, sample preparation, and amplification to universities and medical schools, industrial research organizations, government agencies, pharmaceutical manufacturers, biotechnology researchers, and food testing laboratories. The Clinical Diagnostics segment offers technologies used in various tests to detect, identify, and quantify substances in blood or other bodily fluids and tissues to hospital laboratories, reference laboratories, physician office laboratories, government agencies, and other diagnostics manufacturers. The company serves customers through direct mail advertising, exhibits at trade shows and technical meetings, telemarketing, e-commerce, advertising in technical and trade publications, as well as through sales force. Bio-Rad Laboratories was founded in 1952 and is headquartered in Hercules, California.
Mr. Norman Schwartz, 58 Chief Exec. Officer, Pres Ms. Christine A. Tsingos, 49 Chief Financial Officer and VP Mr. Sanford S. Wadler, 61 VP, Sec. and Gen. Counsel Mr. John Goetz, 58 VP and Group Mang. Mr. James R. Stark, Principal Accounting Officer and Corp. Controller Bio-Rad Laboratories Inc.'s Corporate Governance Quotient (CGQ®) as of 6-Mar-08 is better than 1.4% of Russell 3000 companies and 5.7% of Health Care Equipment & Services companies.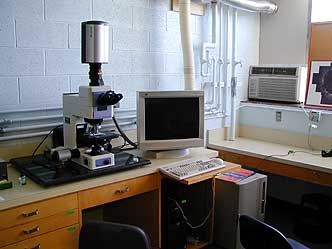 Insider transactions:
http://finance.yahoo.com/q/it?s=BIO
Outstanding Shares 21,889,861 as of Feb 22, 2008 Number of Share Holders of Record 565 as of Feb 29, 2008 Formerly Bio-Rad Laboratories to 4-75 Primary SIC — Industry Classification 2835 - Diagnostic substances Exchange: AMEX
Transfer Agent:
LaSalle Bank, N.A., 135 S LaSalle St. Suite 1611 Chicago, IL 60603
BioRad confocal microscope
King Capital Investment Group
http://kingcapital.tripod.com