Model: V11 rechargeable big cigar Model: K66 ebony pipe
Model: T110 cigar

Model: K60 gold Phoebe pipe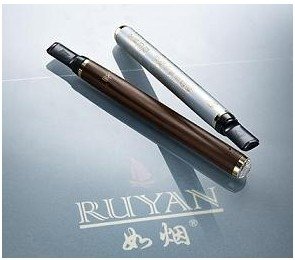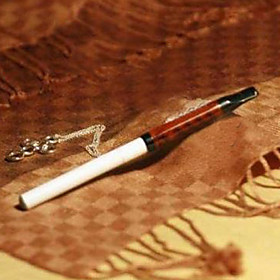 Images (clockwise): Ruyan V8 e-cigarette, Ruyan Vegas disposable e-cigar, Ruyan Rosewood E-pipe, Ruyan E-Cigar, and Ruyan Jazz disposable e-cigarette
---
Dragonite International, producer of "Ruyan E-Cigarette", is the inventor and sole owner of the patent for "Electronic Atomization Cigarette" in:

1. Chinese Patent Office in 2003

2. European Patent Office in 2007

3. US Patent and Trademark Office in 2010


Dragonite International is aggressively enforcing its rights and pursueing numerous patent infringement cases. This includes:

January 2011: Dragonite has filed patent infringement cases against most major US-based e-cigarette companies including Njoy, Blu, and Smoking Everywhere. Dragonite's US cases is represented by a top American Law firm. | Court Filing

May 2011: Update - 4 defendants have been officially summon to appear within 21 days.

June 2011: Update - US Court enters default judgement against Smoking Everywhere and Instead.

August 2011: Update - Dragonite files more complaint, and now suing nearly the entire US E-Cigarette industry, encompassing 6 more companies, including Janty and Intellicig.

August 2010: Dragonite has won court ruling on infringement case against Loong Totem E-Cigarette Science & Technology Co. Ltd. | Story

May 2009: Dragonite has won court ruling on infringement case against Shenzhen Islion Technology, an e-cigarette manufacturer in China. | Story

January 2009: Dragonite has won court ruling on infringement case against another e-cigarette manufacturer in China. | Story
---
UPDATE on Ruyan's E-Cigarette Products - Nov 3rd, 2011
In the electronic cigarette trade conference held by the Company in early August 2011, the Group enjoyed an encouraging results as the responses from the distributors were very positive and various letters of intent ("LOIs") were received. 63 LOIs from various districts in the PRC in an aggregate amount of approximately RMB 22.38 million were received from new potential distributors. The LOIs include 15 formal sales orders in an aggregate amount of approximately RMB5.36 million. As at the date of this announcement, the Group has received approximately RMB3.90 million as deposits and approximately RMB4.72 million will be recognized as revenue from the LOIs.
In respect of overseas markets, patents were granted in Canada, Japan, and Malaysia during the first half of 2011 and the Group is attempting to expand the distribution of electronic cigarettes in many overseas markets. In the first six months of 2011, the Group strived to revamp its products so as to expand its product portfolio to include all tiers of the market in the second half of 2011. As stated in the Company's 2011 interim report, nine newly designed electronic cigarette models across three new product lines will be or are planned to be launched in the second half of 2011. Given the significant resources and risk involved with any new product launch, the Company is implementing a prudent phased approach to the introduction of these new product lines. Phase one will be focused exclusively on the PRC market and phase one will be launched with a broad-based marketing campaign. Phase two and three, to be implemented in 2012, will focus on other identified high priority overseas markets. The sales and distribution strategies require the recruitment of distributors and merchants across all major distribution channels at the provincial, country, and city levels as well as online merchants and the development of Ruyan website. A Ruyan flagship store and satellite shops will also need to be established and will also serve as regional sales support centres.
The Group has three invention patents and five utility model patents. The Group is vigorously pursuing a patent portfolio in the United States and other countries to protect its electronic cigarette market and has begun enforcement of its patents in the United States this year with a patent suit against 11 defendants. This litigation is proceeding successfully and according to the plan. The Group's patents issued prior to 2010 provided only limited coverage against competitive products and therefore in previous years litigation costs were much less and limited to actions in the PRC.
Assuming a successful outcome of the litigation, the Group's market share is expected to increase and operating performance to improve significantly. In the forthcoming year, electronic cigarette will remain the core business segment of the Group and the Group will continue to focus on product development and protection of intellectual property right. The Directors expect that the net proceeds raised from the Rights Issue may be utilised to finance marketing campaigns, research and development, product innovation and the professional fees incurred in protecting the intellectual property rights.
Change of Company Name and Capital Reorganization
-- Patent application approved in USA
The board of directors is also pleased to announce the approval of its patent application for the "electronic atomization cigarette" (commonly known as the "Electronic Cigarette" or "E-Cigarette") in the United States by the United States Patent and Trademark Office. [USPTO patent app. number 10/587,707]. The Company has many patents, however this patent constitutes the Company's core invention patent which covers all key components and functionality of the Electronic Cigarette including the battery, vaporization mechanism, activation switch, and flavor cartridge. The inventor of the Electronic Cigarette, and the "first named inventor" as stated on the above-referenced USPTO approved application is Mr. Hon Lik, an Executive Director and co-founder of the Company. Dragonite's core invention patent has already been granted in many major countries including all EU countries, Russia and the former Soviet republics, China, Malaysia, Taiwan, India, Mexico, Singapore, and Israel. As the USPTO is considered by many patent experts to represent the "gold standard" for patent legitimacy and validity, the Company is pleased with this news.
Commenting on the patent approval, Mr. Wong Yin Sen, Chairman of the Company, said, "As the inventor of the Electronic Cigarette, product quality has always been our top priority. This patent approval will help eliminate inferior product imitations and ensure high quality and safe products in global markets. We foresee a bright future for the Electronic Cigarette and Dragonite"
The Company has already won several patent infringement cases in mainland China and now has the resources to proactively defend its intellectual property rights in global markets.
SOURCE: Dragonite International Limited
---

Independent Research: E-Cigarette Health Report

by research firm Health New Zealand LTD
This report aims to assist regulators in initial assessment of the safety of the ® e-cigarette and its cartridges, and the possible risks and benefits from permitting Method. and commercial laboratories in New Zealand and Canada to independently performvarious tests on the Ruyan cigarette's nicotine refill cartridge.Health New Zealand Ltd contracted with seven leading government, university Findings. test results confirm this is the case. It is very safe relative to cigarettes, and also safe in absolute terms on all measurements we have applied. Using micro-electronics it vaporizes, separately for each puff, very small quantities of Ruyan® e-cigarette s designed to be a safe alternative to smoking. The various nicotine dissolved in propylene glycol fine aerosol. Each puff contains one third to one half the nicotine in a tobacco cigarette's puff. The cartridge liquid is acco-free and no combustion occurs. , two small well-known molecules with excellent safety profiles, - into a Competency. reports in national and international scientific medical journals since 1995, on smoking, and latterly on testing of cigarettes and cigarette substitutes.
By Dr. Murray Laugesen, an experienced New Zealand researcher on cigarettes and smoking policy. He has authored over 30 other research papers.
The report is funded by Ruyan. A
part from this, Health New Zealand derives no other financial benefit.
---

Product Summary

RUYAN electronic cigarettes, cigars and pipes and their associated replaceable cartridges provide the pleasures of smoking without the associated dangers. RUYAN products fully simulate the entire smoking experience and are far more appealing than any of the existing alternatives on the market. RUYAN products provide similar enjoyment of smoking without tar and carbon monoxide and the other dangerous substances that are released in the burning of tobacco.
RUYAN was deemed one of the best 10 business ideas of 2007 by Business 2.0 Magazine in August, 2007.
Our latest products, RUYAN Vegas® and RUYAN e-Gar®, look and feel like real cigars and reinforce RUYAN's development in fast-moving consumer goods. These products offer a new opportunity to retailers, bars, restaurants and other businesses, to take advantage of the new smoking-bans. With their competitive price-points and other appealing features, partners have sensed the opportunity in RUYAN Vegas® and RUYAN e-Gar®, and sales are ramping up quickly.
Ruyan is the original inventor of the e-cigarette and has registered 10 patents around the world. Ruyan began to form the idea for the electronic cigarette in 2000. In 2003, SBT was established, and the first patent was registered in the same year in China. The company has conducted safety tests (including those for toxicology) in both developed economies and in China, and the results have all shown that Ruyan products are safe under normal use.
To date, Ruyan has sold more than one million units of electronic cigarettes through our partners in North America, the United Kingdom and Ireland, the Benelux, Turkey, Australia/New Zealand, Korea, Israel, Romania and here in China.

Corporate Summary
Golden Dragon Group (Holdings) Limited (Stock Code: 0329) has been listed on the Main Board of the Stock Exchange of Hong Kong Limited since April 2001 and changed the company name as "Ruyan Group (Holdings) Limited" on November 2007. The Group is principally engaged in the production and sale of health care products, pharmaceutical products and electronic cigarettes. The Group also researches and develops a series of other healthcare and pharmaceutical products for future production.On June 2007, the Group has acquired entire shareholding of Best Partners Worldwide Limited (currently known as "SBT Investment (Holdings) Limited"), which engaged in the manufacturing and sales of electronic atomizing cigarettes. The Group takes an active position in developing the domestic and overseas markets under the brand name of "Ruyan" it will greatly expand the scope of business and enhance the long term development of the Group.
Ruyan Group (Holdings) Limited is an investment holding company. The Company and its subsidiaries are principally engaged in production and sales of a series of health care products, pharmaceutical products and RUYAN atomizing cigarettes. The Company has three business segments: health care products, pharmaceutical products and Ruyan atomizing cigarettes. The Company's subsidiaries include Chenlong Group Limited, Jian New Wellon Ginseng Industry Co., Ltd., New Wellon Limited, Shenyang Chenlong Longevity Ginseng Company Limited, Shenyang Jinlong Health Care Products Company, Success Century Holding Limited and Ruyan Group (Hong Kong) Limited.
World Wide headquarter and Sales
Beijing SBT RUYAN technology & Development Co., Ltd

Address: 11F Xincheng Commercial Building,
No.11 Chongwenmenwai Street, Beijing, China, 100062
Tel: 86 10 67083396 Ext. 1040/1041/1084/
www.ruyan.com.cn

Hong Kong Administrative
Dragonite International Limited

Address: 15/F, Hong Kong and Macau Building
Nos. 156-157 Connaught Road Central
Hong Kong
www.dragonite.com.hk
Interim Earning Report 2010 | Capital Reorganization Document | http://www.bloomberg.com/quote/2995:HK | HK0329 News
---

Pantent Infringement Cases Pending.
Complaint for U.S. patent infringement Jan. 14, 2011
Additional Complaint added Defendent Sottera Inc. maker of NJOY. Jan 24, 2011