Nikola and VectoIQ Acquisition Corp. Announce Closing of Business Combination
Published June 03, 2020
https://nikolamotor.com/press_releases/nikola-and-vectoiq-acquisition-corp-announce-closing-of-business-combination-77

Steve Girsky
Girsky was GM Vice Chairman from March 2010 through January 2014. During that time he was responsible for several functional areas, including:
Global corporate strategy,
New business development,
Global product planning and program management,
Global connected customer/OnStar, and
GM Ventures LLC and global research & development.
Girsky also served as Chairman of the Adam Opel AG Supervisory Board and as interim President of GM Europe during this time frame, a critical period in
which the company established its current 'Drive Opel 2022' strategy. Girsky also held responsibility for GM's Global Purchasing and Supply Chain function
from 2011 to 2013, and served as Senior Advisor to General Motors from January 2014 to July 2014.
https://investor.gm.com/news-releases/news-release-details/gm-announces-stephen-girsky-retire-board-directors
https://www.freightwaves.com/news/shell-stuffing-how-nikola-became-vectoiqs-public-preference
https://investorshub.advfn.com/boards/read_msg.aspx?message_id=165678224
https://investorshub.advfn.com/boards/read_msg.aspx?message_id=165764942
---
Steve Girsky replaces Trevor Milton at embattled Nikola
Girsky brought Nikola public in reverse merger
September 21, 2020
Milton approached Nikola's board of directors and asked to step aside, the statement said. He was immediately replaced as chairman by board member Steve
Girsky, a former vice chairman of General Motors Co. (NYSE: GM) whose VectoIQ Acquisition Corp. led the reverse merger that made Nikola a public
company in June.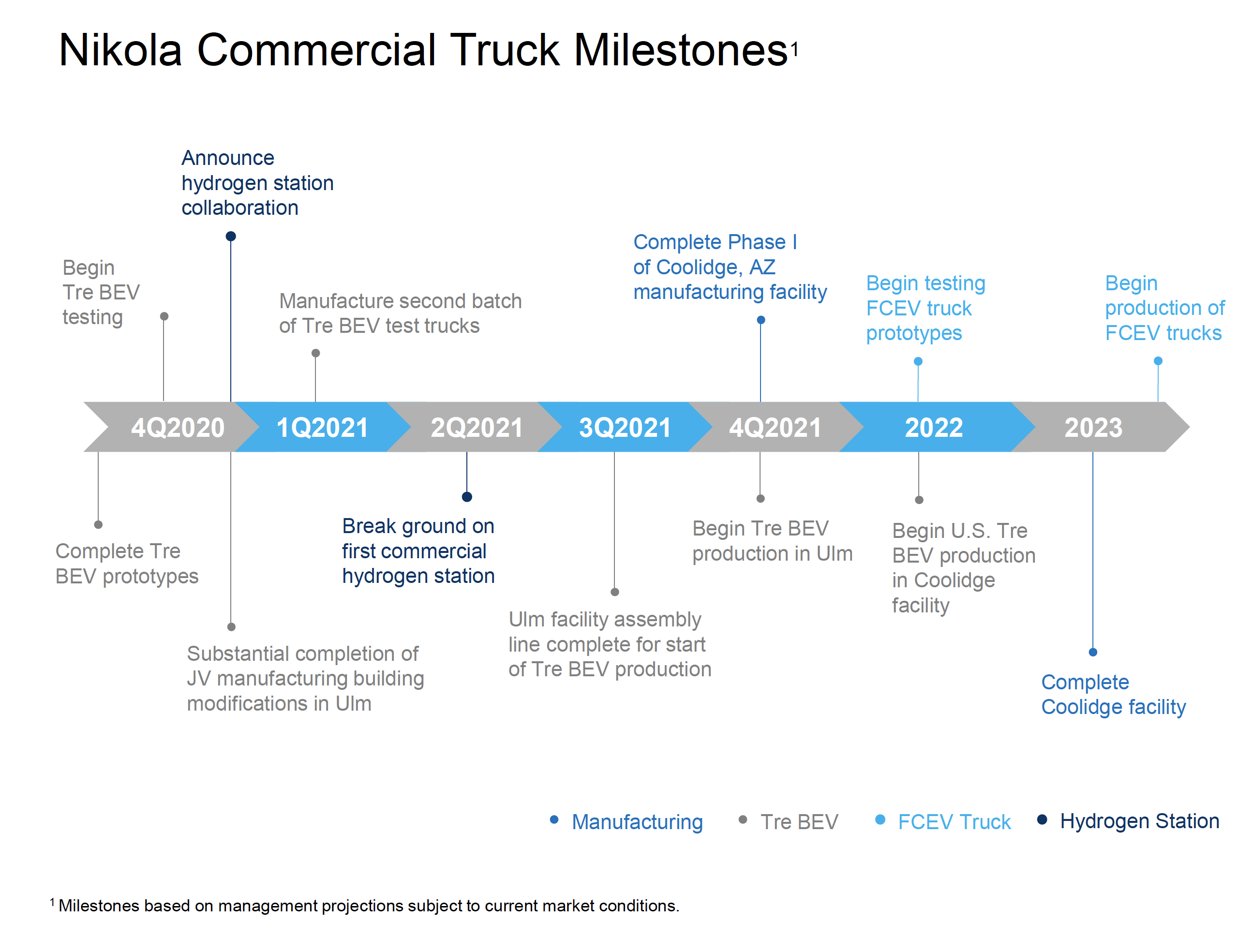 ---
TRUCK UPDATES . ULM FACILITY UPDATE . COOLIDGE FACILITY UPDATE . Q4 & FY 2020 RESULTS . FY 2021 OUTLOOK . APPENDIX.
Published February 25, 2021
https://d32st474bx6q5f.cloudfront.net/nikolamotor/uploads/investor/presentation/presentation_
file/23/3._20210224_Q4_2020_Earnings_Call_Deck__Draft_v8_Final_.pdf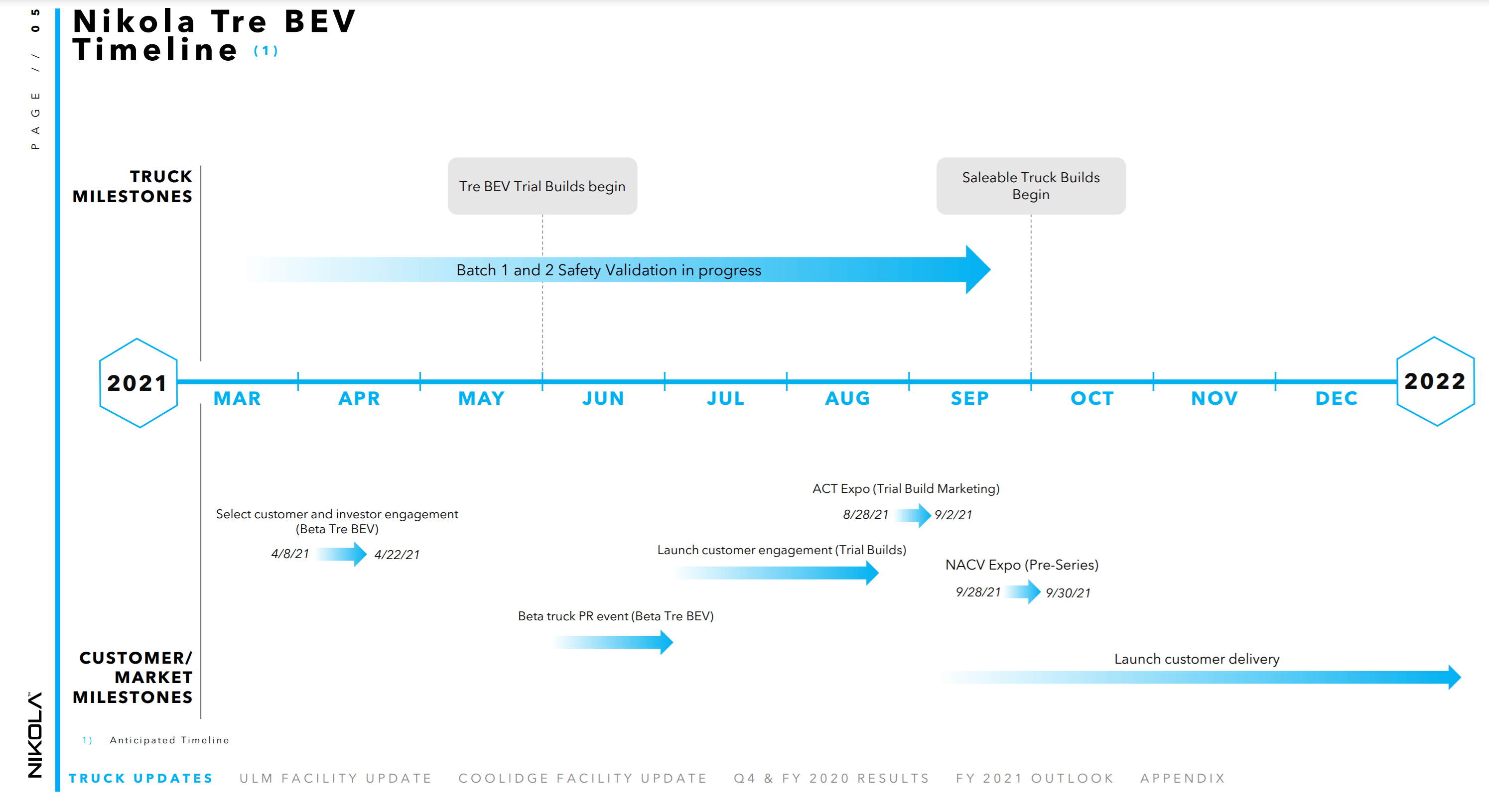 ---
Progress Made at Nikola's Coolidge, Arizona Manufacturing Facility
Published August 03, 2021
As of today, Nikola has completed Phase 0.5 of our Coolidge, Arizona manufacturing facility and is in the process of building seven (7) trucks in Coolidge,
comprised of

two (2) Tre BEV Pre Builds

and

five (5) Tre FCEV Alphas

. As we are building trucks in Phase 0.5 of the facility, we are concurrently building out the
Phase 1 assembly expansion area which will provide additional manufacturing capacity. We anticipate the Phase 1 assembly expansion area will be
completed by the end of 2021


https://nikolamotor.com/press_releases/nikola-corporation-reports-second-quarter-2021-results-126
---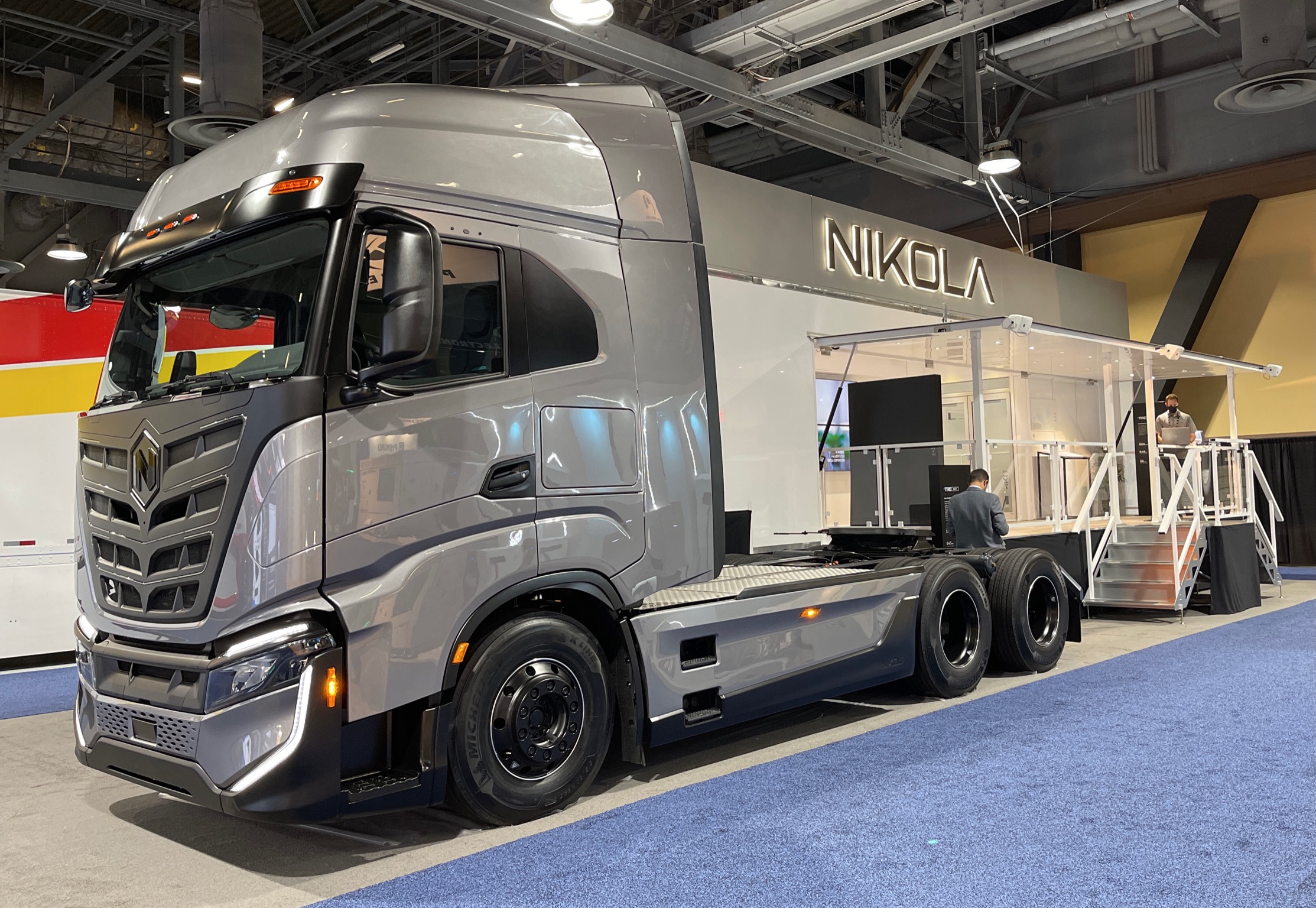 Nikola News and Updates + Nikola at the ACT Expo
Sep 8, 2021
https://www.youtube.com/watch?v=Qmo1flMULyA
---
Iveco Charts Future After CNH With Nikola Electric Truck Deal
Sept. 15, 2021, at 7:06 a.m.
CNH

Industrial is controlled by

Exor

, the holding company of Italy's Agnelli family, which will be Iveco's largest investor after it is spun off from

CNH

.
In a sign of

Iveco's

ambitions, the truckmaker on Wednesday signed a memorandum of understanding under which it and partner

Nikola

will test and
deliver up to 25 vehicles to the port of Hamburg, one of Europe's largest.
The agreement foresees the delivery of the

Nikola Tre

-- which is based on
an

Iveco

platform -- throughout 2022.
"These types of landmark agreements continue to reinforce the global shift we are seeing toward a new zero-emission future," Nikola CEO Mark Russell said.
https://www.usnews.com/news/technology/articles/2021-09-15/nikola-iveco-sign-mou-to-deliver-25-e-trucks-to-hamburg-port
https://youtu.be/yQvGUC_tph4
Exor N.V.

is a holding company incorporated in the Netherlands and controlled by the Italian Agnelli family through privately held company Giovanni Agnelli B.V.
In 2021 it recorded revenues of more than $136 billion, becoming the 37th largest group in the world by revenue, according to the 2021 Fortune Global 500 List.
It has a history of investments running over a century, which notably include auto and truck manufacturers Stellantis, Ferrari and CNH Industrial,
global reinsurer PartnerRe, the football team Juventus F.C. and the international newspaper The Economist.
https://investorshub.advfn.com/boards/read_msg.aspx?message_id=165670051
---
Nikola and TC Energy Sign Joint Development Agreement
for Co-Development of Large-Scale Clean Hydrogen Hubs
October 7, 2021
Nikola and TC Energy sign joint development agreement for co-development of large-scale clean hydrogen hubs. Nikola Corporation (Nasdaq: NKLA), (Nikola),
a global leader in zero-emissions transportation and energy infrastructure solutions, and TC Energy Corporation (TSX,NYSE: TRP), (TC Energy), a leading
North American energy infrastructure company, have agreed to collaborate on co-developing, constructing, operating and owning large-scale hydrogen
production facilities (hubs) in the United States and Canada.
https://hydrogen-central.com/nikola-tc-energy-agreement-hydrogen-hubs/
---
#NationalHydrogenDay celebrations continue with a sneak peek of all things happeningat our Coolidge
manufacturing facility, including our Nikola Tre #FCEV, for our next episode of the #DrivingChange series!
1:57 PM · Oct 8, 2021
https://twitter.com/i/status/1446565427493044225

Hydrogen Heavy Duty Vehicle Industry Group Partners to Standardize Hydrogen Refueling,
Bringing Hydrogen Closer to Wide Scale Adoption
Published October 08, 2021
https://nikolamotor.com/press_releases/hydrogen-heavy-duty-vehicle-industry-group-partners-
to-standardize-hydrogen-refueling-bringing-hydrogen-closer-to-wide-scale-adoption-137
---
Gettin' it done. Season 2 of #DrivingChange starts with the continued journey
of the #NikolaTre FCEV alpha builds in Coolidge, Arizona.
November 3, 2021
https://www.facebook.com/nikolamotorcompany/videos/driving-change-season-2-episode-1-
get-it-done/1259891077770836/?__so__=permalink&__rv__=related_videos
https://www.youtube.com/watch?v=RokrKePeRrk
---
Progress Made at Nikola's Coolidge, Arizona Manufacturing Facility
Published November 04, 2021
We have begun our Nikola Tre BEV pre-series builds in Coolidge. Trucks are on the assembly line and in process. As we are building our pre-series trucks, we
are concurrently expanding the Phase 1 assembly expansion area to enable our total production capacity in 2022 of 2,400 trucks per year on two (2) shifts.
We anticipate the expanded Phase 1 will be completed in January 2022

, and the construction of Phase 2 will begin immediately after that. Phase 2 is expected
to be completed in early 2023, at which time our assembly hall will be fully built out with an installed process capacity of 20,000 units per year. The facility will
be capable of building the Nikola Tre BEV and FCEV trucks on the same line, and also assembling the Bosch fuel-cell modules.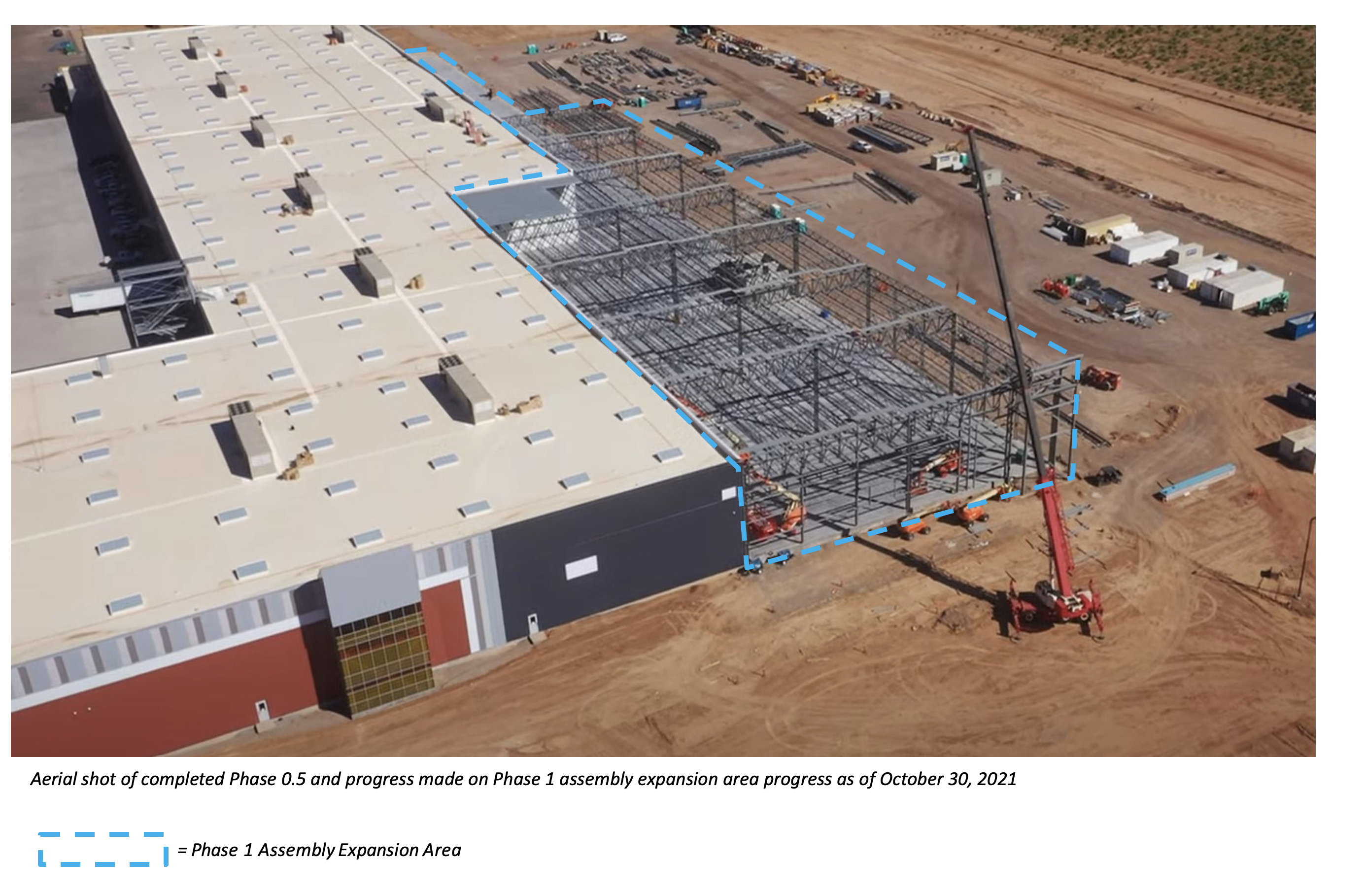 Signed LOI for 100 FCEV Trucks with PGT
On October 14, 2021, we announced collaboration with PGT Trucking, Inc., including an LOI for Nikola to lease 100 Nikola Tre FCEVs to PGT following the
satisfactory completion of a Nikola FCEV demonstration program. The lease would include the Nikola Tre FCEV, scheduled maintenance, and hydrogen fuel.
Deliveries of the Tre FCEV to PGT are anticipated to begin in 2023, following when FCEV production begins in Coolidge, Arizona.
Business Outlook
Nikola looks forward to achieving the following milestones in the fourth quarter of 2021:
Deliver pre-series Nikola Tre BEVs for use on public roads hauling customer freight;
Announce additional fleet testing dealers/customers;
Purchase land for our first centralized hydrogen production hub facility and/or commercial on-site gaseous generation station; and
Announce additional hydrogen infrastructure/ecosystem partners
---
Nikola Delivers First Nikola Tre Battery-Electric Trucks to Total Transportation Services Inc.
California port drayage company has letter of intent for 100 trucks from Nikola for their zero-emission fleet
Published December 17, 2021
As previously announced, TTSI's LOI is for 100 zero-emission trucks beginning with a four-truck pilot of two BEVs and two FCEVs. Based on satisfactory
completion of the vehicle trials and subject to TTSI obtaining certain government funding, thirty BEVs are projected to follow later in 2022, and 70 FCEVs
are anticipated to start in 2023.
The Nikola Tre BEV is designed for local deliveries up to 350 miles. The Nikola Tre FCEV truck is targeted for distances up to 500 miles and is expected to
address the North American regional market, especially when additional hauling capacity or quick fueling are required by fleet operators.
"This day represents a major step in our continual quest to achieve a zero-emission fleet, which is why TTSI highly values its partnership with Nikola.
Production, performance, and maintenance will be the key to our future success, and we are confident Nikola will excel on all three fronts," said Vic LaRosa,
F E B R U A R Y
2 4 ,
2 0 2 2
Q 4
&
F U L L
-
Y E A R
2 0 2 1
E A R N I N G S
C A L L
&
2 0 2 2
O U T L O O K
https://d32st474bx6q5f.cloudfront.net/nikolamotor/uploads/investor/presentation/presentation_
file/37/20220223_Nikola_Q4_2021_Earnings_Call_Deck_v_FINALv9.0.pdf
---
M A Y
5 ,
2 0 2 2
Q 1
2 0 2 2
E A R N I N G S
C A L L
https://d32st474bx6q5f.cloudfront.net/nikolamotor/uploads/investor/presentation/
presentation_file/42/2._2022.05.04_Q1_2022_Earnings_Call_Deck_v12__Final_.pdf
---
A U G U S T
4 ,

2 0 2 2
Q 2
2 0 2 2
E A R N I N G S
C A L L
https://d32st474bx6q5f.cloudfront.net/nikolamotor/uploads/investor/presentation/
presentation_file/51/3._2022.08.03_Q2_2022_Earnings_Call_Deck_v23.pdf
---
Coolidge, AZ Progress Update