OTC NEWS
Qualibou Energy Inc. Announces Opening of New Offices

Press Release | 10/23/2019
Qualibou Energy Inc Introduces New Management Team

Press Release | 10/23/2019
Qualibou Energy Inc Announces Change in Business

Press Release | 10/22/2019
Qualibou Energy OTCMarkets page updated October 18, 2019. Reinstatement July 9, 2019. Paid taxes and no debt.

Old Ceo removed.

Accountant added:
Richard M. Smith, age 48, has over twenty-five years of public company compliance experience as the former Director of Wingrave Capital Corp. of Vancouver, British Columbia. While in this position he was responsible for listing client companies on the OTC-BB, CSE (formerly known as the Canadian National Stock Exchange) and TSX Venture Exchange as well as co-listing client companies on the Berlin, Frankfurt, Stuttgart and Hamburg Stock Exchanges. In addition, his duties included assisting client companies with funding and developing market awareness campaigns. From 2007 to 2009 Mr. Smith was the Manager of Listings - Western Canada for the Canadian National Stock Exchange, the former name of the CSE. During his tenure with the Canadian National Stock Exchange his responsibilities included: reviewing and assisting with exchange policies, reviewing and approving listing applications; governing existing listings and liaising with the investment community. From 2003 - 2007, Mr Smith was President of Drayton Park Capital where he was instrumental in listing client companies on the OTC-BB and PINK SHEETS Stock Exchanges. He also co-listed client companies on the Berlin and Frankfurt stock exchanges and was the first to list a Canadian National Stock Exchange company on the Berlin Stock Exchange. In additional, Mr. Smith assisted client companies with funding, liquidity and market awareness.
New Director added:
Douglas Thomas has worked for the past twenty five years as an independent marketing consultant and brings extensive worldwide marketing and sales experience to the Company. Mr. Thomas has worked on delivery of marketing initiatives of manufactured products and has introduced new products to markets in North and South America, Russia, China and Australia.
Shares Structure 10.21.2019
Reinstatement Documents:
NEW WEBSITE JUST LAUNCHED!!!
https://www.customprotectionservice.com/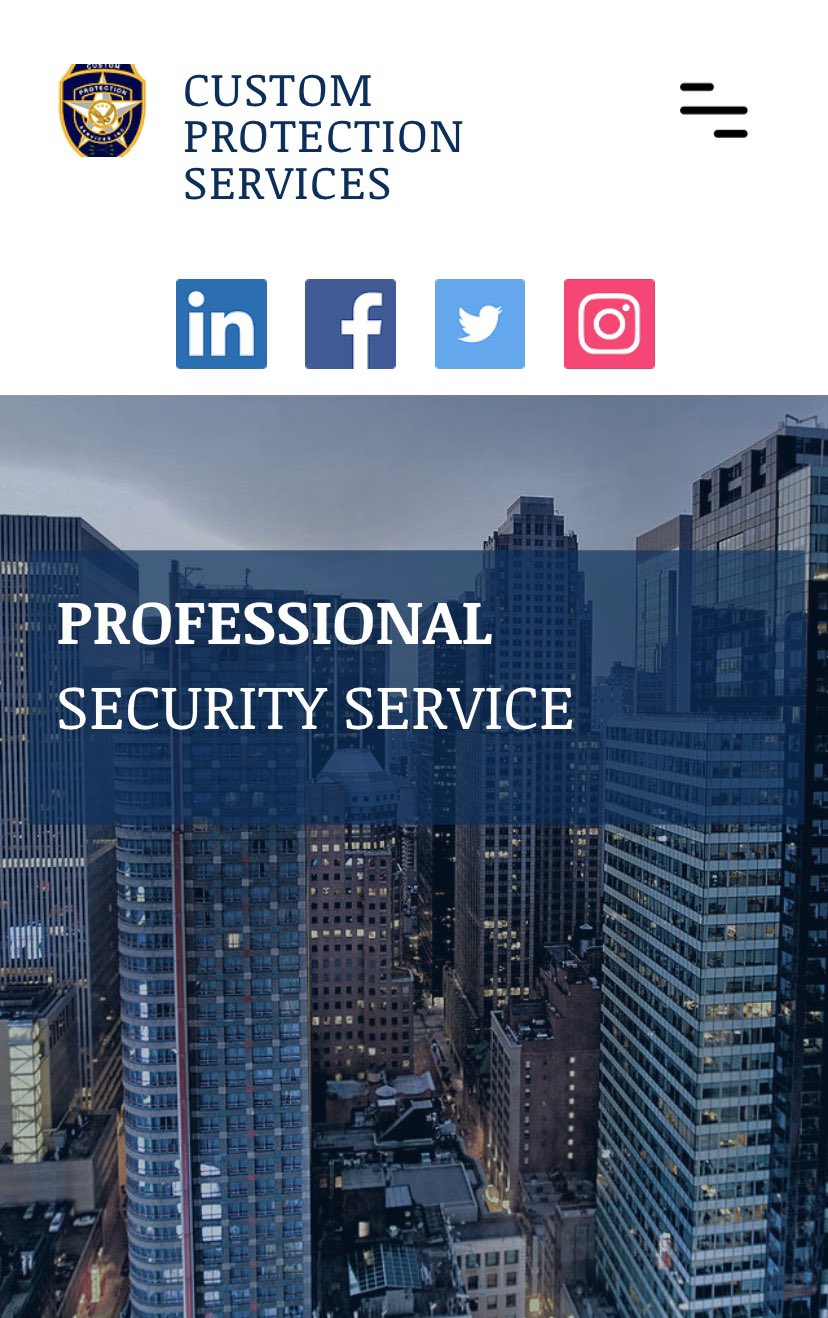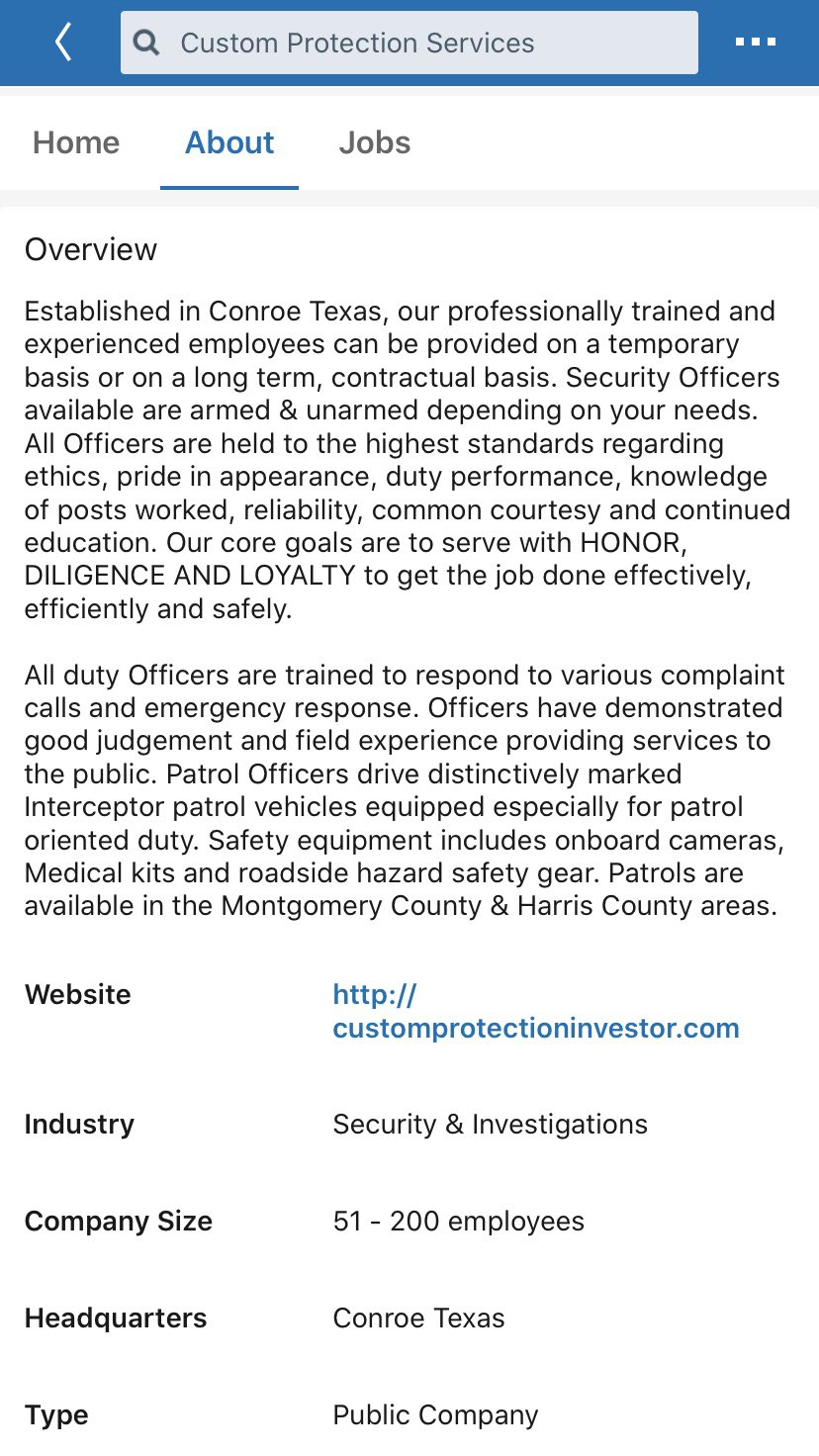 Questions for Richard at $QALB
Just want to know how much is left to dilute. All those after hour trades are dilution. I figure if 1.7 million is the new float how much more of the 800-900k does he have left to go.
- There will be some stock added to the system in coming months in a orderly fashion. Proceeds will be used to fund up coming market awareness campaigns. Plus we need more stock in the system to meet the requirements for up listing. I am looking at applying to the TSX-V as well and they have a minimum requirement that.
Market awareness campaign coming
- Market Awareness plan being developed this week
Confirmed
- The expectation on their end when this started in October was a share price of .02-.03 when the market awareness campaign started.
Confirmed
- Looking at Google ads, Print Ads, online ads and if possible CNN Money.
Confirmed
- Press releases about revenue, profitability will happen after the market awareness plan is in full gear.
Confirmed
- Co-list in Germany on the Frankfurt exchange where they have a lot of strong contacts
Will co-list once we trade back above $1.00 and we become fully reporting in the US
- We will revisit later when the Form 10 is filed and the stock price is back over $1.00
Ask when will they stop raising the float
- Will look at increasing again when they get closer to NASDAQ to create liquidity.
Maximum will be 5,000,000 OVER TIME to meet the 10% requirement for the NASDAQ listing. This will be tied in with the market awareness campaign. As the volume and price increases we will dribble stock into the system and then reinvest the proceeds back into the market awareness campaign.
Are you looking at reducing the A/S since the O/S probably won't increase over 100 mil
- Yes, at some-point. Drop it down to 200,000,000 or something similar.
Plan for the marketing campaign, timeline
- Currently interviewing people and will be hiring multiple IR firms to represent specific regions of the US, one for the Western and Eastern part of the United States.
Confirmed
2019 goals:
- Form 10 has been drafted
Confirmed
- FINRA has been filed for new cusip, ticker symbol and name change.
Confirmed
- Fully audited 12/31 end of year reporting to become a fully reporting SEC company
Confirmed
- OTCQB by March
Confirmed...if not sooner. All depends on how quickly we can get the audit done.
- CSE
Looking at the TSX-V as well.
- NASDAQ
Looking at the NYSE as well.
- Frankfurt, Germany stock exchange co-list
Should be able to list on Frankfurt as soon as we go OTCQB. Looking into that now.
Would you say the short position is still 1 Million
- 600-700k
That is reasonable estimate based on our calculations.
Do you know if shorted shares are required to be covered when a ticker and CUSIP changes?
- They are supposed to, but, he's been in situations where shorts covered and he's seen it where shirts didn't cover. But, yes they are supposed to cover when the ticker, cusip and name change happens.
Confirmed
Contract based question. Are there government contracts? If so, now or in the future? Are there private contracts? If so, now or in the future?
- Private sector, Large contracts - They are going after the Country Clubs of America - 2 Million contract, (April Sound is the gated community). April Sound had their own private security and employed DeLane Potter who ran their in house security. DeLane Potter quit and they are now looking at working with QALB.
Confirmed
- DeLane Potter is now the CEO of QALB.
Confirmed
***- There's enough demand that they expect to see $50-100 million in revenue just in Texas alone.***
- Public Sector - Port Security for Houston - have been talking with the Coast Guard, but, they are really waiting for the April Sound contract to go through. They have been invited to several meetings and Richard believes that QALB has gone through the approval process with the Coast Guard. But, this isn't going to be actively pursued until after the first of the year and the April Sound contract is in place.
Post from Trulia website: 'I am an ex-April Sound security officer , and there is a lot of burglaries and toilet papering houses and break ins, not to mention the security personnel has gone wayyy down hill since LT. Delane Potter left.'
Challenges
- Being able to maintain and handle the growth.
Confirmed
- With one of the biggest areas of focus will be managing the growth.
Confirmed
Press releases about revenue and future expected revenue
- Will happen after the market awareness plan is in full gear.
Confirmed
OTC Markets Pink Current - Why the delay in becoming Pink Current
- They were missing the attorney agreement
OTC now has the attorney agreement. They want the Attorney Letter to include September 30, 2019. That is being prepared now.
- Nancy Rodriquez reviewing, she was on vacation for a week and is now back from vacation.
Confirmed
- Attorney agreement filed and approved.
Confirmed
Realistic annual projections with current contracts in place?
- Will be updating executive summary
Working on that this week
- update pro forma over the next 3 days
Working on that this week
- Trying not to put too much revenue in this year.
Confirmed
What revenue in contracts are upcoming?
- Will be in the updated pro forma
Confirmed
How many countries are you serving?
- Initially, just the US there's enough business here to become a mid level company. Once they move to NASDAQ they can look at Europe, the UK and Canada post NASDAQ.
Confirmed
What exact type of security services are you providing? I.e. Monitoring assets or people? Both? Who?
- Both, public and private contracts
Confirmed
- They are looking at guarding containers on container ships at the Port of Houston.
Confirmed
- Also talked about providing security for people who attend the GSA and other summits and conferences.
Confirmed
Share structure; intentions? I.e. are you keeping it the same or restructuring upon name change? - authorized shares increase, float increase, any restricted shares increase (quantities)?
- The change in control issued around 50 million in restricted to take control of the shell, won't be tradable. Fully dilutable is 53 Million and have been issued in certificates and are in John's safe.
Confirmed
- John Kuykendall - CFO
- Rock Rutherford - President
- DeLane Potter - CEO
- Not only restricted, but subject to rule 144 dribble out rule
- NASDAQ within 6 months 3-5 dollars a share
- Frankfurt market will be a co-list, currently speaking with some market makers. Won't be a problem once they are on NASDAQ and trading.
- Float may increase by about 1 Million shares. (FLOAT INCREASED BY 850,860 shares)
Confirmed
Why are you utilizing a Gmail account?
- He's a consultant and because he lives in British Columbia rule 51509 applies he has to be arms length. Otherwise, there is a large expenditure and forms to be filed.
Confirmedi
When can we expect the first update on the company operations after pink current.
- Expect it pretty quick, been focusing on the structure of the stock and on the name change.
- Definitely by EOY
Confirmed
Also what he believes the float to be at the moment and if we're close to the 1.7 mil required for NASDAQ
- If we have to have 10% in the float then that number will be closer to 5 million but we will look at it more closely when we go to apply for the NASDAQ. That is still a little ways out and hopefully our stock will be trading over $3+ a share by then. It is all tied in to market cap and valuations.
Will there be further acquisitions in the future under the new company once we transition to it
- Going after other security companies owned by boomers who are wanting to retire and sell the client list. Tried buying a couple companies and the problems are there usually mom an pop shops and the record keeping is horrible, you inherit skeletons and employees you may not want.
Confirmed
- Business model for acquisitions will be buying the book of business (client list) and not the business itself.
Confirmed
- In the first three years, there are currently 7000 companies earning 5 million and under. These are the companies they will be focusing on. No one is attempting to do what they are going to do. They are currently looking at going after 100-200 million in revenue a year from those 7000. Most are not run well. They want to establish themselves as a top notch company and will be cherry picking.
Confirmed