Invest in American gold mining company with resources of over 3.2 million gold equivalent ounces on just 10% of explored land holdings in Nevada.
About Comstock Mining Inc.
Comstock Mining Inc. is a Nevada-based, gold and silver mining company with extensive, contiguous property in the Comstock District. The Company began acquiring properties in the Comstock District in 2003. The company went public in 2011. Since then, the Company has consolidated a significant portion of the Comstock District, amassed the single largest known repository of historical and current geological data on the Comstock region, secured permits, built an infrastructure and commenced surface mining production in 2012. The company is currently evaluating and planning for land exporation and underground production to begin in 2018.

The Company continues acquiring additional properties in the district, expanding its footprint and creating opportunities for further exploration, development and mining. The near term goal of our business plan is to deliver stockholder value by validating qualified resources (measured and indicated) and reserves (proven and probable) of at least 3,250,000 gold equivalent ounces from our first two resource areas, Lucerne and Dayton, achieve initial commercial mining and processing operations in the Lucerne Mine with annual production rates of approximately 40,000 gold equivalent ounces and significantly grow the commercial development of our operations through coordinated, district wide plans that are economically feasible and socially responsible. Auramet International was the buyer of the gold and silver mined by Comstock Mining. The company mantains very low debt and is a prime target for acquisition. GF Capital based in Manhattan recently invested $10.7 million dollars with of working capital into the company. On July 26, 2017 the company announced it is finalizing joint venture deals with two larger mining companies. On October 2017 the company acconunced they have partnered with Tonogold and Cycledex. The Company did a 5:1 reverse split on November 10, 2017 to satisfy NYSE listing requirements.

Contact information for Comstock Mining Inc.
P.O. Box 1118
Virginia City, Nevada 89440
Main: 775.847.5272
Investors: 775.847.0545
Fax: 800.750.5740
Corrado De Gasperis, President, CEO
775.847.5272
E-mail: info@comstockmining.com


Comstock Lode History

The Comstock lode district is profoundly historic in that over 400 companies were once involved in a booming mining supply chain, with over 230 mills operating in the district. The area produced almost 200 million ounces of silver and over 8 million ounces of gold in the late 1800s and early 1900s. It was cosmopolitan in a very big way, with the establishment of Virginia City, Silver City and Gold Hill. Nevada and the Comstock played a meaningful role in the Union winning the Civil War, and that facilitated statehood for the Nevada territory.
The boom turned to bust when the old timers stopped mining, and because the claims were so fragmented it was difficult for modern techniques to get traction. There has been some form of mining on the Comstock lode every decade since then, but it wasn't until we started consolidating the claims in the district that a true, sustainable return to modern mining proved possible.
Since 2003, we have consolidated over 8,000 acres of land, all under one company, representing over 10 square miles. I think that's what's most unique — that we are the first company to truly consolidate substantially all of the Comstock under one roof.
Coincidently, we started consolidating all of the available historic data. There's been so much history and so much previous activity, but it was never effectively consolidated or coordinated. We were able to build on that, combining the history with additional modern techniques like geophysical data analysis, metallurgical analysis, current surface mapping data and prior drill data all into one three-dimensional, geostatistical model. Those efforts resulted in a significantly longer definition of the district, at least for the mineralized strike, from over to 2 miles to almost 6 miles in length, and ultimately, to new discoveries in the center and the southern parts of the district.

- CEO Corrado DeGasperis

Recent Drill Results Lucerne Underground

CURRENT LAND HOLDINGS
SEPTEMBER 2017 MAP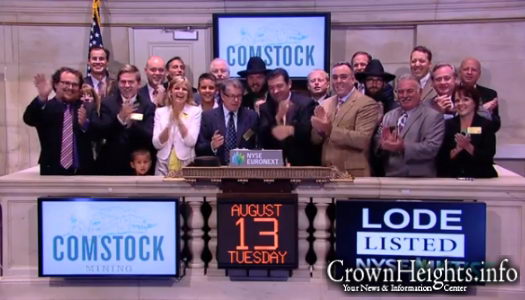 Independent Analysis:
Bob Moriarty, 321gold (10/29/10)
"Where over 400 different mining companies once fought to extract high-grade silver and gold ore from the Comstock Lode in Virginia City, Nevada, one company exists today. . .Comstock Mining. Catchy name and no one is going to forget it anytime soon. This company is going to be the Diamond Fields of Voisey's Bay fame. That was the giant find in 1993 that lit the market on fire. The project was sold in 1996 for $4.3 billion. This is the big Kahuna. This is the company that is going to ignite the junior market in this cycle. It will be sold for a lot more than $4.3 billion when it hits the auction block.

Comstock Mining is going to change the mining business in the United States and North America. Maybe the world. John Winfield is self-made. He's rich already and he's not married to doing things the way they have always been done. I went to meet him and his team. He had never heard of either Diamond Fields or Voisey's Bay. That's a good thing. He can think for himself. . .I love the company. This is going to totally change investing in gold and silver stocks. It's a real mining company run by real mining people and it's going to make a lot of people rich."
Andy Hoffman, Travel Dispatch (03/07/11)
"Comstock Mining has done what most industry observers thought impossible-consolidate claims from one of the most famous silver and gold discoveries in history with over 6,500 acres of property. . .and from what I saw, it would come as no surprise if the activity of the late 1800s Comstock silver and gold rush repeats over the next decade and beyond, only this time with ONE COMPANY controlling the ENTIRE DISTRICT utilizing modern mining methods and management."
Roger Wiegand, Trader Tracks (11/30/10)
"We just read Robert Moriarty's review of Comstock Mining Inc. We do not normally recommend OTCBB shares but this is an exception. . .visit 321gold.com to read Bob's fine report, Rebirth of the Comstock Lode.

Comstock Mining is trading this morning at about US$3.27. There are 18.9M shares outstanding (90M upon a conversion). . .We have wondered for many years as to why this mining camp had not been reopened. The 321gold story will explain why. Primarily, the property was tied up in extended litigation for many years but has now been resolved.

We recommend buying the shares for the longer view and do not expect to recommend trading in and out on this one for numerous reasons. That could change, but we don't think so. We recommend buying the shares with no stops. Tuck this one away for the primary upside in the gold, silver and commodities cycle that we think will last many more years."